Emma Stone wins the SAG for best apology expression after tripping up Naomi Watts
Stone shows why her comparison with Big Eyes is uncanny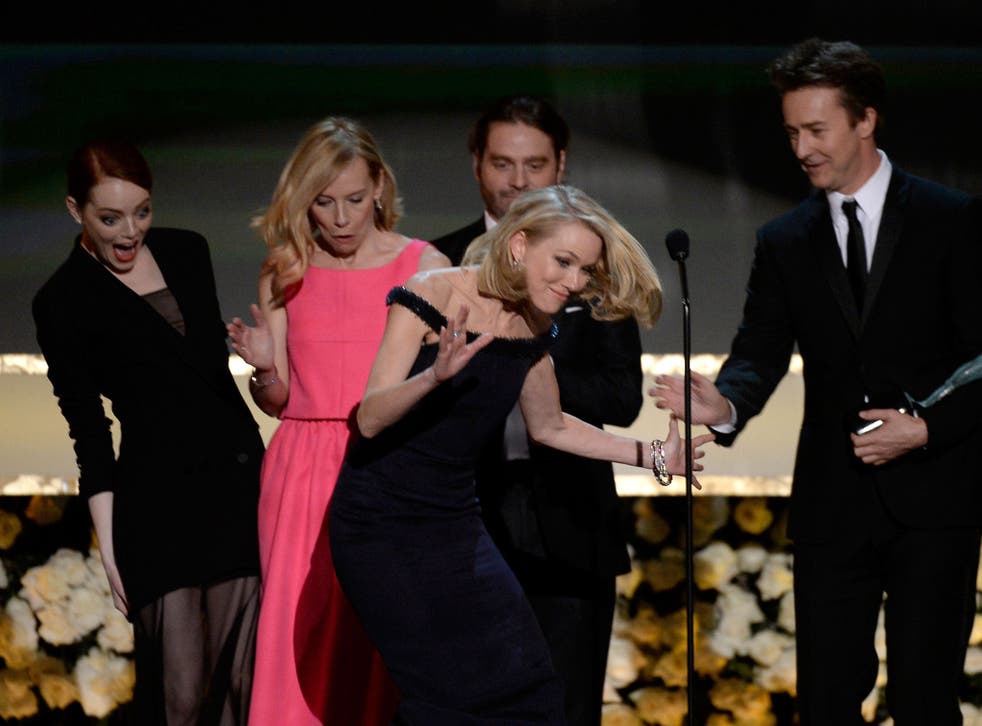 A few weeks back, Tina Fey and Amy Poehler joked that Emma Stone looked like a walking, talking version of one Margaret Keane's paintings, which feature in the film Big Eyes.
As if to highlight the brilliance of Fey and Poehler for both their comedy and astute observational skills, Stone pulled a suitably wide-eyed expression at the Screen Actors Guild Awards on Sunday when she accidentally tripped Naomi Watts.
The pair were on stage to collect award for Outstanding Performance by a Cast for Birdman. As Watts walked past Stone to speak at the microphone, she tumbled on her co-star's dress, grabbing the mic stand as she cried, "Oh my god! Wow!"
Yet her reaction was not nearly as priceless as Stone's, who quickly tucked her dress back as her eyes and mouth combined to make possibly the best, most mortified apology expression ever seen on stage, a fitting tribute to her brilliant exploits in Birdman. She can be seen telling Watts, "I'm sorry! It was my fault!" as the British actress regains her composure to deliver her speech.
Screen Actors Guild award winners

Show all 10
Amidst all the attention around Watts' fall and Stone's face, Michael Keaton's joke seems to have gone unnoticed, so it's worth a parting mention.
Before "the trip", Keaton had said, "I'm proud to be a part of this group" as he looked behind him at the cast of Birdman. With Watts then falling shortly afterwards, Keaton quipped, "Except Naomi."
Join our new commenting forum
Join thought-provoking conversations, follow other Independent readers and see their replies