Emmys 2014: Sofia Vergara responds to claims 'sexist' pedestal gag 'objectified' women
The actress, dressed in a form fitting white gown, was placed on a rotating pedestal
Jenn Selby
Tuesday 26 August 2014 10:32 Comments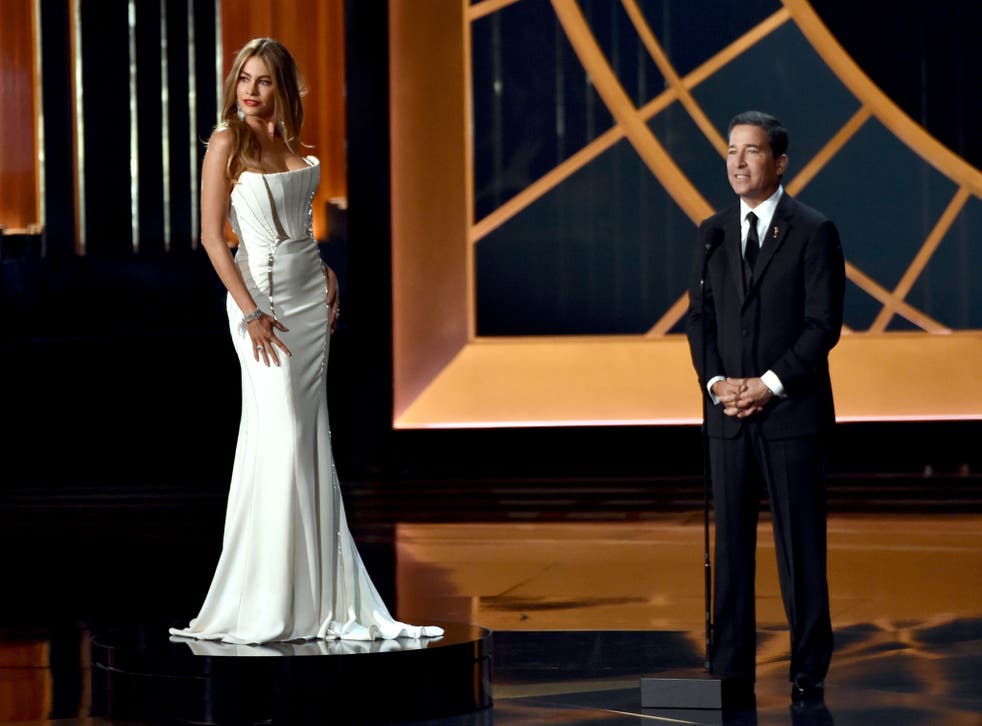 Modern Family star Sofia Vergara found herself in the eye of a controversial Emmy Awards storm after a satirical segment on diversity in television she starred in was accused of being sexist.
The actress, dressed in a form fitting white gown, was placed on a rotating pedestal as Television Arts and Sciences President Bruce Rosenblum used her body as evidence that TV throughout the years has given countless audiences "something to look at".
"Our Academy is more diverse than ever before, both in front of and behind the camera," Rosenblum said, after Vergara accepted his invitation to make like a human kebab and get on the revolving platform.
"Resulting in a greater diversity of storytelling."
"What truly matters," he concluded, "is that we never forget that our success is based on always giving the viewers something compelling to look at."
Vergara has since responded to the criticism, saying that, if anything, she felt the joke represented "absolutely the opposite" of objectification.
"It means that somebody can be hot and also be funny and make fun of herself," she said.
66th Primetime Emmy Awards: On the red carpet

Show all 34
"I think it's ridiculous that somebody started this — I know who she was — who has no sense of humour [and should] lighten up a little bit."
Her segment wasn't the only part of the Emmys that raised eyebrows. Billy Crystal's tribute to the late Robin Williams was criticised for seemingly including a "racist" joke.
Meanwhile, Sarah Silverman caused a stir on the red carpet by pulling out a Vape Pen full of "liquid pot".
Register for free to continue reading
Registration is a free and easy way to support our truly independent journalism
By registering, you will also enjoy limited access to Premium articles, exclusive newsletters, commenting, and virtual events with our leading journalists
Already have an account? sign in
Join our new commenting forum
Join thought-provoking conversations, follow other Independent readers and see their replies