Euro 2016: Vladimir Putin mocks 'thousands of England fans beaten up by 200 Russians' in violent clashes
President's quip reportedly met with 'laughter and applause'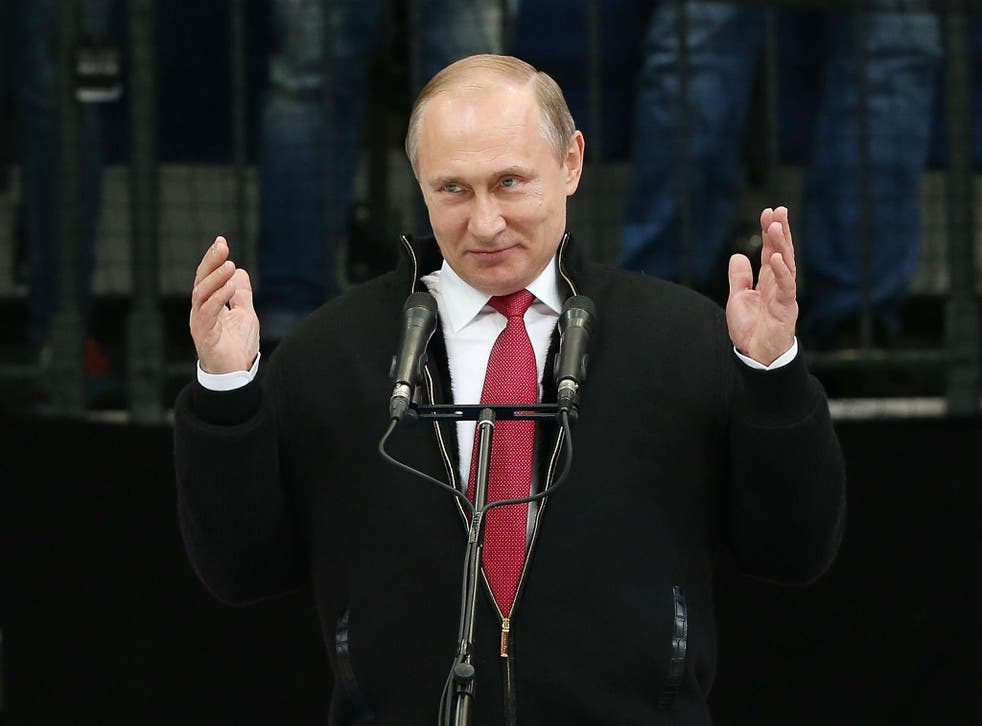 Vladimir Putin has apparently poked fun at England football fans, as he questioned how 200 Russian supporters were able to beat up "several thousand" followers of Roy Hodgson's side at the Euro 2016 tournament in France.
Violent clashes erupted between English and Russian fans around the time of their match in Marseille on Saturday. Tear gas was used by French police on fans in the city ahead of the match, before Russian fans charged at England supporters in the Stade Velodrome after the game ended.
French police said a core group of 150 "hyper-rapid and hyper-violent" organised Russian hooligans travelled to the French city intent on causing violence and blamed them for the worst of the clashes. Other reports have varied to cite the number closer to 200, while sources told the Independent the number was around 300.
Russia and England fans clash at Euro 2016 – in pictures

Show all 15
President Putin had not commented on the violence directly up until today where he dismissed, and perhaps mocked, the idea that a couple of hundred Russian "fans" were responsible.
Appearing at the economic forum in St Petersburg, the Russian premier said: "The fighting between Russian fans with the English, that is a disgrace.
"I don't know how 200 Russian fans could beat several thousand of the British," he continued, a comment reportedly met with laughs and applause from the audience.
On Wednesday, Uefa handed Russia a suspended disqualification over the violence and threatened the country would be thrown out of the competition if similar instances of violence happened again.
Mr Putin also appeared to refute Uefa's threat to kick Russia, who are hosting the World Cup in two years, out of Euro 2016 by suggesting all "violators" must be treated the same.
DO NOT USE Russians hunt down and attack England fans in Go Pro footage
"At the moment we see that there are many problems in sports," the Russian leader said.
"The European football cup is taking place at the moment, but I believe that people are paying more attention to the fan fights.
"And I regret saying this. I regret seeing that people pay such importance to fan fights. I guess the responsibility for such acts should be as personalised as possible.
"And the way we treat the violators has to be the same. They have to all be equally treated."
A number of Russian fans have been arrested and detained following the violence which led to French ambassador to Russia, Jean-Maurice Ripert, being summoned by Moscow.
A number of English fans have also been jailed, deported and banned from France for their parts in the violence. England captain Wayne Rooney pleaded with fans to avoid the violence in a news conference on Monday as did manager Roy Hodgson after Uefa also threatened to kick England out.
On Wednesday, 36 England supporters were arrested in Lille after clashes with French locals and police ahead of their match against Wales on Thursday, which they won 2-1.
Additional reporting by the Press Association.
Join our new commenting forum
Join thought-provoking conversations, follow other Independent readers and see their replies