Johnny Marr, interview: Today's pop music is 'super-trite, super-surface and super-corporate'
Johnny Marr on his disdain for modern pop music and new album Playland, which featured 'four people just plugging into amps and going for it'
Elisa Bray
Friday 17 October 2014 17:05 Comments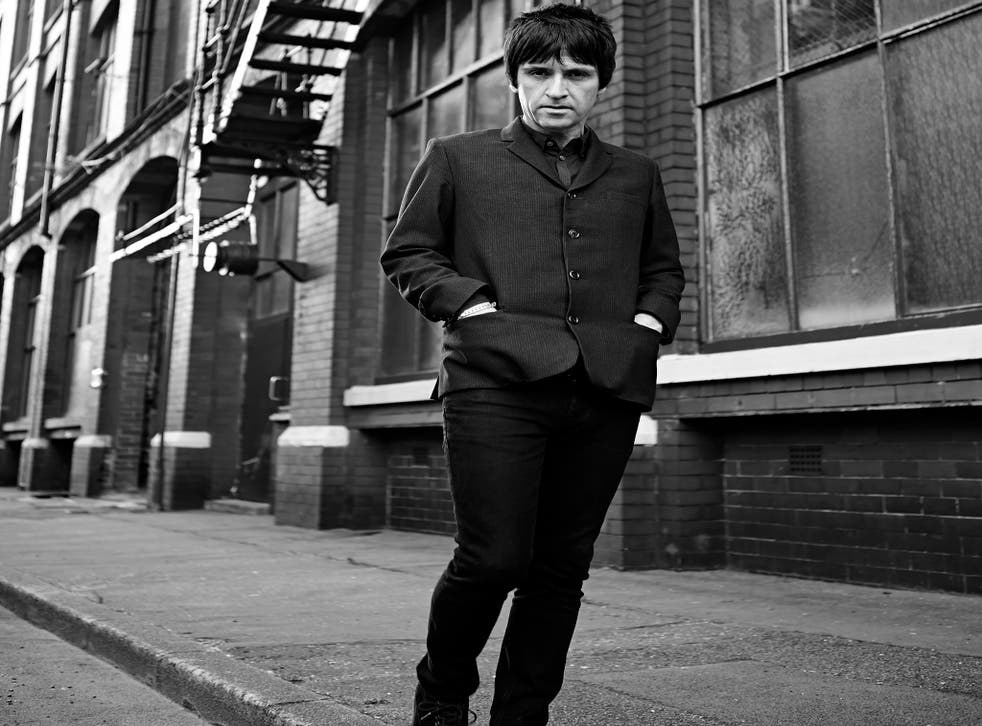 At Maida Vale Studios where Johnny Marr is recording a show for 6Music before our interview, a member of the fans-only audience asks if he has plans to reform The Smiths.
The obvious answer hangs awkwardly in the air before Marr responds, aghast, "I wouldn't even reform Electronic!"
A lot has happened since, alongside Morrissey, Marr changed the face of British music. He's been a member (not a session musician, note) of post-punk band The The, American art-rock act Modest Mouse, indie-rockers The Cribs and Electronic, the dance act he formed alongside New Order's Bernard Sumner. He has also released albums as Johnny Marr and The Healers, and collaborated with Hans Zimmer on film soundtracks. Now he is ensconced in the world of solo music, and has just achieved his second Top 10 solo album with Playland. No wonder he has no interest in looking back.
"Oh yeah, I'm not interested in that at all," he states emphatically, and on his current tour you won't find him "misty-eyed" when he plays venues he hasn't revisited since the days of The Smiths. "I just do not get nostalgia like the rest of the human race seem to get it. There's something kind of mawkish about it. I don't spend more than one and a half minutes enjoying the memory of an Electronic concert or a Smiths record or a The The tour. I'm not even like that with my kids [he has two, a daughter named Sonny, and a son, Nile]."
And why would Marr, who turns 51 at the end of the month, ruminate on his past when he is happy in the present? After all, alongside a continuously successful career in music, he has been with his wife, Angie, for 35 years, since he was a guitar-playing 15-year-old growing up in Manchester. "It's a good thing to be thankful for, to not be fucked up about your past."
Playland is a punchy, upbeat affair that comes just 18 months after his debut solo album, The Messenger. The speed of its release he puts down to not wanting to let the ideas "get too analysed or overcooked", especially unwanted when creating such immediate and energetic music. Its release feels different to the first solo record, he says, "because I've done a lot of different things and when I put The Messenger out I think maybe there was a sense of it being a project or a one-off. And with Playland coming out quite quickly afterwards, there's a sense of it being judged a bit more seriously."
What he wanted most of all for the album was "this feeling of escapism" and "transcendence. I got it from that amazing exhibition that David Hockney did about 18 months ago and I know that people can get it from guitar music. A lot of people are dissatisfied with what poses for pop music these days. [It's] super-trite, super-surface, super-corporate. People often feel that they're hearing processed MSG for the ears. That's why I loved the idea of four or five people just plugging into amps and going for it."
He took the album name from the old arcades in the 1970s and 1980s in Piccadilly, London, and Manchester, the exciting, illicit world of drug-dealing where he used to hang out as a teenager. The theme was based around his thoughts of modern life in the city, and the constant pursuit of escapism. It's an idea he developed after discovering the Dutch cultural theorist Johan Huizinga's 1938 book Homo Ludens.
"So much of it was exactly what I was thinking, this idea that play is many things, including primal, but also incredibly modern and that the culture is this chase of escapism which seems like a basic human necessity to escape a detachment and separation from each other and ourselves," he says, meticulously carving out sentences as he searches for the right words.
"Homo Ludens also has a lot in it about whether the things we are chasing are actually the things that cause us the symptoms that we're trying to escape from in the first place. Put very simply, going nuts to buy a second car or an iPhone 6 and trying to get £400 together for it is at once a chase but also can be quite stressful."
During today's short show, Marr plays one Smiths song – "Still Ill". Smiths songs are always a part of the repertoire in his solo shows, and they feel vibrant and alive, never retrospective.
"I think it would be a little weird if people came to see me and I didn't do "How Soon Is Now" or "There Is a Light [That Never Goes Out]"," he says. "If I went to see Television, I'd expect them to play "Marquee Moon". A gig can be chin-stroking examination or in my case, hopefully, an hour and 50 of spirited pounding drums and flashy guitars with catchy choruses that sometimes people have grown up with and a good time out hearing guitar music."
Does he still identify with the innate sadness of so many Smiths songs? "Absolutely, yeah," he says. "In some ways getting older means that you get them on a deeper level. I love the sound of that emotion. Anyone who has known me for a long time will tell you that the uber-cocky role that I had in The Smiths was not who I was 100 per cent. You can just hear in the music that there was a massive introspection in there. I'm still really introspective now. I'm a combination of outgoing and introspective."
The Marr family returned to Manchester in 2010, after five years of living in Portland, for the making of The Messenger. The laidback vibe of the north-west coast of America was too mellow for the swaggering rock that Marr was plotting.
"When I was working with Karl from Kraftwerk, they had this philosophy that The Beach Boys sound like California, The Smiths sound like Manchester, Kraftwerk sound like Düsseldorf, and it really stuck with me. I came back to the UK to get a little uptight. My life since being a teenager has always been to go where you're going to make the music that you need, whether it was getting on two buses, with an amp, right across town in the pouring rain to some strangers who I'd never met before and start playing with them." He says the next album will probably require him to spend more time in New York.
It's clear that Marr does nothing by halves. He is vegan, teetotal (he hasn't had a drink since 1999) and fervently committed to running. He's only running four or five times a week at the moment, due to promotional commitments, but he'd much rather do it every day. The furthest he has ever run is 30 miles.
"The thing about running is its intensity. I never do things by halves, it always has to be a full-on pursuit for me. I was like that when I used to stay up all night smoking joints and listening to the Velvet Underground. Whatever I was doing I had to always take it to the nth degree and it's actually quite useful when you're older – it gives you more attitude. I can recognise it in other people – they're wide awake and you can tell that they're all about obsession. There'll be plenty of time in life when I can decide to not be full-on."
He laughs. "I'll be obsessive about retirement." Fortunately for the fans, there's no chance of retirement any time soon.
'Playland' is out now. Johnny Marr is on tour until 29 October
Register for free to continue reading
Registration is a free and easy way to support our truly independent journalism
By registering, you will also enjoy limited access to Premium articles, exclusive newsletters, commenting, and virtual events with our leading journalists
Already have an account? sign in
Join our new commenting forum
Join thought-provoking conversations, follow other Independent readers and see their replies