Gabriel Garcia Marquez dead: Nobel prize-winning author celebrated with public commemoration in Mexico City
The Nobel prize-winning author is remembered in his hometown as thousands pay tribute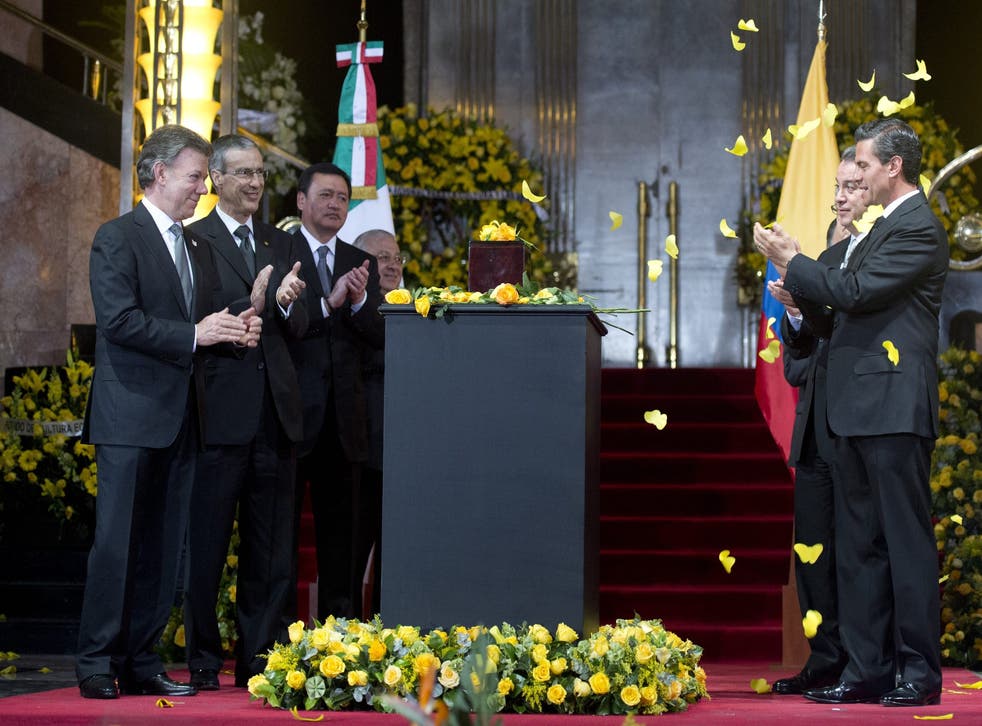 Gabriel Garcia Marquez was remembered last night with a public commemoration in Mexico City, where he lived for more than 30 years.
The celebrated author died on Thursday 17 April, aged 87.
The presidents of Colombia and Mexico, Juan Manuel Santos and Enrique Peña Nieto, attended the ceremony, which was held in grand Bellas Artes Palace – where Mexico pays tribute to its late artistic icons. Thousands gathered to pay their respects.
"He will live on in his books and writings," Santos said. "But more than anything he will live forever in the hopes of humanity. Eternal glory to the man who has given us glory."
A funeral cortege carried his urn containing his ashes from his family church to the podium of the Bellas Artes Palace. The Nobel prize-winning writer was cremated at a private family ceremony last week.
The majestic venue was decorated with yellow flowers, as it was the author's favourite colour and he was regularly seen with a yellow rose in his lapel. At the end of the service, attendees tossed up a flurry of yellow paper butterflies – a nod to one of Garcia Marquez's most famous literary images from One Hundred Years of Solitude.
"He was probably the greatest Colombian we have had in our history," President Santos told the BBC.
"The world knows about Colombia through Gabriel Garcia Marquez. He represented what Colombia is in many ways. His magic realism is - and he said it - is not an invention. It's a description of what Colombia is."
Known to friends and family as Gabo, he was born in the small Colombian town of Aracataca, where a symbolic funeral was held before the public commemoration.
Join our new commenting forum
Join thought-provoking conversations, follow other Independent readers and see their replies