George Clooney gives $1.1 million award to Burundi woman who sheltered orphans during civil war
The actor marked the 101st anniversary of a massacre of Armenians carried out by Ottoman Turks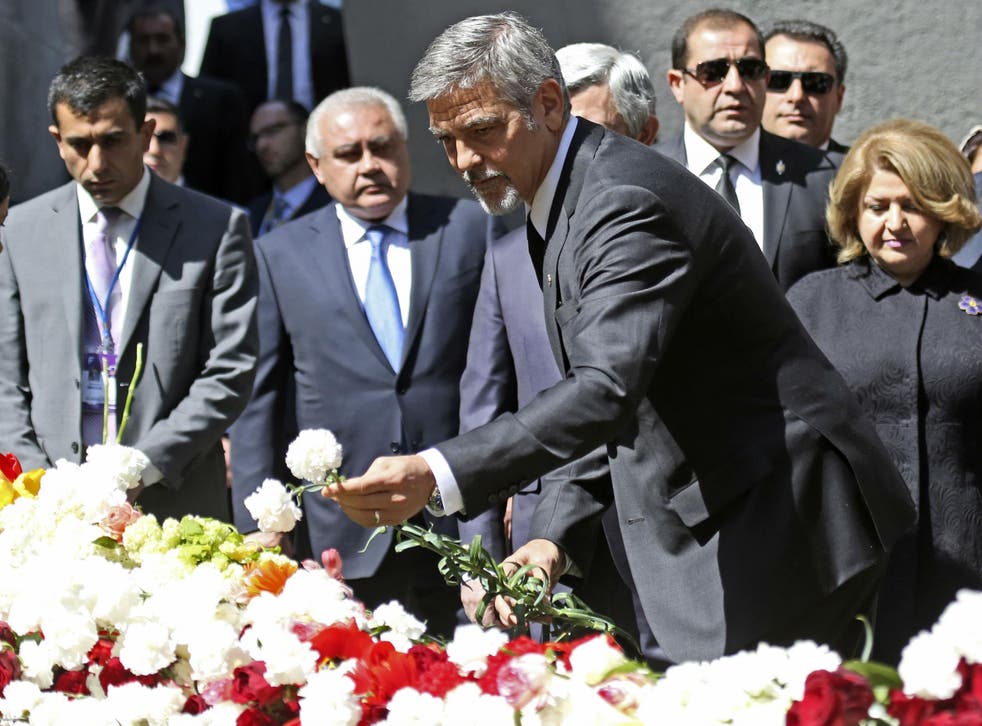 George Clooney commemorated the memory of more than 1.5 million Armenian people who were murdered in 1915 by awarding over $1 million to a Burundi woman who offered sanctuary to thousands of orphans during a civil war.
The slaughter of the Armenians on 24 April 1915 is viewed as the first massacre of the 20th century.
Mr Clooney awarded the first Aurora Prize for Awakening Humanity, which recognises an individual's work to advance humanitarian causes, to Marguerite Barankitse of Maison Shalom and REMA Hospital in Burundi, who took in orphans amid civil war and genocide.
Before he handed over the award, he told the audience that Hitler reportedly said: "'Who remembers Armenia?' The whole world."
"By recognizing Marguerite Barankitse's courage, commitment and sacrifice, I am hopeful that she can also inspire each one of us to think about what we can do to stand up on behalf of those whose rights are abused and are in most need of our solidarity or support," he said.
"We honour the million and a half lives that were lost 101 years ago. And we honour those lives by calling their tragedy by its true name. Genocide. The Armenian Genocide."
Ms Barankitse received a $100,000 grant and she can nominate organisations to receive the $1 million.
The actor attended a service at a hilltop memorial in the capital, Yerevan, alongside Armenian leaders and international officials.
Turkey still denies that the deaths constitute genocide and has claimed that the death toll was inflated. Turkey has said that 300,000 to 500,000 Armenians were killed and that at least as many Turks died in the civil war.
The US does not admit the killings were genocide – president Obama referred to the murders as the "first mass atrocity" of the 20th century and a tragedy that should not be repeated.
Turkey's president Recep Tayyip Erdogan said in a statement that he welcomed the commemoration "to share the grief endured by the Ottoman Armenians, as well as to honour their memories."
He then criticized efforts "to politicize history through a bitter rhetoric of hate and enmity and strive to alienate the two neighbouring nations."
Canada and many other countries take the opposite stance.
Fighting earlier in April between Armenian and Azerbaijani forces in Karabakh killed 100 people and has been labelled the worst conflict since the violence in 1994.

Register for free to continue reading
Registration is a free and easy way to support our truly independent journalism
By registering, you will also enjoy limited access to Premium articles, exclusive newsletters, commenting, and virtual events with our leading journalists
Already have an account? sign in
Register for free to continue reading
Registration is a free and easy way to support our truly independent journalism
By registering, you will also enjoy limited access to Premium articles, exclusive newsletters, commenting, and virtual events with our leading journalists
Already have an account? sign in
Join our new commenting forum
Join thought-provoking conversations, follow other Independent readers and see their replies