George Galloway heckled during Question Time over his anti-Israel stance: 'You can be the lions, I'll be Daniel'
Bradford West MP criticised for calling his constituency an 'Israel-free zone'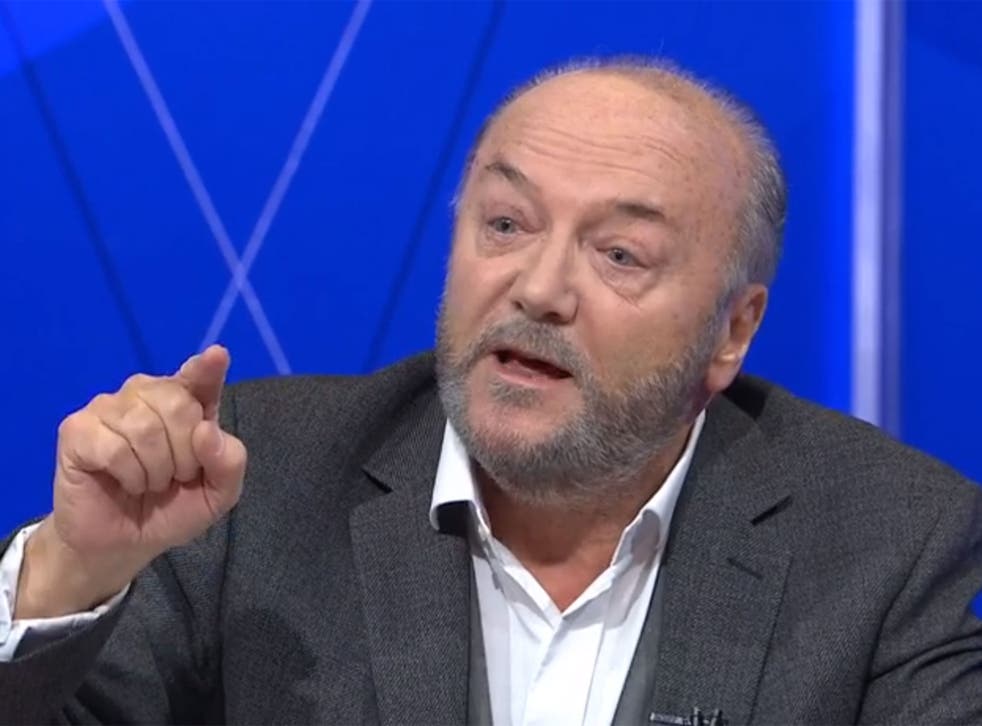 George Galloway was heckled by members of the Question Time audience on Thursday for his anti-Israel stance, with shouts of "You're not welcome here" and "disgusting" forcing host David Dimbleby to frequently call for calm.
Last August, the Respect MP was interviewed by police under caution after he was alleged to have incited racial hatred by declaring his constituency of Bradford West an "Israel-free zone". In a speech he had said, "We don't want any Israeli goods, we don't want any Israeli services, we don't want any Israeli academics coming to the university or the college, we don't even want any Israeli tourists to come to Bradford."
The Bradford MP's appearance was criticised in advance due to the programme being filmed in Finchley, north London, where there is a large Jewish community, with Mike Freer, the MP for the constituency, describing the BBC's invitation to Galloway as "deliberately provocative".
An audience member asked the panel, "Why is antisemitism rising in the UK and do you think a certain member of the panel bear some responsibility for this?" There were loud cheers and applause after the question was asked.
"Well, I see David (Dimbleby) that with characteristic care, you have carefully balanced the audience this evening," Gallloway responded, drawing gasps from the audience and instant heckles. "You're not welcome here," some shouted, while others accused him of supporting Hezbollah.
With Galloway facing a number of angered audience members, he said, "You can be the lions, I'll be Daniel. You will not stop me speaking, however much you shout, because when the Charlie Hebdo affair erupted, there were millions of people demanding that freedom of speech should be protected. And no one in Britain will accept the right of those shouting at me now to exclude a British Member of Parliament from the BBC in any constituency in Britain. None of you will."
He then said the original question made a false allegation against him, and criticised The Guardian's Jonathan Freedland for telling Galloway to exercise greater caution when he discussed Middle Eastern and Israeli affairs.
The question was in response to a report by the Community Security Trust (CST) which said the number of antisemitic incidents in the UK reached a record high in 2014, as people reacted to the conflict in Israel and Gaza. 1,168 such incidents took place in 2014 – more than double the 535 reported in 2013 and the highest annual total since records began in 1984.
In pictures: 2014 Israel-Gaza protest in London

Show all 12
With the audience still heckling the Bradford MP, Galloway continued: "Zionism and Israel are different things from Judaism and Jewishness. And anybody confuses these two things whether they are an antisemite or whether they are so-called leaders of the Jewish community, is making a grave mistake."
He described last summer's conflict in Gaza as "the mass murder of 2,136 Palestinians locked up in a prison camp called Gaza. He (Freedland) called it a resumption of violence; other people call it mass murder by Israel."
This was greeted by more heckles and raised voices from the audience. Dimbleby called on people to stop shouting and to wait their turn to be able to debate the issue; the host's intervention was greeted by applause.
"I can't tell you how deeply I resent this part of the programme," Galloway said. "Antisemitism is a foul form of racism that in the 1930s led to the Holocaust...If I had been born then I would have been the first in the line in the recruitment office to fight fascism.
"Everything that has been said with melancholy about the shadow cast by the rise in antisemitism could be said many fold about the Islamophobia and the fear of Muslims in Britain. The number attacks on Muslims, on Muslim property, is many times more than these Fascistic attacks on Jews and Jewish property.
"Why can't we all oppose antisemitism and Islamophobia?"
The Question Time panel consisted of Galloway, Freedland, Education Secretary Nicky Morgan, Shadow Education Secretary Tristram Hunt and Cristina Odone.
Join our new commenting forum
Join thought-provoking conversations, follow other Independent readers and see their replies