The Independent's journalism is supported by our readers. When you purchase through links on our site, we may earn commission.
Tony Blair Philanthropist of the Year award defended by GQ
The publication has responded to the backlash over the contentious accolade awarded to the former Prime Minister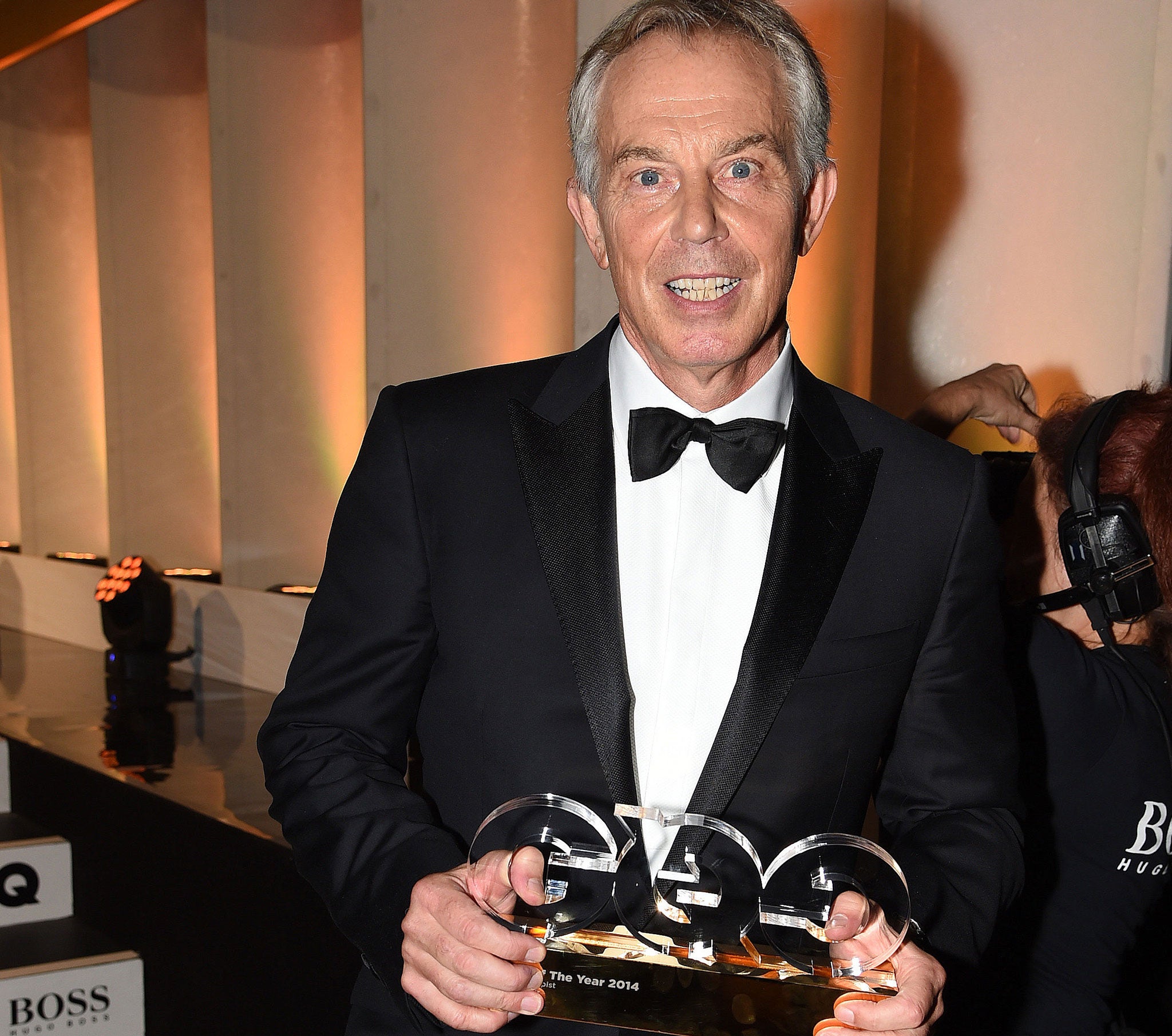 GQ is far from displeased by the backlash received after the magazine questionably named Tony Blair 'Philanthropist of the Year' earlier this week.
Richard Dodgson - who organised the GQ Men of the Year Awards - said a little controversy is no bad thing.
"We like to have celebrities at our event who cause a bit of a stir," he told BBC Radio 5 Live. "So having Tony was fantastic. We like to have people who have opinions and are forthright."
The publication's decision to award the former British Prime Minister was met with bemusement by some, and outright condemnation by others, who felt his controversial 2003 decision to invade Iraq was at odds with the definition of a philanthropist.
Red carpet of GQ Awards
Show all 14
"Huge congratulations to Tony Blair for winning GQ magazine's Philanthropist of the Year award," wrote Rod Liddle in The Sun.
"It is about time his brilliance was recognised. Not only has he destabilised the Middle East, he's also pocketed vast amounts from Asian dictators who he advises on how to clean up their image.
"I assume 'philanthropist' is a politer way of saying 'see you next Tuesday'."
"I would like to dedicate this award to the people that work with and for my organisations," said Blair upon receiving the trophy. "I feel the pulse of progress beating a little harder."
A statement from GQ said that the accolade was a celebration of his charity work, rather than his political strategies.
"On Tuesday evening at The GQ Men Of The Year Awards, Tony Blair was named Philanthropist of The Year in recognition of the charitable contribution made by the three Foundations he has established across the world," a spokesperson for GQ told The Independent.
"Highlighted in his citation was the Tony Blair Faith Foundation's work in Sierra Leone, which is dedicated to saving lives using a pioneering malaria prevention initiative that engages with faith communities to tackle the problem. (If there isn't a hospital there will be a church or mosque, and in this way the message can be shared with the most remote towns and villages throughout Sierra Leone.)
"In this way, the Foundation has supported 600 Muslim and Christian leaders, trained over 14,000 people, and reached over two million people with potentially life-saving messages. Other successes have come from working with African governments on building basic infrastructure: roads, ports, etc. GQ is pleased to acknowledge this work, and also his contribution to alleviating social deprivation in the UK."
But it appears that Blair could have his reservations about how deserving he is of the honour; an eBay seller using the name 'blai_cheri' has listed what may or may not be a fake GQ Award, with the following product description:
"A fantastic opportunity to buy this rare and highly collectible GQ 'Men Of The Year 2014' award," it read. "In near perfect condition (there is a small stain on the back as it was handled by someone with blood on their hands).
"This will really sex up your mantlepiece! Can be delivered in as little as 45 minutes."
Bids start at £500.
Join our commenting forum
Join thought-provoking conversations, follow other Independent readers and see their replies