Gwyneth Paltrow: Health conscious cleanse fanatic gears up to launch range of ready meals
Of course, we're not talking mac 'n' cheese in a plastic microwave-able tray
Jenn Selby
Tuesday 26 May 2015 11:49 Comments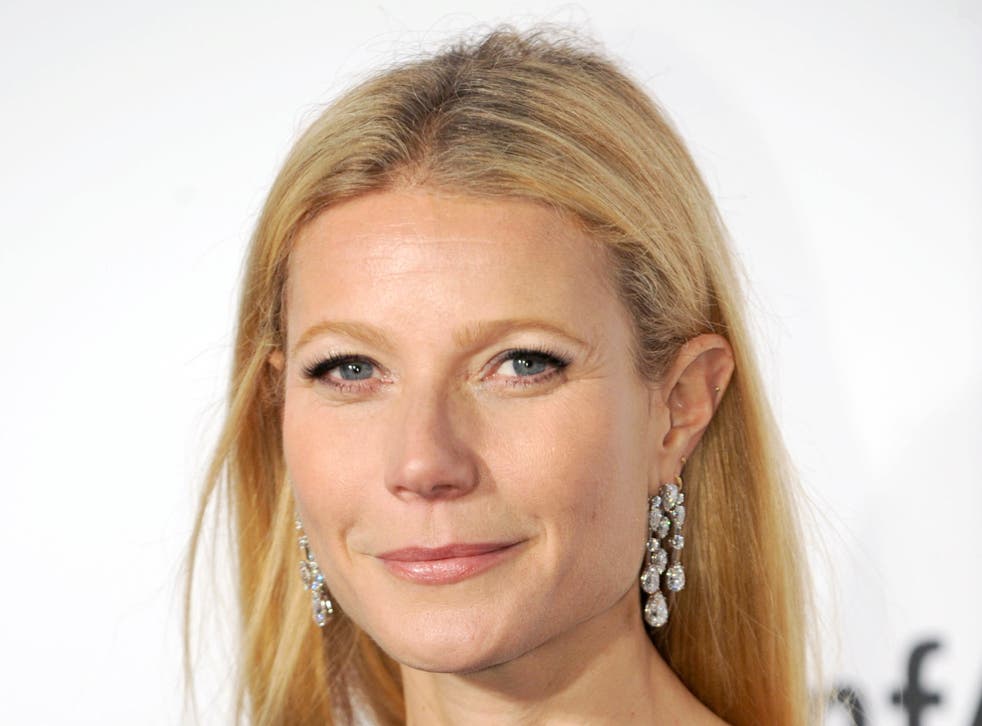 She famously said she'd "rather smoke crack" than eat processed cheese and has long been an opponent of high-glycaemic fast foods. So much so, that a photograph taken of her children Apple and Moses eating fries in 2014 made headline news.
But Gwyneth Paltrow is about to take on a food type with one of the worst reputations in the business: ready meals.
Of course, we're not talking mac 'n' cheese in a plastic microwave-able tray, nor re-heatable chicken korma with radioactive yellow rice and more salt than the ocean. The actress intends to launch a healthy meal range called 3 Green Hearts with star fitness guru Tracy Anderson and Paltrow's business partner Maria Baum.
The range is, of course, all organic and locally sourced. Choice dinners include kale ravioli gluten-free pastas and quinoa salad.
Those feeling like something a little sweeter can indulge in a "frosting shot" made "without all the processed things that really hurt us", Anderson says. There is also a filling collection of juices and smoothies, should one wish to consume only liquid at any point.
"I've figured out how to make the best cookies that have no gluten, no soy, no dairy, no nuts, no eggs - all the main common allergens," Anderson added to Hamptons Magazine.
3 Green Hearts will first be made available from Anderson's East Hampton and Water Mill fitness studio locations with a view to expand in the future.
Anderson and Paltrow apparently intend to evolve the GOOP-friendly brand to include cleaning products and paraben-free beauty products.
50 best foods for healthy living

Show all 50
The news comes a month after Paltrow ended her earnest seven day $29 (£19.84) food stamp challenge in April the only way Gwyneth Paltrow knows how – with an expensive slap-up meal at a famous Los Angeles eatery.
The actress was criticised after she revealed she'd taken on the task of attempting to feed herself and her family on the meagre welfare budget. Mainly because her essential bread line items included seven limes, an avocado, a clump of coriander and kale.
But just days later, she ended the New York Food Bank Challenge at restaurant Animal, where she apparently indulged in a lavish dinner with her rumoured partner in crime, Gleewriter Brad Falchuk.
"It was a prefixed menu, and the tickets were $80," a source toldE!Online of Paltrow's attendance at Austin Midnight Dinner, a promotional event for friend Jon Favreau's new film, Chef. "Some of the items on the menu was various types of barbeque, potato salad and beans."
Favreau later posted an image of himself with the GOOP editor at the event.
Register for free to continue reading
Registration is a free and easy way to support our truly independent journalism
By registering, you will also enjoy limited access to Premium articles, exclusive newsletters, commenting, and virtual events with our leading journalists
Already have an account? sign in
Join our new commenting forum
Join thought-provoking conversations, follow other Independent readers and see their replies