Hugh Hefner dead: What the journalist who infiltrated the New York Playboy Club says it was really like
Gloria Steinem sought to expose the reality of working as a Playboy Bunny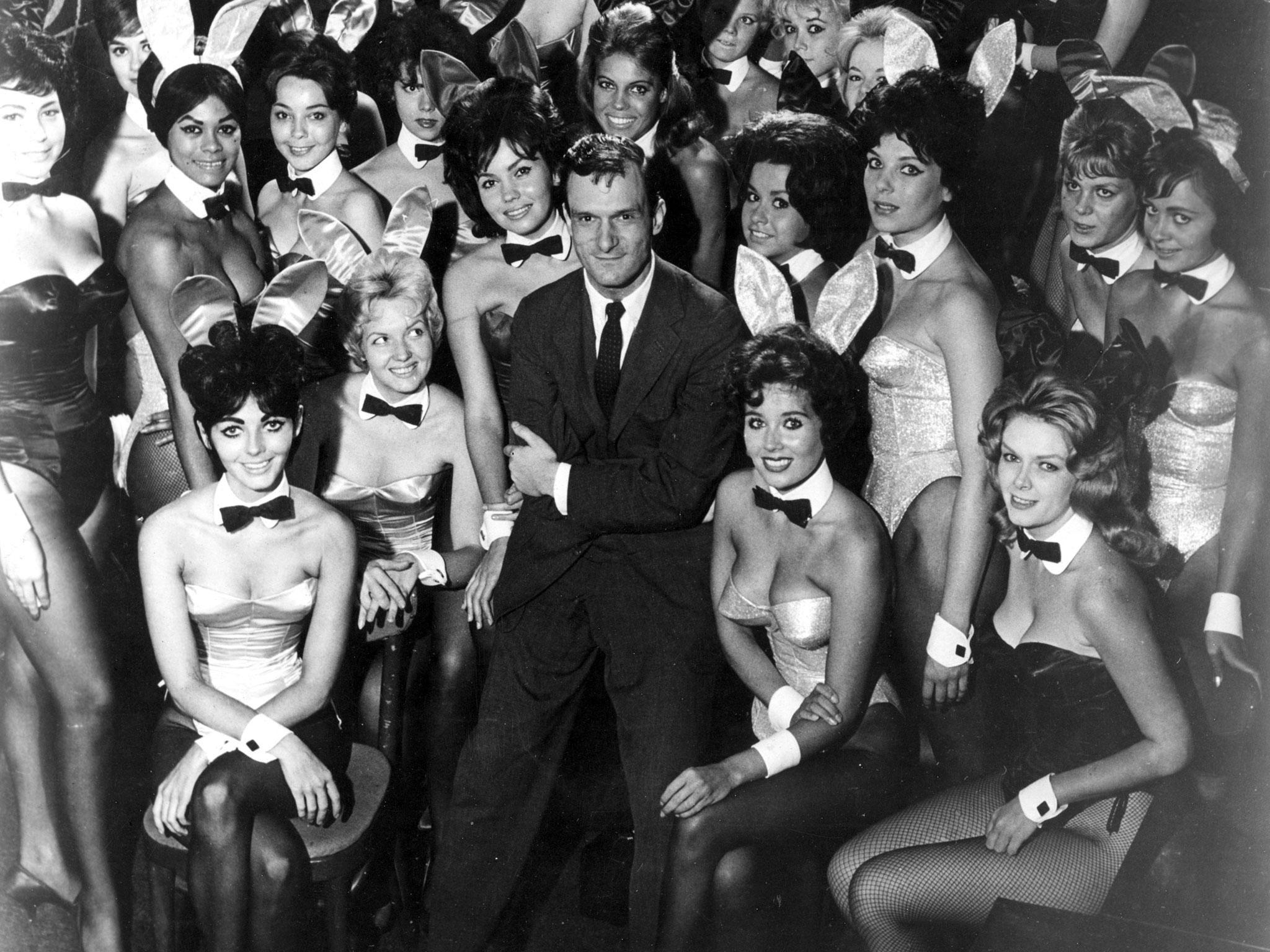 Playboy founder Hugh Hefner, who credited himself with ushering in the 1960s sexual revolution with his men's magazine and Playboy Clubs, has died at the age of 91.
As his business became increasingly popular, Mr Hefner wrote monthly essays he called the "Emancipation Proclamation of the sexual revolution," which the feminist journalist Gloria Steinem sought to counter by exposing the reality of working inside his clubs, which she described as pleasure havens for men only.
The Playboy bunnies, she wrote, tended to be poorly educated, overworked and underpaid. She said she regarded the magazine and clubs not as erotic, but "pornographic."
Fans at Playboy Mansion mourn Hugh Hefner
In a two-part essay for Show Magazine in 1963, Ms Steinem went undercover to work as a bunny at the Playboy Club in New York City.
She adopted a false identity as Marie Catherine Ochs, who had worked as a secretary and was a former beauty queen, and applied to work at the club, which offered to pay twice the typical salary of a waitress.
Written in the form of a diary, Ms Steinem described how she was administered a blood test and physical examination for STIs before being hired, and then encouraged to wear a bunny costume which was "two inches smaller than any of my measurements everywhere except the bust."
She said the outfit was "so tight the zipper caught my skin" and bunnies who sneezed often broke the zipper. "Girls with colds usually have to be replaced," a seamstress told her.
"Just about" all of the bunnies stuffed their bras to enhance their cleavage, often with dry-cleaning bags, but also socks and money.
Most famous Playboy covers
Show all 10
Bunnies must, she noted, pay for their own false eyelashes, tights and a charge to clean their costumes.
The club took 50 per cent of the first $30 dollars they made in tips.
There was also a demerit system where they would be docked bonus pay for being late, eating on the job or not adhering to the club's strict standards for how the bunnies should look.
While they bunnies were allowed, and often expected, to go on dates with Number One keyholders, they were banned from dating any other customer.
To enforce the rules, the Playboy Club hired undercover detectives to offer hundreds of dollars in exchange for sex to entrap and then fire the bunnies who accepted their offers.
Even though she worked for a few days, Ms Steinem lost 10 pounds, prompting seamstress to cut two more inches off each side. Her feet also permanently increased by half a shoe size from wearing three-inch heels during her shifts.
During her time working for the club, she said she only met one woman who earned the $200 the advert promised, while most earned far less.
Ms Steinem's article is regarded as one of the first examples of first-person undercover reporting and was later made into a film starring Kirstie Alley in 1985.
"I think Hefner himself wants to go down in history as a person of sophistication and glamour. But the last person I would want to go down in history as is Hugh Hefner," Ms Steinem later said.
"Women are the major beneficiaries of getting rid of the hypocritical old notions about sex," Mr Hefner responded. "Now some people are acting as if the sexual revolution was a male plot to get laid.
"One of the unintended by-products of the women's movement is the association of the erotic impulse with wanting to hurt somebody."
Join our commenting forum
Join thought-provoking conversations, follow other Independent readers and see their replies