Hunger Games star Jennifer Lawrence immortalised in sponge cake - who needs Madame Tussauds?
Life-size replica wins gold at Cake International competition for young baker
Freddy Mayhew
Saturday 08 November 2014 15:47 Comments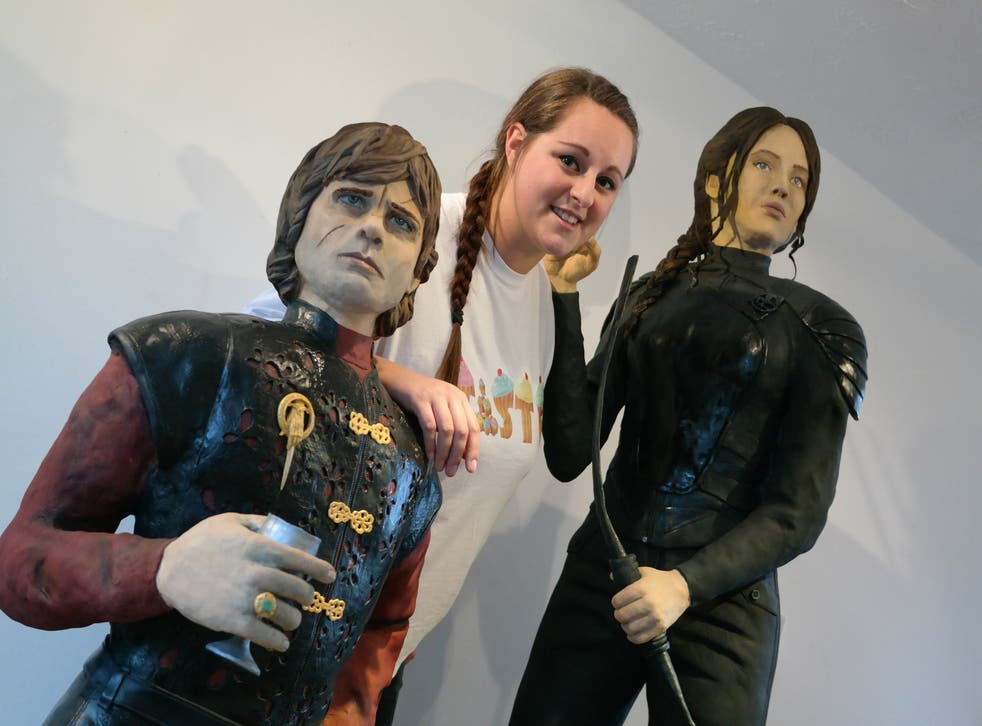 Someone has made a life-sized cake of Jennifer Lawrence. No, really.
Given recent events in the Hunger Games star's life – notably having her private nude photos leaked all over the internet – the usual "and she looks good enough to eat" puns just don't seem quite right.
Standing at 5ft 10in (1.7m) tall, dressed in black and clutching her famous bow, the impressively detailed sponge replica of Katniss Everdeen is almost too good to eat in fact.
The model is the work of 28-year-old Lara Clark, from Walsall in the West Midlands, who said she made it according the actress' real-life measurements, found online.
The cake took three months to make and won the amateur baker a gold medal at the decorative exhibit section of the Cake International competition at Birmingham's NEC on Saturday.
Last year Ms clark also won gold at the competition with her 5ft 5in homage to Johnny Depp as Jack Sparrow, made from crisped rice.
As if one life-size cake wasn't enough, she also won silver this year for her sugar paste take on Game of Thrones favourite Tyrion Lannister, played by actor Peter Dinklage in the popular TV series.
The two cakes took Ms Clark a total of 250 hours to make. She crafted them without any extra help, in keeping with the strict rules of the competition.
But the baker, originally from Belfast, tells admits "you wouldn't want to eat them now" since both have long since gone stale.
Speaking to the The Independent, Ms Clark said winning her second consecutive gold medal "feels amazing".
She has set up her own small bakery company, Tasty Cakes, but still works as a chat moderator for an online bingo gaming service.
"It's kind of a hobby at the moment," she said when asked if this run of awards will see her finally become a full-time professional baker.
"I'm doing cakes for fun. It's a big leap to take, I would like to but I'm worried that I won't enjoy it as much if I have got to do it."
Fans of her confectionery creations could be in for a shock to learn that she is considering not entering next year as she plans to wed fiancé Nick Mason, 26, in Malta next October.
In pictures: Hunger Games and Game of Thrones stars made in cake

Show all 10
The obvious question is who will be making her wedding cake? Teeth chatter nervously in bakeries up and down the country.
Ms Clark says Malta's warmer climate means it's unlikely to be something on the scale of her award-winning entries, but she could be tempted to do something for her return to Britain.
"You never know," she says. "I have been known to do crazier things in the past."
As for her award-winning cakes, they are most likely to end up in the bin. Her Jack Sparrow spent three months in her mother-in-law's garage before being broken up and thrown away, the BBC reported.
Register for free to continue reading
Registration is a free and easy way to support our truly independent journalism
By registering, you will also enjoy limited access to Premium articles, exclusive newsletters, commenting, and virtual events with our leading journalists
Already have an account? sign in
Join our new commenting forum
Join thought-provoking conversations, follow other Independent readers and see their replies