Scottish Independence rally: Bob Geldof, who is Irish, asks voters not 'to break up' Union he is not part of
The musician was joined by Eddie Izzard and Al Murray at the event
Ella Alexander
Tuesday 16 September 2014 16:31 Comments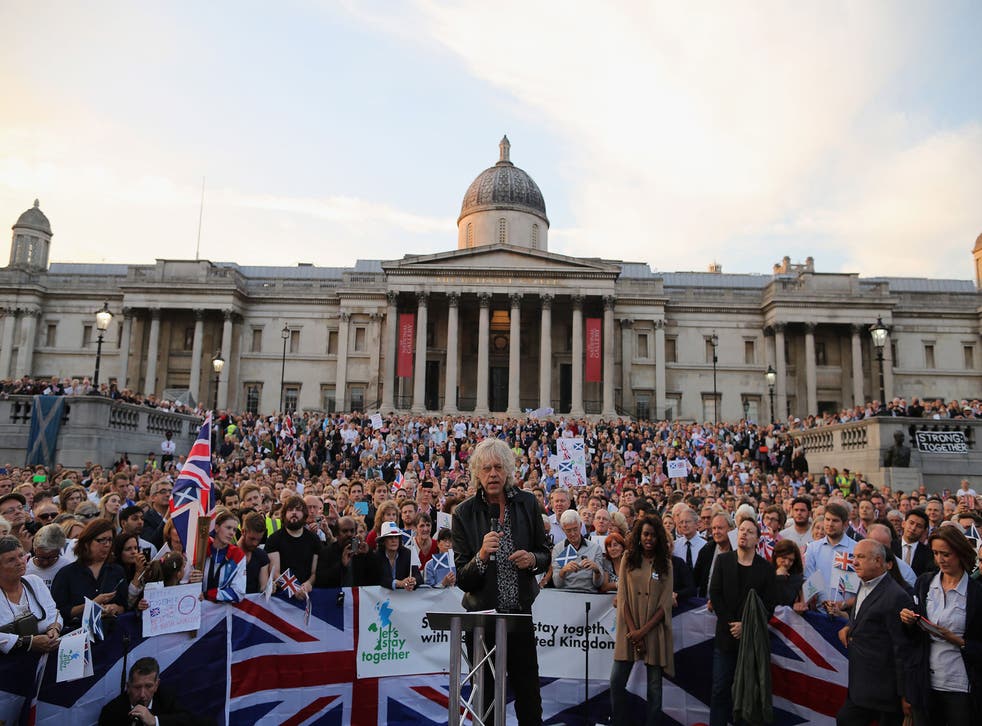 Bob Geldof participated in a Trafalgar Square rally on 15 September, arguing against Scottish Independence, where he asked Scots not to "break up" the Union - despite, as an Irishman, not being part of it himself.
Geldof joined Eddie Izzard, Jenny Colgan, June Sarpong and Al Murray who also attended the public event, organised by historian Dan Snow, as part of the Let's Stay Together campaign.
"I'd just like to tell everybody in Scotland we're all f**king fed up with Westminster and it's even more frustrating for us because we don't even get to do the argument that you've begun," he said addressing the crowd, as song Let's Stay Together was played.
"This argument needs to be had among us all, you can't selfishly resolve it amongst yourselves by taking an easy opt-out clause."
Voters will decide whether Scotland will remain a part of the UK on 18 September. Geldof described Scotland and England as "the closest of cousins" and as such should remain together.
Scottish Independence: For and against

Show all 24
"Before there was a United States, before there was a United Nations, before there was a united this, that and the other there was a United Kingdom and it was an extraordinary meeting of very different minds of two extremely close cousins," said the musician.
"And what a construct this thing is. Because Scotland is a feeling. England is a feeling. Wales is a feeling, Ireland a feeling. But the United Kingdom is one of the greatest ideas for the modern age. Between the native genius of the Scots and the pure pragmatic drive of the English we made a world beater. The pity of this is that we are the closest of cousins – when one of our blood spills then it all spills. There is such thing as a big glorious no. No is not always a negative."
But the irony of the Boomtown Rats singer, an Irishman, making a plea for British unity wasn't lost on some Twitter users.
Izzard – who has frequently voiced his views on the much-publicised debate – said that he "thought it was important for in Scotland to know what people outside feel about independence thought".
"It just seems too sad, and I say this to the people of Scotland, to break up our family and build a border," said Izzard. "It's Scotland's choice. We cannot say anything to you other than that we do care. You are part of the United Kingdom family and we'd love you to stay."
Numerous high-profile names to have addressed the referendum. Among those arguing for independence are Vivienne Westwood, Frankie Boyle, The Proclaimers, Alan Cumming, Billy Bragg, Sean Connery and Annie Lennox.
The list of those who want Scotland to stay within the union include David Beckham, JK Rowling, David Bowie, Eddie Izzard, Alex Ferguson, Mike Myers and Emma Thompson.
Register for free to continue reading
Registration is a free and easy way to support our truly independent journalism
By registering, you will also enjoy limited access to Premium articles, exclusive newsletters, commenting, and virtual events with our leading journalists
Already have an account? sign in
Join our new commenting forum
Join thought-provoking conversations, follow other Independent readers and see their replies