The Independent's journalism is supported by our readers. When you purchase through links on our site, we may earn commission.
Iskra Lawrence: The unretouched size 14 model on the true consequences of our obsession with airbrushing
The British model talks to The Independent about the damaging effect pushing images promoting unattainable standards of perfection are having on young women today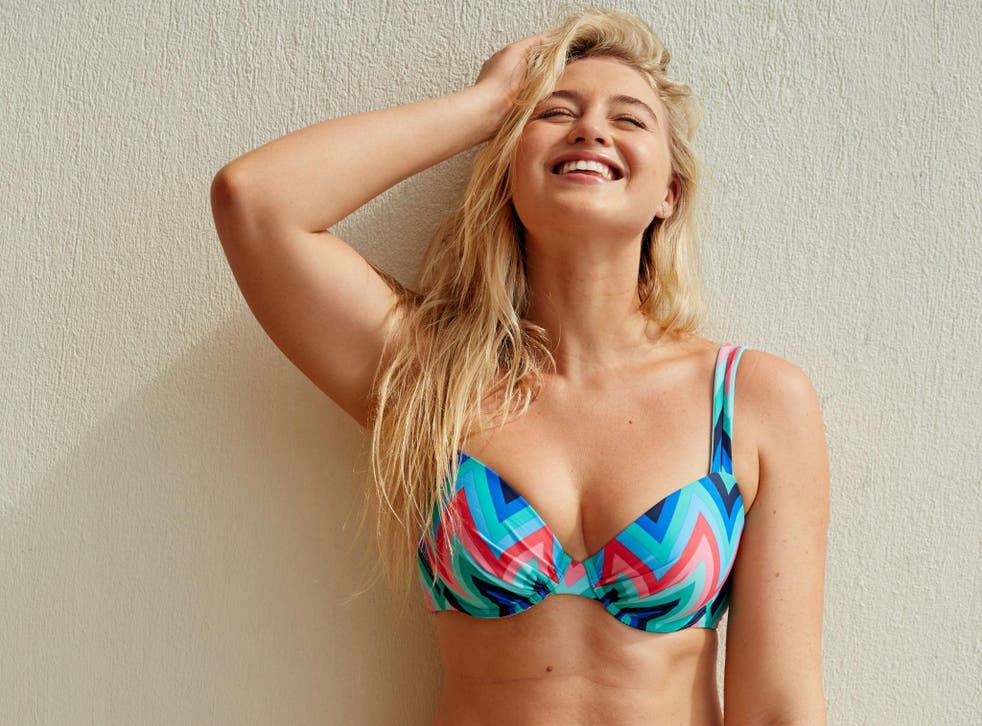 If Iskra Lawrence's name doesn't ring a bell, her adverts should. As the ambassador of a much-lauded anti-retouching, body positive campaign, stories about Lawrence and her new role for the American Eagle Outfitters underwear off-shoot, Aerie, have steadily gone viral since her appointment in February.
Her initial experience of modelling was sadly one many young models can identify with: she was entered into an Elle competition by her mother aged 13, signed, and subsequently dropped a few years later by her agency because they deemed her hips "too big". Her situation became even more paradoxical when she was told that she wasn't big enough for plus-size modelling, leaving her trapped in no man's land and attempting extreme diets in a desperate attempt to fit into one category.
Undefeated, Lawrence signed with a tiny agency that operated from a living room and at the same time began cold-calling anywhere that sold lingerie to ask if they would consider using her as an underwear model.
Reasons stipulated in rejection emails usually oscillated between her being "too womanly" or "too commercial". Eventually, a few smaller brands did cast Lawrence, who decided to swap Kidderminster for New York in order to fulfil her ambitions.
Then she landed her biggest contract with Aerie, was announced as an AerieReal Role Model, and the rest is history.
Lawrence is warm, engaging, friendly and bright. She has a lot to say. You can hear her talking characteristically fast as she flits between chatting to journalists and uploading brief video updates to her 1.2 million Instagram followers and 240,000 Facebook fans.
Unlike many other media-trained, high-profile models, she also wears her heart on her sleeve. The 25-year-old was shown crying in the Aerie advert as she explained why coming on board was so significant to her. "I entered modelling at 13 and I got years of rejection, years of being told I was too fat, that I would never make it," she explains after I ask why she was so upset. "Up until four years ago I was with an agent that laughed at me when I said I wanted to move to New York. He said, 'you'll never make it'. And so I was in Costa Rica [shooting the Aerie Real advert], in the most beautiful place you've ever been, thinking, I'm a girl from Kidderminster, and, I was like… s**t! Look at what is happening! I'm part of this movement that I only could have dreamed of. Basically, I was being un-retouched, and I thought, everybody told me I wasn't good enough, yet this company, who is the best company to work for, who is doing amazing things, told me I am good enough."
Lawrence's bottom half was constantly under scrutiny before she was eventually dropped, to the extent that she actually began researching surgery to reduce the size of her calves. "Every time I was in that agency, they would measure my hips and I would look at the other girls and then I would Google operations to make my legs slimmer, to see if I could get muscle taken out. […] I was desperate. I was going to the gym without eating and nearly passing out, I was doing the Beyonce maple syrup diet at school, and then I was only eating ham for a week." Like many teenagers struggling with their body image, she managed to hide her dieting from her parents.
As an adult, she has also seen the effect retouching has had on her friends in the modelling industry. "One girl was working with a lingerie company a few years ago and they dropped her for being too big, and yeah, she stopped eating. It really can just destroy you like that.
"The way I deal with rejection now is by instead of thinking it's about me, just thinking they just wanted to use that girl. This wasn't the day they wanted to book Iskra, this was the day they wanted to book Emma. […] The more you work on your individuality and being unique, you become invaluable."
Her success on social media is a testament to her claims about the value of developing a unique personal brand. Lawrence has established her strong and loyal Instagram following by sharing candid images of herself and the parts of her body that have been airbrushed out countless times before, such as photos showcasing what she calls her "back fat" and the famous "tiger stripe" cellulite belfie that saw Lad Bible so eloquently announce her as the "plus-sized model sharing bum selfies to promote positive body image". Regardless of how it was described, the image struck a chord with many young girls and women and Lawrence says this was one of her most popular posts. "They do so well. It's crazy because it really isn't a big deal – I've posted a bikini picture, and I haven't used one of those apps to airbrush it. I saw what a lot of Instagram girls were doing and I just thought, 'this isn't healthy', and it's actually more worrying to me than runway models or magazines because I think now we realise that that is a bit of fantasy, that's fashion. But social media is meant to be real. It's meant to be a girl that has taken a quick selfie out on a day out and posted it. But no, there is probably 50 more selfies [that were taken], she might have spent an hour editing that, and that is what is sad."
The obsession with perfection is now at such a level that Lawrence claims photographers would often refuse to send her un-retouched images whenever she requested them. "They would either say no, or they would send me the pictures and I would go, 'I was excited to see these pictures when I shot them and I saw them in the back of the camera, and you've just sent me someone who doesn't even look like me.' I got one back six months ago and my face was a different shape! And I was like, why did you want to shoot with me then?"
She points at a huge image of herself hanging up in the room to highlight these "flaws", but not in a self-deprecating manner. She appears (and, of course, should be) happy with and proud of her body. Physically, Lawrence is a toned UK size 14 but still referred to as a plus-size model. How does it feel to be her size and hear the prefix 'plus' used to describe her body? "I just wish we weren't labelled. Not because I take it personally, but it's because women, and I see them do this all the time, go 'if she's plus-sized, what am I?' Plus-size has a negative connotation. People are not treated equally. You don't get to have the same quality or variety of clothes and if you label me, you label 60 per cent of the population. That's why I don't agree with it."
The Aerie effect has been two-fold: increased visibility for these models, who have watched as their adverts go viral, and higher profits. Aerie reported a nine per cent increase in sales just a few months after launching the campaign.
"You get so much good feedback from girls online," says Lawrence. "They want to shop there because for the first time, instead of a brand playing on our insecurities and making us buy into something to try and attain to something that's not even achievable, it's just saying 'you know what? You're good enough.'"
She now carries a great deal of responsibility on her shoulders, with hundreds of girls messaging her each month for advice on how to feel better about themselves. Some messages, she says, are extremely worrying and indicative of how pervasive the effects of plastering billboards, adverts, social media channels and the internet with false, unattainable images of perfection. "I get suicidal messages, pictures of cutting, you know, just 'help me' [messages]. I knew taking it on and when I started working with the National Eating Disorder Association in the US, they always said to me if it's dangerous, you have to just refer them to the helpline. You can't connect with or start talking to them. But there are also a lot of girls who just reach out and ask 'how do you become confident?' That's probably the number one question that I get asked. They are teenage girls, and they just want to be happy in themselves."
People news in pictures

Show all 18
To these teenage girls, her message of body positivity is firm but simple: "Stop comparing yourself to anybody else. The [pictures of] movie stars, even the Disney characters, that's not real. That's not attainable. You can't be anybody else. You are you. You can't be them. So you really just have to start embracing yourself and accepting so-called flaws that society has given the name 'flaws'. It's just our body, our patchwork quilt."
Unsurprisingly, she does get trolled, a problem increasingly faced by models and many social media users, especially young girls and women. A day rarely goes by without a headline highlighting the prevalence of trolls or body-shaming, but she is unfazed by it.
In the future, she wants to give a TED talk about achieving body confidence. She is now travelling to Harvard to speak on a panel as an expert in her field. According to Lawrence, one of the biggest challenges in improving body confidence is getting people to stop obsessing about their own image and start looking outwards. "I encourage [girls] to stop always talking about yourself and externalising things," she says."When you can start complimenting other people and seeing beauty in other things, it actually makes you feel better. [We live in] a very self-conscious society." In this selfie-obsessed world where value is measured by follower count and the image we present online, she makes a very salient point.
Join our new commenting forum
Join thought-provoking conversations, follow other Independent readers and see their replies