Iwan Wirth: The more public half of the art world's most powerful couple is a creative pirate who shares his treasures
The Swiss dealer and his wife have set up what has quickly become a world-class art centre in their adopted home of Bruton, in Somerset
Nick Clark
Arts Correspondent
Friday 23 October 2015 20:16 Comments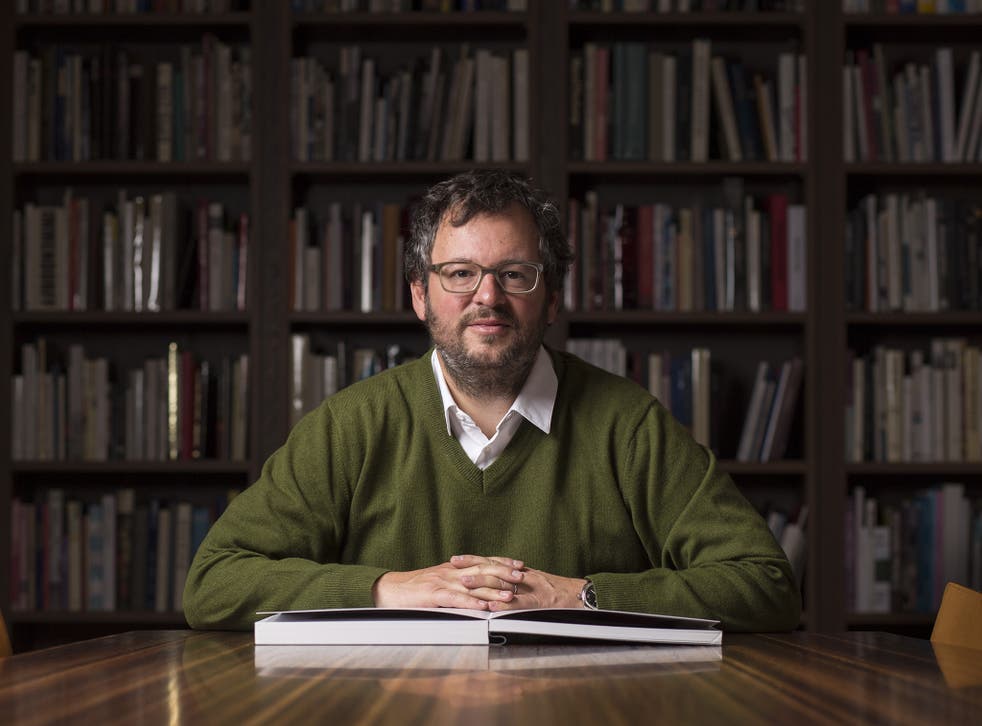 When you think of the art world elite, you might think of openings in Los Angeles, fairs in London or an auction in Hong Kong. You probably don't think of a farm in the West Country. But that, according to insiders, is where the two most powerful people in the business are based.
Iwan and Manuela Wirth – a Swiss husband-and-wife team – this week topped the annual ArtReview Power 100 list, placing them on a plinth that has become the envy of an entire industry. The two are by no means small fry: they have been on the list before. But unlike many former winners – whose number includes the Tate director Sir Nicholas Serota and the artist Ai Weiwei – the Wirth name does not travel far beyond the doors of Frieze.
Part of that has to do with their offbeat style. The pair can resist the gravitational forces that drag the art world's glitterati on a never-ending cycle of the globe's richest cities. They don't have to go to the scene: they can bring it to them. That, at least, is one interpretation of their decision to set up what has quickly become a world-class art centre in their adopted home of Bruton, in Somerset.
It's hard to imagine the cosmopolitan dealer David Zwirner – who in the past three years has been placed second, second and third on the Power List and is a former business partner of Iwan – ever muddying his shoes in a Bruton bramble patch. The Wirths, however, have embraced countryside life with surprising enthusiasm.
The other reason for their low profile is that, despite years as significant players in the art world, they have resolutely shunned publicity. Manuela, in particular, has managed to remain almost entirely invisible in the media, meaning that Iwan, rightly or wrongly, has emerged as the more public face of the partnership.
He could certainly not be described as shy. The son of an architect father and a schoolteacher mother, Wirth was brought up in St Gallen, at the foot of the Swiss Alps. His first brush with art sales came when, just seven years old, he and a cousin made copies of Giacometti and Henry Moore sculptures and sold them for 75 francs each. This distinctive passion appears to have been his driving force ever since.
He opened a commercial gallery at 16, while still at school. "I was always too young," he once said. Three years later, in 1990, he set up as a private dealer in Zurich. Shortly afterwards, he approached the retail magnate Ursula Hauser, seeking half the money he needed to buy a Picasso and a Chagall. She accepted, and they agreed to go into business together.
Hauser introduced the young art dealer to her daughter, Manuela. Wirth, by one account, was so flustered that immediately afterwards he drove his car into a fence, but it was not love at first sight on Manuela's part. She initially thought him "arrogant and young". Nonetheless, when her mother and Wirth set up the first Hauser & Wirth gallery in Zurich in 1992, she came to work as his secretary. They married four years later.
Disappointingly for those seeking an exotic back-story, the couple have worked together ever since. They have adjoining offices at the Savile Row gallery and share most decisions. Iwan, however, controls the sales. He told Vogue that his wife "doesn't like to let go of things, and she's too polite to nag people. It's much easier for me because I have to pay the bills." Hauser, meanwhile, once defined her approach to the art world as keeping curious and open minded. The secret, she said, was to "approach everyone you work with as if they were a member of your family".
Under the couple's guidance, Hauser & Wirth has grown over two decades to rank among the world's elite commercial galleries alongside those of Zwirner and Larry Gagosian. A brand that was born with a gallery in Zurich now reaches across the world. The Wirths own a gallery in New York (set across 25,000 sq ft on the site of a former roller rink) as well as spaces in London – at which Princess Eugenie is now employed.
Their taste can be abrasive. The couple are prime backers of the US artist Paul McCarthy, whose sculptures include a George W Bush look-alike sodomising a pig, and giant inflatables of faeces. "I am not naïve about recognising this art is not for everyone," said Wirth. But "every great museum has a piece by Paul McCarthy".
The Wirths' rise owes to more than just what they exhibit and sell. They have also challenged the very core of the dealership model. "As big art dealers are becoming ever better at selling art for high prices, and as collectors want to see themselves as more than just anonymous purchasers," ArtReview wrote of its list, "the husband-and-wife team understand that selling art objects isn't the whole story – the well-off want to be sold a lifestyle."
The Bruton gallery is the Wirths' latest venture – and it focuses exactly on this principle. Mark Rappolt, ArtReview's editor-in-chief, said: "They are developing a different way of being an international gallery, to one that's not based on a more-or-less-uniform series of white cubes."
The couple often welcome members of the art world to their rural idyll, with Wirth grilling meat from his farm and offering artisanal produce. They have also been known to throw fête-style parties involving the whole village. The Wirths describe Hauser & Wirth Somerset – which opened last year (although they moved there in 2009) and has attracted 100,000 visitors – as the "epicentre" of everything they do. It still very much looks like a barn – with the exception that a giant Louise Bourgeois spider, constructed of steel and marble, stands guard outside.
Gagosian is the only other dealer to have topped the ArtReview power list. The Wirths' elevation in 2015, according to Louise Buck of The Art Newspaper, reinforces the importance of the market. "Everyone has an ambivalent attitude to the market, artists being first and foremost. The whole role of money, while a time-honoured one, is also highly vexed," Ms Buck said. "Hauser & Wirth are interesting; they are an enormously successful enterprise. But they are also very old school in the way they treat artists. They form relationships that go beyond the financial."
In person, 45-year-old Wirth comes across as jolly and energetic, with pink cheeks and curly hair. He is seen as an excellent salesman but also someone passionate about the artists and the creative process. He talks of being drawn to an artist's "particular type of energy" and it seems the feeling is mutual. No artist has ever left the gallery.
Wirth has said that, in its early days, he had to be "a bit of a pirate". The mainstream art market in Switzerland was already sewn up: established artists already had gallery representation and relationships with local collectors. So Hauser & Wirth went for artists with more complicated work who had yet to establish fan bases and needed imaginative support to develop their work and build a market.
The long-time pursuit of this policy has helped the gallery to build up an impressive list of international talent – and to thrive as a business. It has turned a profit every year since the mid-1990s. Besides McCarthy, Hauser & Wirth has a roster of more than 60 artists, including Phyllida Barlow, as well as the Turner Prize-winners Mark Wallinger and Martin Creed.
The family also has an impressive private art collection, and an eclectic one. As Wirth once admitted, they collect "everything from Stone Age axes to Scandinavian furniture". He equated collecting to catching a disease: "It only stops when you die."
A life in brief
Born May 1970, in Switzerland.
Family His father was an architect, his mother a teacher. Married Manuela Hauser in 1992. They have four children.
Career Opened a commercial gallery in his home village aged 16, and four years later set up as a private dealer in Zurich. Met Ursula Hauser and curated a contemporary art collection for her before establishing Hauser & Wirth. Company has galleries in Zurich and New York, as well as two galleries in London.
Register for free to continue reading
Registration is a free and easy way to support our truly independent journalism
By registering, you will also enjoy limited access to Premium articles, exclusive newsletters, commenting, and virtual events with our leading journalists
Already have an account? sign in
Join our new commenting forum
Join thought-provoking conversations, follow other Independent readers and see their replies