Jackie Collins: Tributes pour in the queen of the bonkbuster novel dies aged 77
The writer, who sold 500 million  books worldwide, kept her breast cancer diagnosis secret, even from her sister, Joan
Tim Walker
Monday 21 September 2015 08:09 Comments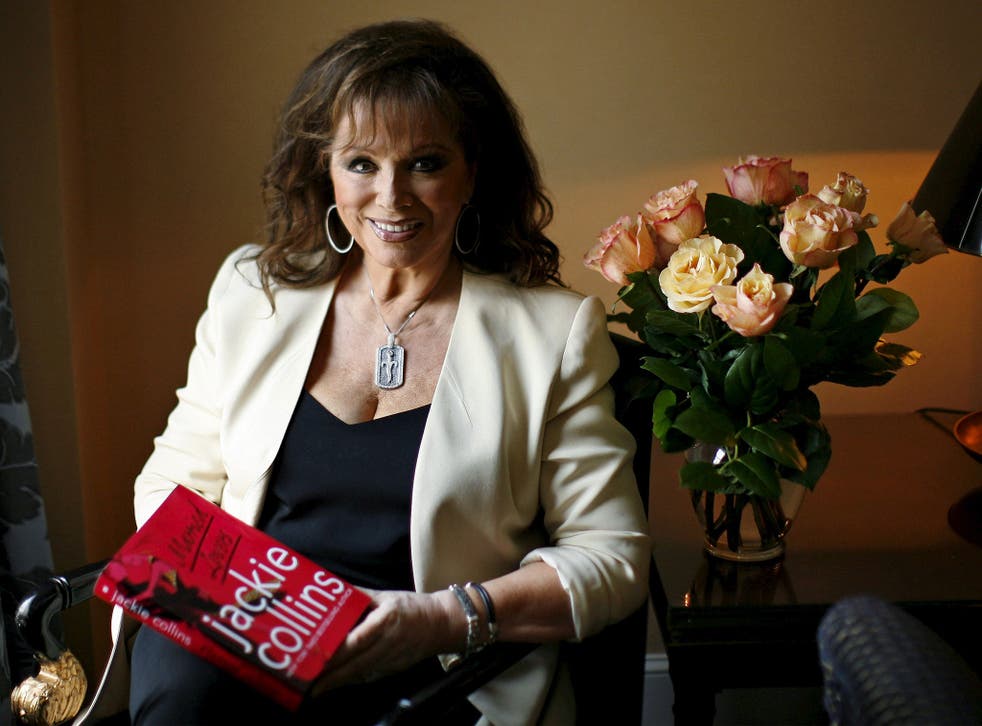 Tributes poured in from around the world yesterday for the best selling author Jackie Collins who lost her secret battle with breast cancer, aged 77.
Despite being diagnosed six-and-a-half years ago the British-born author, who lived in Beverley Hills, told few people about her illness, saying she did not want to "burden" others with it.
Even her sister, the actress Joan, only found out in the past fortnight. As the news of Jackie's death was announced Joan, 82, tweeted: "Farewell to my beautiful brave baby sister. I will love you and miss you forever. Rest in peace."
Collins may not have been a great literary figure, but her influence on popular culture, and feminism, was hugely significant. She was among the first female authors to write about powerful women who unashamedly enjoyed sex and lived independent lives which didn't rely on men for support.
Although she was considered a pioneer of the "bonkbuster", she created her own take on the genre, adding Hollywood glamour and crime.Depite being criticised for the raunchiness of her tales, including by the likes of Barbara Cartland, her books hit a zeitgeist nerve.
She sold more than 500 million copies in more than 40 countries during her career. All her 32 books appeared on the New York Times best seller list.
Her first book, The World is Full of Married Men, published in 1968, was banned in Australia and South Africa for its explicit depiction of extramarital sex. Cartland, the then queen of romantic fiction, described it as "dirty, filthy and disgusting". In it, Linda's unfaithful husband loses out when she demands a divorce and goes on to better things – and a better man – while his independently minded mistress also bores of him too.
It was followed in 1969 by The Stud, the sequel of which The Bitch, came a decade later. Sister Joan starred in both movie versions. It was Hollywood Wives in 1983, in which she disguised the real-life stories of people she met in the world's film-making capital, that catapulted her to international stardom that somehow transcended mere authorial celebrity.
"I never pretended to be a literary writer," she told the New York Times in 2007, the year she was diagnosed with stage-four breast cancer. She would go on to write five further novels, including her last, The Santangelos, which was published in June.
"I did it my way, as Frank Sinatra would say," Collins told People magazine last week in what would be her final interview. "I've written five books since the diagnosis, I've lived my life, I've travelled all over the world, I have not turned down book tours and no one has ever known until now when I feel as though I should come out with it."
The daughter of a show-business manager, Collins was born in London in October 1937. She began writing fiction while at Francis Holland, the independent London day-school, where she sold her salacious tales to her classmates before being expelled at 15.
A naturalised American, Collins settled in Beverly Hills because, she said, "there are so many bizarre characters and so much material for my books".
When Cartland confronted Collins during an episode of the BBC chat show Wogan in 1987, complaining of her work's "effects on young children" and suggesting it had "helped perverts" Collins, unruffled, response was: "I really don't think there's anything disgusting about naked people rolling around on beds. I thought that was what you were supposed to do."
Her first marriage to Wallace Austin lasted four years, but her second bore little resemblance to the complicated private lives of her characters. Collins and Oscar Lerman were married for 27 years, until his death from cancer in 1992.
Collins's celebrity friends and fans, including TV presenter Oprah Winfrey, actress Sandra Bullock, novelist Barbara Taylor Bradford, Sharon Osbourne and journalist Piers Morgan, have all paid tribute to the novelist.
The Collins family said in a statement: "She lived a wonderfully full life and was adored by her family, friends and the millions of readers who she has been entertaining for more than four decades.
"She was a true inspiration, a trail blazer for women in fiction and a creative force. She will live on through her characters but we already miss her beyond words."
Register for free to continue reading
Registration is a free and easy way to support our truly independent journalism
By registering, you will also enjoy limited access to Premium articles, exclusive newsletters, commenting, and virtual events with our leading journalists
Already have an account? sign in
Join our new commenting forum
Join thought-provoking conversations, follow other Independent readers and see their replies