The Independent's journalism is supported by our readers. When you purchase through links on our site, we may earn commission.
Jaden Smith: The actor, rapper and teenage son of Will Smith championing gender fluidity
From Karate Kid to Louis Vuitton model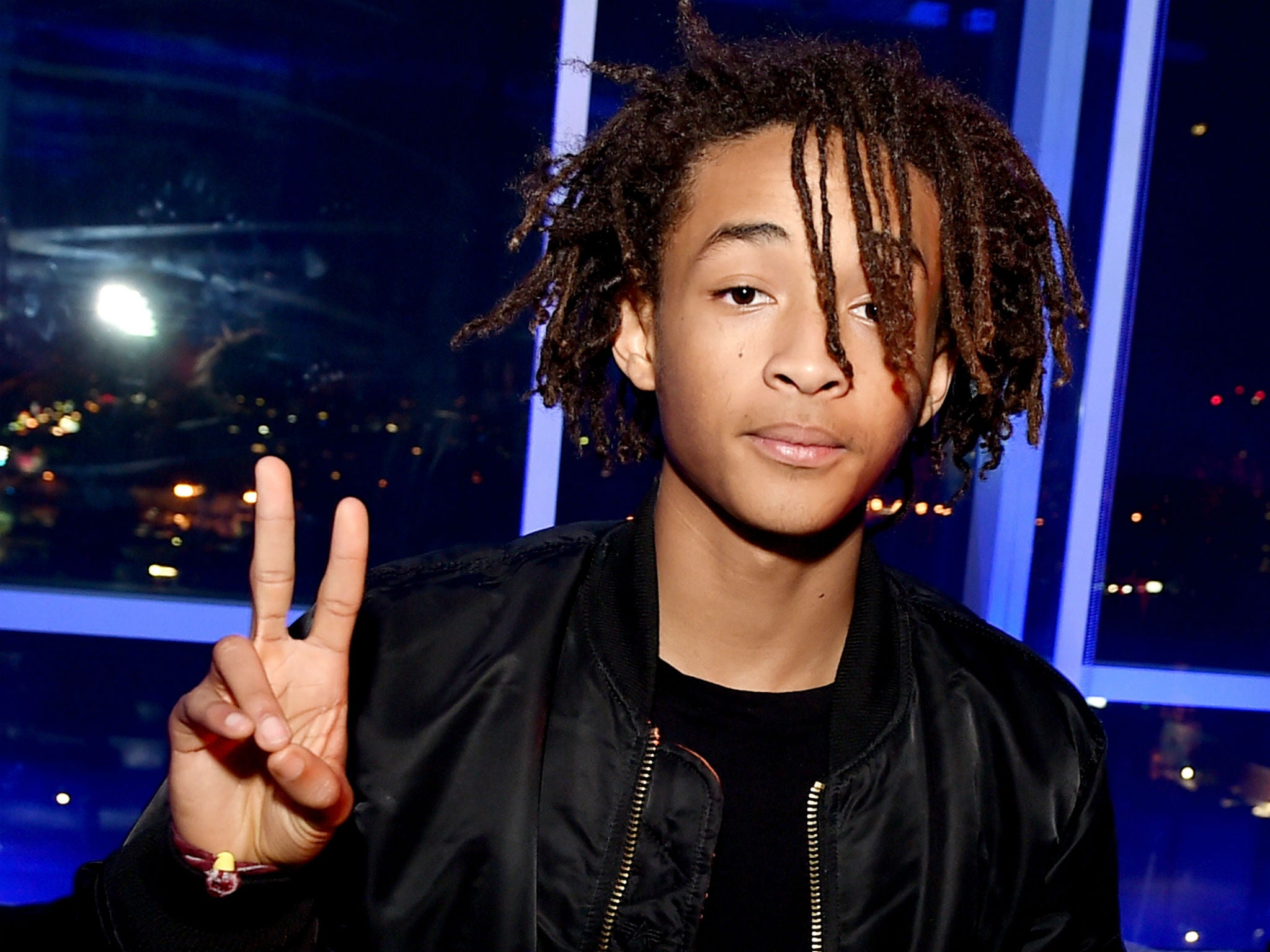 Jaden Smith is just 17-years-old and already making waves. The son of a Hollywood power couple and a successful actor in his own right, Jaden has undertaken another position as an icon for gender fluidity.
Being gender fluid is to identify as neither solely male or female. This can be done through dress by rejecting the premise that certain clothes are meant for one gender.
This is exactly what Jaden has done in his recent campaign for Louis Vuitton by appearing in a womenswear campaign and doning a skirt.
In doing so, Jaden has reignited a conversation about gender fluidity which previous household names Ruby Rose and Miley Cyrus spearheaded. The reaction to Jaden's shoot has been mostly positive with many praising him for breaking gender stereotypes and being a "non-binary icon". Conversely, others said that while Jaden's campaign was a step in the right direction, he is encroaching upon transgender territory and identity in doing so.
Although hitting the headlines more prominently this time around, Jaden has been in the public eye for a while now and started acting and rapping in his early teens.
The eldest child of actors Will Smith, 47, and Jada Pinkett-Smith, 44, Jaden was born in July 1998 in Malibu, California.
His first film role was alongside his father in The Pursuit of Happyness in 2006, aged eight, for which he won an MTV 'popcorn' movie award. He appeared alongside Smith for a second time in After Earth, which was released in 2013.
Will said in 2015 that he lets Jaden do his own thing, and told the Ellen Show him and Jada, both "being artists", decided "it's sort of better to flow with what people are naturally, more than, like, what our egos need them to be".
In 2010, Jaden starred alongside the iconic actor Jackie Chan in a remake of the Karate Kid.
Growing up as a son of the rich and famous meant Smith became friends with others in similar situations. Part of the young Hollywood Millennial crowd, Smith was often spotted with Kendall and Kylie Jenner, the youngest sisters of the Kardashian-Jenner reality TV dynasty in his early teen years.
Also friends with Justin Bieber, he followed in his father's footsteps again by rapping on the Canadian singer's song "Never Say Never". He also supported Bieber in various places on his world tour of the same name.Never Say Never. He also supported Bieber in various places on his world tour of the same name.
More recently he appeared on social media alongside Hunger Games actress Amandla Stenberg, who he took to prom in May 2015 wearing a dress.
Stenberg is also an activist, regularly speaking in support of the Black Lives Matter movement and against police racism. She criticised Kylie Jenner of "appropriating black culture" when the former posted a picture of herself with her hair braided in cornrows. Jenner responded saying: "Mad if I don't, Mad if I do… Go hang w Jaden or something." (sic)
During his teenage years, Smith appeared to make the transformation from sidekick-of-Bieber and famous-son-of-actors to become known in his own right for, well, speaking his mind.
He and sister Willow, 15, have been associated with philosophical, yet often confusing, quotes and mantras.
Bizarre things Jaden Smith says
Show all 7
The siblings conducted an infamous interview with T magazine in 2014 where Jaden, aged 16 at the time, spoke of the "melancholiness of the ocean", the "duality of the mind" and "prana energy" whereas Willow disputed the existence of time.
Jaden continued this meandering on social media discussing everything from Kanye West being the "greatest dancer of our generation", speaking the language of "Jaden", the colour of trees, and the emotions urinating can bring.
Indeed, when he temporarily deleted Twitter last year, the social media world went into mourning.
Jaden is also a keen fashionista and was spotted in the audience of the exclusive New York Fashion Week Show for Yeezy collection by Kanye West in September 2015.
He launched a clothing line, MSFTSrep, in 2015. In typical Jaden style, the website explains the brand is a "creative workforce dedicated to supporting and waking up the population of planet earth, through attaining knowledge and personal growth".
Towards the end of last year, Jaden was rumoured to be in a relationship with model Sarah Snyder, 19, whom he was spotted getting close to during NYFW.
Join our commenting forum
Join thought-provoking conversations, follow other Independent readers and see their replies