Jean Luc Godard's muse Anna Karina on why she refused to star in 'Breatless'
'If I don't enjoy something, I don't do it. I just don't do it. Why would I go and play some part that doesn't interest me?'
Nathalie Olah
Friday 12 February 2016 15:07 Comments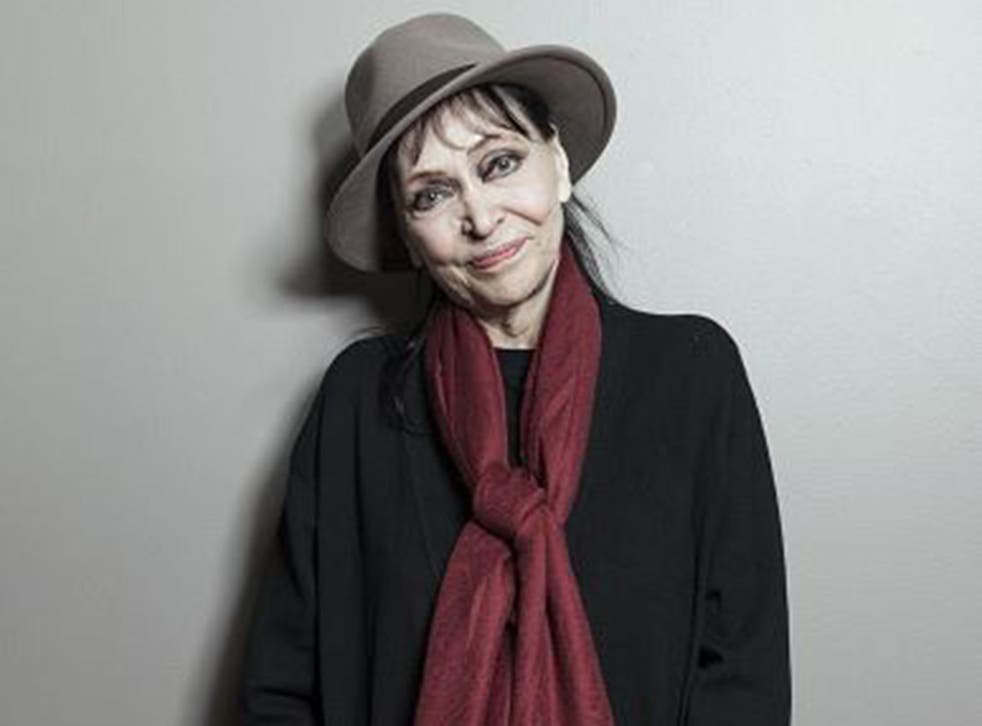 We are at the British Film Institute on the South Bank in London, in a greenroom replete with mid-century Lucite orb lamps and potted palms. It is strange to be surrounded by renderings of a period in cinema immortalised by the woman sat in front me – actress, singer and poster girl of the French New Wave, Anna Karina, now 75 years old.
Danish-born Karina and film director Jean-Luc Godard were one of the most celebrated pairings of the 1960s, and suffered one of its most well-publicised break-ups. During their four-year marriage and for a short time afterwards, they collaborated on seven critically acclaimed films that solidified Karina's place in the cinematic hall of fame. These included the musical comedy Une Femme est une Femme (A Woman Is a Woman), absurdist action movie Bande à Part (Band of Outsiders), dark romantic comedy Pierrot le Fou (Pierrot the Madman) and sci-fi noir Alphaville. Karina went on to star in Rainer Werner Fassbinder's Chinese Roulette and Luchino Visconti's The Stranger (both 1976) and released a string of musical hit numbers with Serge Gainsbourg, including "Sous le Soleil Exactement" and "Roller Girl" (both 1967).
Here is the woman who paved the way for Uma Thurman in the Kill Bill series and Pulp Fiction, who deftly slayed five men in Pierrot Le Fou (1965), all the while singing in a succession of pink cotton dresses. "But I would never kill anybody in real life," she stresses. "You have to know that. In real life I'd just close the door and run away!"
In person the sense of mischief is no less apparent. Karina is wearing an oversized stetson and her signature winged eyeliner. Of her on-screen aliases she most resembles Odile in Bande à Part (1964), in the coffee-house dance scene in which she taps her feet for four whole minutes along with co-stars Sami Frey and Claude Brasseur.
"If I don't enjoy something, I don't do it. I just don't do it," she says, stressing the last sentence with a smack of the thigh on each syllable. "Sometimes I've been wrong about projects I've worked on, which have not been as good as I would have hoped. But why would I do something I don't enjoy? Why would I just go and play some part that doesn't interest me, if I can write or do something else? It has to please me. And when it does, I will do my best. I will do my very best."
Karina can be credited with some of the most recognisable lines from her films with Godard. In Pierrot le Fou, when the lovers Marianne (played by Karina) and Ferdinand (Jean-Paul Belmondo) end up on an abandoned island, Marianne is seen walking along the beach repeating the line, "What can I do? I don't know what to do!") "Jean-Luc said to me, "You must walk along the beach acting like you are really bored." And I thought, it's a long scene! What am I going to do for the whole time? I said to him, "What can I do? I don't know what to do!" And he said, "You're going to say just that!" By the end of the scene I'm screaming it."
There is a childlike quality to some of Karina's most memorable performances. But then when a model scout approached her in Cafe Les Deux Magots in Paris, Karina was just 17. She had recently fled a difficult relationship with her mother and stepfather in Denmark and arrived in the French capital to live in a cheap hotel. Soon enough, she was soaping herself under strategically placed bubbles in a TV ad for Palmolive.
Godard made contact after seeing the ad to ask if Karina would like to play a small part in A Bout de Soufflé, or Breathless (1960). It involved nudity. Karina refused. A year later, following the film's success, Godard tried again. This time casting Karina in the lead role in Le Petit Soldat, or The Little Soldier (1960). The film takes a look at the dubious methods employed by the French during the Algerian war and would prove to be Karina's most political role, confirming her credentials beyond the worlds of TV advertising and fashion.
Yet she still owed a great deal to both. I read that Karina had once met Coco Chanel. "Ah mais oui! I was shooting for Elle, and there she was, this lady with a big hat and a cigar. I guess she was already about 65 but she didn't look it. She was beautiful. She said in broken English, "Little girl, I heard you wanted to be an actress. What is your name?" I said, "Hanne Karin Blarke Bayer." And she said, "Hanne Karin? Hanne Karin?" No," she said, "it can't be Hanna Karine. It will have to be Anna Karina." And then she left. I never saw her again, but I liked it. Anna Karina, with a 'k'. In the beginning some people spelt it with a 'c' but I always corrected them."
I ask if it was difficult losing the youthful qualities that made her so famous. "Ageing is completely normal. Everybody has to go the same way. I guess that people have to understand that they can't look 18 their whole life. You have to stick to your own age. That's how it is. And maybe more people will like you for taking that attitude."
Karina has lived for 40 years in the Saint-Germain-des-Prés region of Paris, a stone's throw from the café in which she was first discovered. She is visibly enamoured by her fourth husband, Dennis Berry, whom she first married in 1982 and divorced in 1994 and reprised her relationship with more recently. The pair still watch movies, but Karina is sceptical of new approaches. "This summer we watched five films and walked out of all of them because they were so terrible. Dennis went to see Star Wars but left before the end. Instead we like to watch movies like Singing in the Rain and Gone with the Wind."
The BFI's Godard season runs until March, and StudioCanal will reissue the director's full works on DVD in March. Did Karina have any idea of the cultural contribution she was making when first entering into her creative partnership with Godard? "How could I? When you've done nothing you don't know! In the very beginning I just wanted to go out and play on the streets, to sing and dance and to make some money." I wonder if she would have done anything differently; if she would give any advice to her younger self? For instance, I might tell my younger self not to get so upset.
"Yes darling," she says, resting a hand on my knee. "But you didn't make films with Jean-Luc Godard! 'What advice would you give to yourself'! It's very poetic. I love it. But why would I tell her to do something else? It was a big gift from heaven what I got to do. I'm an old lady now. I have some very bad memories of course. More painful, I would say. Just like everybody else. But if I was speaking to my former self I would only have one word of advice, and that would be: do exactly the same as you did!"
'Godard: The Essential Collection' is out now on DVD and Blu-Ray; the Jean-Luc Godard season at the BFI Southbank runs until 16 March
Register for free to continue reading
Registration is a free and easy way to support our truly independent journalism
By registering, you will also enjoy limited access to Premium articles, exclusive newsletters, commenting, and virtual events with our leading journalists
Already have an account? sign in
Register for free to continue reading
Registration is a free and easy way to support our truly independent journalism
By registering, you will also enjoy limited access to Premium articles, exclusive newsletters, commenting, and virtual events with our leading journalists
Already have an account? sign in
Join our new commenting forum
Join thought-provoking conversations, follow other Independent readers and see their replies