Jeb Bush: Who is the younger brother of George W Bush expected to run for 2016 Presidency?
Could Hillary Clinton and Barack Obama have another Bush family member to compete against?
Ella Alexander
Tuesday 16 December 2014 18:35 Comments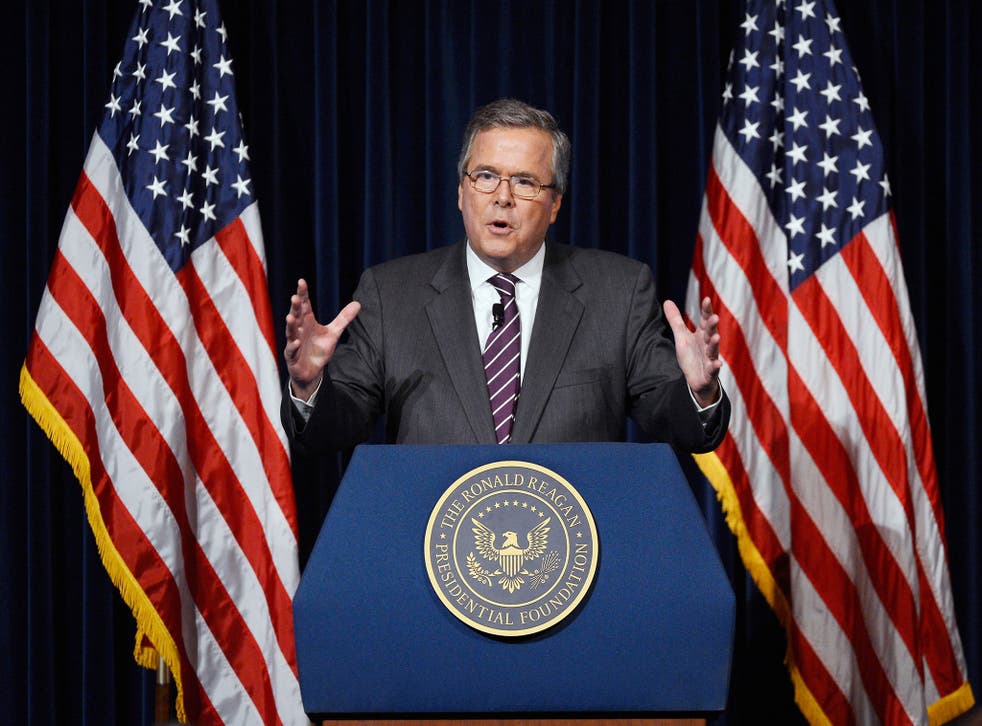 The brother of George W Bush is planning to 'actively explore' running for President in 2016.
Yes, Jeb Bush, the third child of the former President George HW Bush, "talked about the future of our nation" with his family over Thanksgiving and came to the conclusion that he should run against Barack Obama.
The former Governor of Florida, a devout Republican, has been publicly urged to run for office by his father and brother and it seems they may have finally convinced.
But what do we know of him as person? Allow us to add further insight into the man who could be next in line to the Bush presidential throne.
His name spells his initials…
Jeb is a direct pronunciation of J.E.B. (John Ellis Bush).
He's unsurprisingly a daddy's boy…
Bush worked without salary on his father's campaign for the Republican president nomination in 1980. "I wasn't motivated for politics, I wasn't motivated because of ideology or anything," he said. "My dad's the greatest man I've ever met or will meet; I can predict that fairly confidently. It was payback time, simple as that." However, he did say as recently as yesterday that "you don't have to follow the pattern, you can do what you want to do."
He believes in capital punishment…
He oversaw 21 executions as Governor of Florida, but suspended all in Florida on 15 December 2006 after the execution of Angel Nieves Diaz went wrong. The killing took 37 minutes to complete and another lethal injection was required.
He is a father of three…
Their names are George Prescott Bush, a Commissioner of the Texas General Land Office; Noelle Lucila Bush, a graduate of Florida State University; and John Ellis Bush, Jr who works for a Miami, Florida commercial real estate firm.
His daughter's battle with drugs provoked his wife to raise awareness for drug-related issues…
Noelle Bush was arrested in 2002, charged with trying to fill a false prescription of Xanax at a pharmacy. She was later charged for hiding crack cocaine in her shoe while staying at a drug rehabilitation centre. Her problems led Bush's wife, Columba, to get involved in raising awareness about substance abuse. She became involved with organisations such as the Informed Families of Florida, which aims to educate families about the dangers of drug abuse.
Wife Columba Bush was once detained…
She was was briefly held at Atlanta airport after falsely claiming she bought only $500 on clothes during a Paris shopping trip. She had, in reality, spent $19,000.
It sounds as if his wife won't enjoy First Lady status…
"I did not ask to join a famous family," she once said. "I simply wanted to marry the man I loved." Bush keeps a low-profile and is rarely seen at events her husband, despite her involvement in numerous charity projects such as CASAColumbia, a national anti-drug group.
He was once approached to be an NFL commissioner…
But turned the role down in 2006 because of his political career. "I'm flattered," said Bush. "But I'm Governor of the state of Florida and I intend to be Governor until I leave - which is January 2007."
He belongs to Catholic fraternity organisation Knights of Columbus…
His brother, George W Bush, is a member too.
He is fluent in Spanish…
He attended the University of Texas, where he earned a BA degree in Latin American affairs, completing his coursework in just two and half years.
He once worked as a teacher. Sort of…
Aged 17, he taught English as a second language in León, Guanajuato, Mexico, as part of Phillips Academy's student exchange program. While in Mexico, he met his future wife, Columba Garnica Gallo.
He'd give Del Boy a run for his money in terms of business enthusiasm…
Bush has dabbled in a variety of entrepreneurial projects. He's worked for a mobile phone company; has served on the board of a Norwegian-owned company that sold fire equipment to the Alaska oil pipeline served as a minority owner of the Jacksonville Jaguars; once bought buying a shoe company that sold footwear in Panama; and was also involved in a project selling water pumps in Nigeria.[20]
Register for free to continue reading
Registration is a free and easy way to support our truly independent journalism
By registering, you will also enjoy limited access to Premium articles, exclusive newsletters, commenting, and virtual events with our leading journalists
Already have an account? sign in
Join our new commenting forum
Join thought-provoking conversations, follow other Independent readers and see their replies