Jeremy Hunt's most controversial moments as Health Secretary
From the Murdoch controversy to the Olympics G4S quandary, the Conservative MP has often found himself in the firing line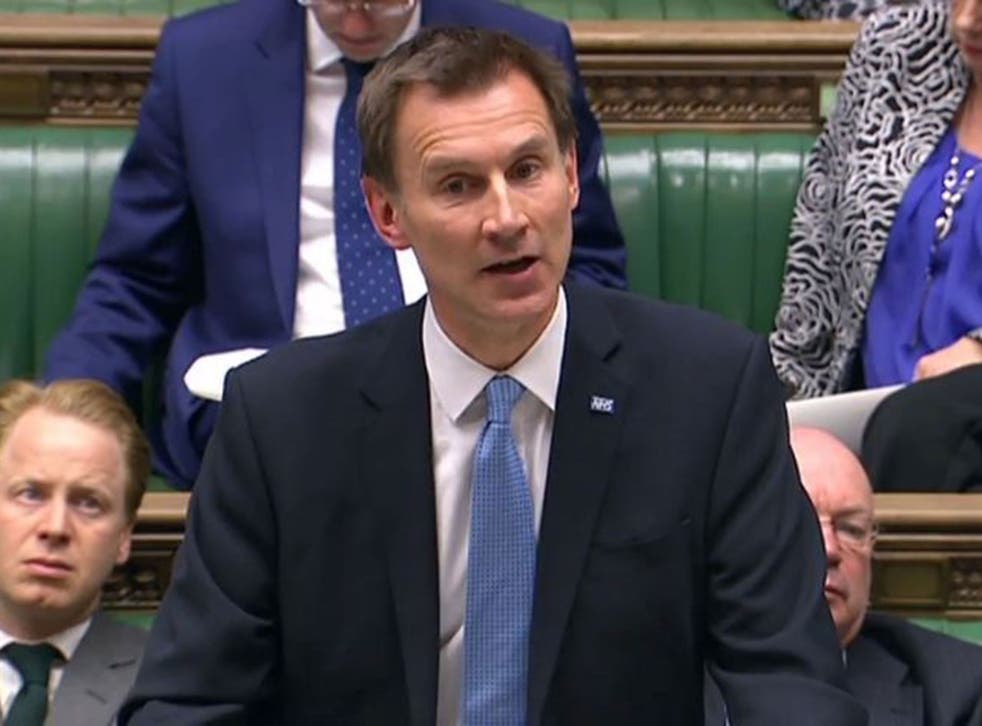 It would be fair to say Jeremy Hunt is not the most popular man in the country right now. So much so that he has been forced to admit his own unpopularity. As he readily announced today, "You're never going to win a contest for being the most liked person when you do this job".
As hospitals prepare themselves for the first Accident and Emergency walkout in the NHS's 68-year history, the health secretary has become yet further embroiled in the seemingly endless junior doctors' dispute. Much to Hunt's displeasure, the all-out strike will take place from 8 in the morning till 5 in the afternoon on both Tuesday and Wednesday of this week. In turn, 125,000 procedures and operations have been cancelled.
But this is not the first time the Conservative MP for South West Surrey, has landed himself in hot water. You could say his political career has been punctuated by controversies. From the G4S calamity at the 2012 Olympics to heavy criticism for his views on abortion, the South-London born Surrey-raised Oxford-educated politico has frequently found himself in the public eye for his political endeavours.
In pictures: Junior doctors protests in UK

Show all 10
Murdoch controversy
It's no secret that Hunt garnered his fair share of controversy while Culture Secretary back in 2012. The PPE graduate was at the centre of the dispute over the management of News Corporation's, the company founded by Murdoch, takeover bid for BskyB. It later emerged Hunt had been in private text and email exchange with James Murdoch before his office was tasked with overseeing the firm's bid. Despite being called upon to resign by the Labour opposition, Lord Justice Leveson ended up clearing Hunt of bias once the report was published.
Olympic G4S shambles
Responsible for the London 2012 Olympics, Hunt came under serious fire after it became clear G4S could not provide enough security staff for the Games. Amid the dispute, Hunt refused to rebuke the firm, saying it was "completely normal" for contractors in such situations to fail to deliver. In the end, Hunt announced soldiers would have to be drafted to stand in, admitting that he'd have to "think again" about the default use of private contractors in the future.
Abortion
In case it passed you by, the Health Secretary prompted heavy criticism for saying he would support a change in the law to halve the limit on abortions from 24 weeks into a pregnancy to 12. At the time, he was attacked by politicians from a cross spectrum of parties, even his fellow Tory MPs.
Junior Doctors' row
As the junior doctors' row escalates and descends into its latest round of disorder, Hunt remains stubbornly committed to not backing down. As well as driving a deep rift through the medical profession and damaging morale amongst doctors, A&E and maternity units will be staffed almost entirely by senior consultants during the latest strikes.
Today's two-day strike is the fifth junior doctors' protest to date, following on from a dispute which stretches way back to October of last year. As you'll no doubt be aware, junior doctors are protesting against the new contract in England, which the British Medical Association says is unfair and argues will compromise patient safety.
In their own words, "We urge the government not to impose a contract that is unsafe and unfair. We will resist a contract that is bad for patients, bad for junior doctors and bad for the NHS."
If Hunt does indeed get his own way, it is widely seen to signal the end of the NHS as we know it, propelling it a step closer towards privatisation. It goes without saying that the dispute has done little for his popularity amongst the British public. A recent YouGov survey found that just 17 per cent thought Hunt was doing well while 65 per cent thought he was doing a bad job as Health secretary. He was found to be significantly more unpopular than George Osborne, David Cameron and Jeremy Corbyn.
Junior doctors strike - all you need to know
The Dennis Skinner effect
Hunt has become the latest politician to fall under Skinner's wrath. The forthright Labour MP, also known the 'Beast of Bolsover', told the health secretary to "wipe that smirk off his face".
"When the Secretary of State came into the chamber today I don't know whether he realises it or not but there is a smirk and arrogance about him that almost portrays the fact that he's delighted in taking part in this activity," the socialist politician said thrusting his finger at Hunt and scolding him. While it didn't have quite as much ring to it as "dodgy dave" it has garnered the laughs of the internet.
Join our new commenting forum
Join thought-provoking conversations, follow other Independent readers and see their replies