Jimmy Carter: Former president to begin treatment immediately for cancer on brain
The 90-year-old says things are in the 'hands of God'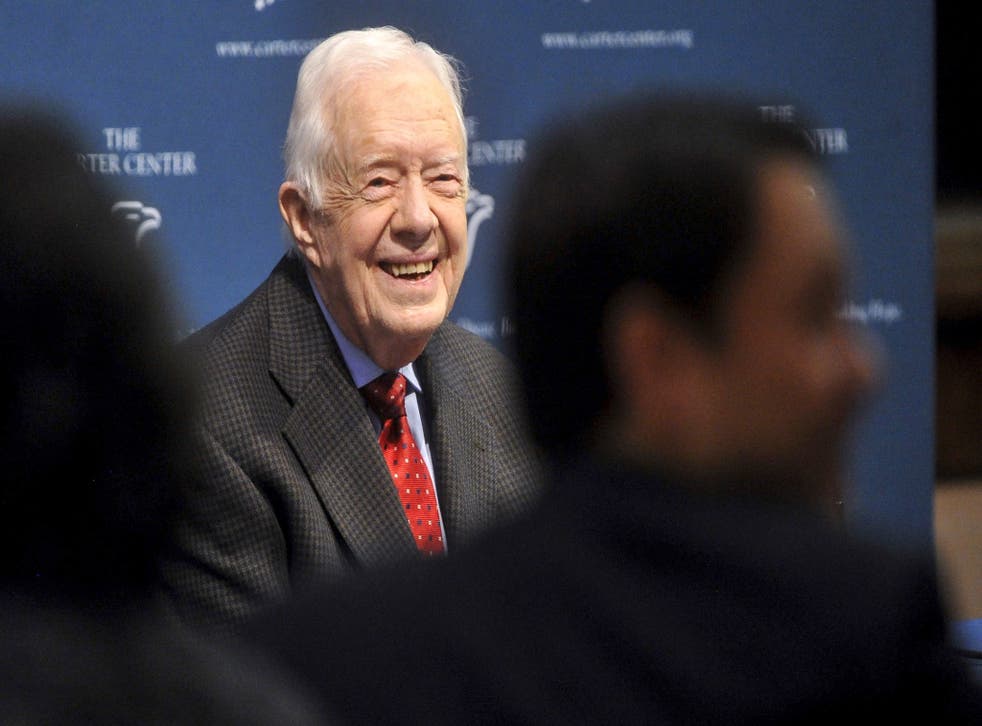 Former US president Jimmy Carter has revealed that doctors have found four spots of melanoma on his brain. He will receive radiation later today.
In reflective, dignified, even occasionally upbeat, mood at a lengthy press conference in Atlanta, Mr Carter, 90, played down his medical drama.
"I feel good," he told one reporter. "The pain has been very slight".
He said a mass of undetermined nature was discovered on his liver in May and he had told his wife, Rosalynn Carter, about it the following month. He had it removed in surgery earlier this month.
He said he was "quite relieved" when doctors successfully removed the liver tumour. But it was during a subsequent MRI scan of his neck and head that "four small spots" were found on his brain.
"I just thought I had a few weeks left, but I was surprisingly at ease. I've had a wonderful life."
A Democrat whose single term was marred by the Tehran hostage crisis that started in Nov 1979 and lasted 444 days, he said his philosophy had to be to "hope for the best and accept what's coming…I'm ready for anything and looking forward to a new adventure."
Known for his strong religious faith, he added: "It is in the hands of the God who I worship"
Referencing the several months of treatment now before him, he expressed regret at having to curtail his activities as founder of his charitable foundation, the Carter Center, where in his long post-presidency career he has focused on promoting human rights, monitoring democracy and alleviating suffering around the world.
"I really wanted to go to Nepal to build houses," Mr Carter, who received the Nobel Peace Prize in 2002, offered. "I am going to cut back fairly dramatically on my obligations."
That, he said, would for example mean ending fund raising efforts but still signing letters and so forth.
He said it wasn't clear where the melanoma, which in other patients presents itself more usually on the skin, had originated.
His family has a long history of cancer and he acknowledged that it would not be a surprise if further cancers are found in his body moving forward. His liver surgery happened on 3 August. Mr Carter announced nine days later that the surgery had revealed the cancer.
The son of a peanut farmer in Plains, Georgia, Mr Carter said he had received phone calls on Wednesday from both George H W Bush and George W Bush, also members of the former presidents club. President Barack Obama had also called to give him good wishes.
Asked if he had any regrets looking back, he almost joking said he wished the failed special operation to try to rescue the US hostages in Iran had worked out differently.
"I wish I'd sent one more helicopter to rescue the hostages," he quipped, smiling broadly. "I think I might have been re-elected."
Join our new commenting forum
Join thought-provoking conversations, follow other Independent readers and see their replies