John Oliver breaks down 'rigorous' US vetting process for Syrian refugees after wave of 'anti-refugee rhetoric'
'Every generation has had its own ugly reaction to refugees'
Olivia Blair
Wednesday 25 November 2015 14:30 Comments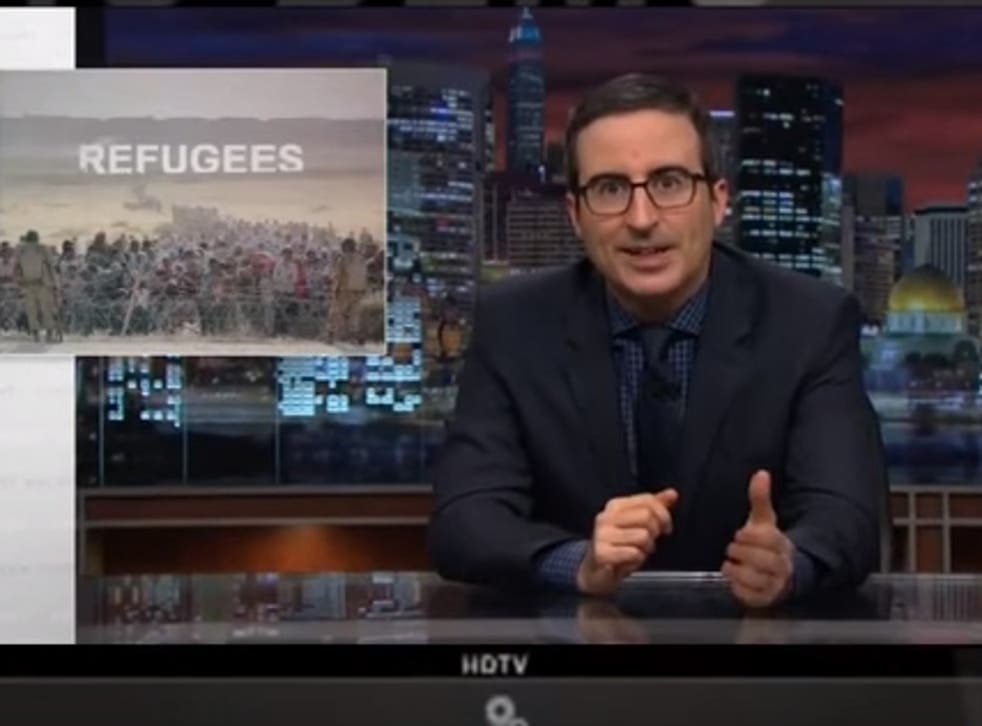 John Oliver has mocked US politicians who wish to block Syrian refugees from entering the country by explaining the rigorous vetting system which is already in place.
Speaking in his weekly monologue on his HBO current affairs show Last Week Tonight, Oliver debunked the rhetoric surrounding refugees in the wake of the Paris terror attacks.
Following the attacks, a significant number of Republican officials sought to block the planned admission of at least 10,000 Syrian refugees in 2016.
President Barack Obama condemned this saying officials were "scared of widows and orphans" settling in the US and their anti-refugee rhetoric could be used as a "potent recruitment tool for Isis".
The British-born presenter also reminded viewers of the historical repercussions of hostility towards refugees.
After showing footage of a boat containing 900 Jewish refugees being turned away from America and sent back to Europe in 1939, he said: "Every generation has had its own ugly reaction to refugees whether they are the Irish, Vietnamese, Cubans or Haitians and those fears have been broadly unfounded.
"In fact there was only one time in American history when refugees wiping everyone out did actually come true and we'll all be celebrating it on Thursday," referring to the American holiday, Thanksgiving.
Oliver, 38, explained that while he understood it is fair "to be concerned about safety in the wake of these attacks", officials calling for a tougher vetting system for Syrian refugees perhaps do not understand the extensive procedure already in place.
He proceeded to disect each stage of the process, which usually takes between 18 and 24 months to complete.
"This is the most rigorous vetting anyone has to face before being let in this country. No terrorist in their right mind would choose this path when the visa process is far less effort."
He then mocked the House of Representatives vote for "tougher screening procedures" which include the director of the FBI signing off each individual refugee application by suggesting "a pie eating contest" or "spelling bee" could also be added to the vetting process.
Register for free to continue reading
Registration is a free and easy way to support our truly independent journalism
By registering, you will also enjoy limited access to Premium articles, exclusive newsletters, commenting, and virtual events with our leading journalists
Already have an account? sign in
Join our new commenting forum
Join thought-provoking conversations, follow other Independent readers and see their replies