Jon Stewart says Donald Trump's election victory was 'a reaction not just to Democrats but to Republicans'
Stewart, who left the Daily Show before a Trump presidency seemed likely, suggested there was blame to go around on both sides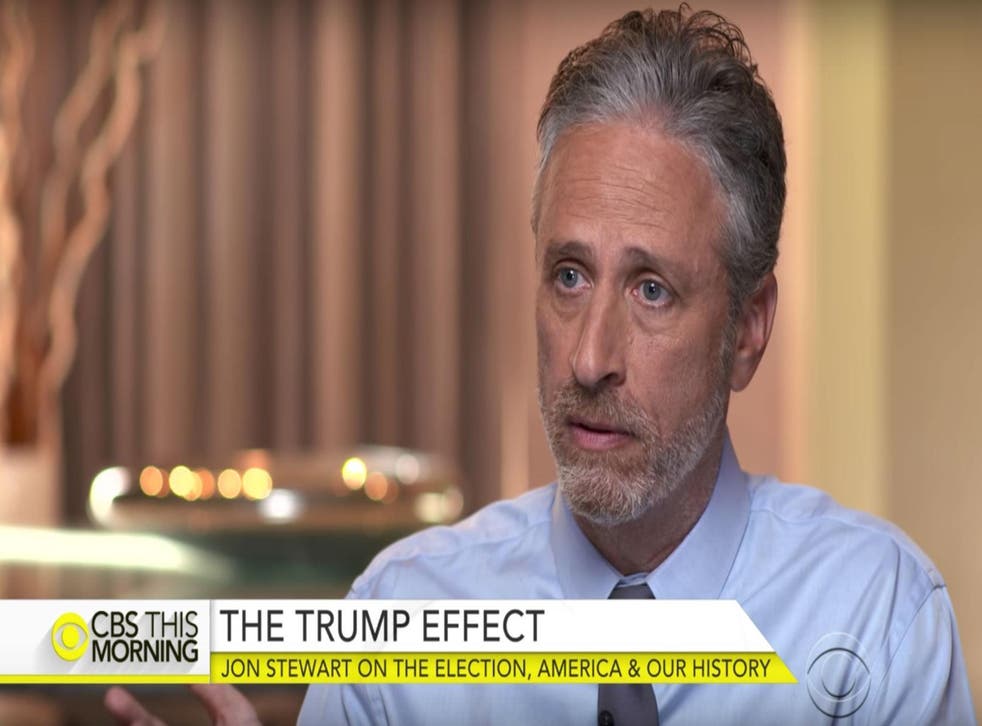 If you thought Jon Stewart could make you feel any better about President-elect Donald Trump, think again. The comedian and former Daily Show host says Democrats and Republicans are equally to blame for the rise of the reality TV businessman to the highest office in the land.
Speaking to CBS host Charlie Rose on This Morning, Stewart described Trump as "a reaction not just to Democrats but to Republicans," adding: "He's not a Republican. He's a repudiation of Republicans, but they will reap the benefits of his victory, in all of their cynicism."
But the comedian cautioned liberals against tarring all Trump voters with the same brush. "There is now this idea that anyone who voted for him has to be defined by the worst of his rhetoric," Stewart said.
"There are guys in my neighborhood that I love, that I respect, that I think have incredible qualities who are not afraid of Mexicans, and not afraid of Muslims, and not afraid of blacks. They're afraid of their insurance premiums.
"In the liberal community, you hate this idea of creating people as a monolith. Don't look at Muslims as a monolith. They are individuals, and it would be ignorance. But everybody who voted for Trump is a monolith, is a racist. That hypocrisy is also real in our country."
Stewart departed the Daily Show in August 2015, when the idea of a Trump presidency still seemed like one of his less-good jokes, and many viewers missed his voice amid the cacophony of commentary surrounding the election.
He made a rare television appearance on his friend Stephen Colbert's Late Show on the eve of the election, where he described Trump as an "angry tax- and draft-dodging little orange groundhog".
Speaking to Rose, Stewart suggested that the US was "an anomaly in the world," but that the Trump campaign had "animated [the] thought that a multi-ethnic democracy, a multicultural democracy is impossible. And that is what America by its founding, and constitutionally, is."
Stewart did strike a more positive note, however, saying he did not believe the US was "a fundamentally different country today than we were two weeks ago."
He went on: "The same country that elected Donald Trump elected Barack Obama. I feel badly for the people for whom this election will mean more uncertainly and insecurity. But I also feel like this fight has never been easy."
Join our new commenting forum
Join thought-provoking conversations, follow other Independent readers and see their replies