Justin Bieber is 21: 21 times he definitely wasn't drunk before he reached the landmark legal drinking age
A truly sobering meander through the pop singer's memorable years in music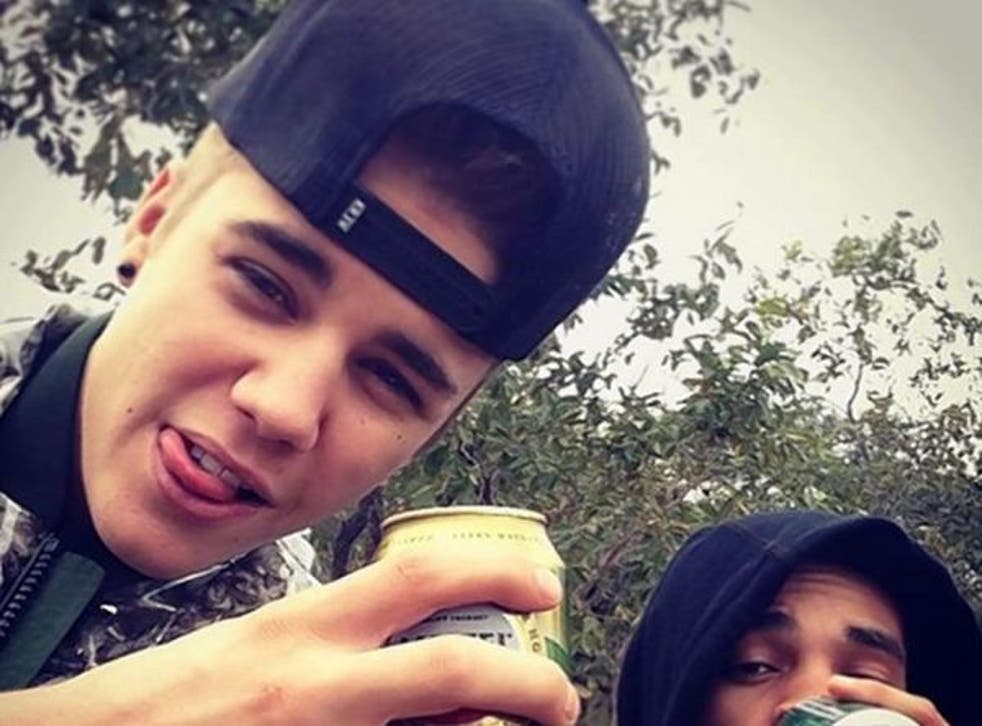 Mugabe who? Isis what? White and gold and blue and black and just about everything else you hate about the internet rolled into one really horrible sartorial science experiment?
Forget the news. And the not news. Because it was Justin Bieber's birthday on Sunday.
The Prince of Pop celebrating turning the landmark year of 21 – which means he is finally of legal drinking age in the US, where he lives and spends a majority of his time.
Here are all the times he definitely, 100 per cent, under no circumstances had been under the influence during over the past few years.
1) He definitely hadn't been drinking, smoking cannabis or taking prescription pills when he was arrested for DUI in the early hours of 23 January 2014 in Miami, having been caught drag racing his Lamborghini in the street. Even when he tested positive for all of these things.
2) When this mug shot was taken:
Truly the face of a man who has never been within a metre of a can of Stella. Except…
3) In 2012, he admitted he'd – shock, horror, awe-inspiring disdain in equal measure – HAD A BEER BEFORE. "For me, it's just like, I like to be in control of myself. I mean, I've had a beer, like, before.... But I never get out of control," he soberly told a reporter at the time.
4) When he decided the snow in Colorado was such a big fan of his music, he wrote his signature in it in his own urine. And then photographed the evidence:
5) He definitely wasn't drunk when he fought Orlando Bloom at Cipriani in Ibiza that time. Biebs had apparently made a lewd remark about the actor's former wife, Miranda Kerr, when the Lord of the Rings actor swang for him. Biebs left the venue clear headed and completely without influence moments later.
6) He was also entirely sober when he Instagrammed images of Bloom crying the following day in a powerful trolling move that almost convinced adults to like the singer for a couple of hours.
7) When he was 14 and recorded a video of him replacing lyrics in his song "One Less Lonely Girl" with the 'N-word'. "If I kill you, I'll be part of the KKK, but there'll be one less lonely n——r," a video emerged of him laughing his head off while he was singing. Again. No alcohol needed.
8) When he egged a neighbour's house. Again at the end of his entirely un-influenced crime spree in January 2014.
9) And after he was found guilty of soberly throwing eggs at his neighbour's house in November 2014, he claimed his ankles hurt him too much for him to fulfil the required community service order, which was enforced alongside an $80,900 fee in damages and 12 anger management sessions. His aching limbs were not, under any circumstances, the result of alcohol consumption.
Justin Bieber's biggest controversies and mishaps

Show all 17
10) He definitely wasn't drunk when he decided the way to renounce his former 'wild child' ways publicly was the share the news he'd been baptized in an New York bathtub, then headed out to Rancho Mirage in California to spend an intensive two weeks with a random pastor. Though there's a high chance his publicist probably was.
11) When he 1) bought a pet monkey and 2) abandoned him in an airport in Germany after he failed to make it through customs.
12) He was also totally, TOTALLY sober when he stripped down to his Calvin Klein underpants, forcing model Lara Stone to swallow the small bit of sick she accidentally vomited in her mouth back down before she embarrassingly shared it with the Fashion Rocks audience in September 2014.
13) When he insulted the Chinese by piggy-backing across the Great Wall of China, only dismounting his body guard to take a few Instagram snaps at the top, before jumping back on and continuing his ludicrous journey:
14) When he relieved himself into a mop and bucket at a restaurant kitchen. Not the act of a man who had been drinking.
15) Soberly leaving the restaurant through the back door, Bieber also took the time to get in touch with his political values. Which apparently included shouting "F**k Bill Clinton!" at the top of his voice and spraying a photograph of the former US President with cleaning fluid.
16) When he decided to avoid media attention by wedging his head between two cushions in January:
17) When he visited and honoured the Yasukuni Shrine in Japan – a site at the centre of an international row for honouring Second World War criminals.
18) During his entire four-and-a-half-hour deposition interview in March last year:
20) When he purchased this vehicle without any sense of irony whatsoever:
21) The time he told a radio DJ a mum joke regarding fellow pop scoundrel Harry Styles having a penchant for older women. Only to find out the radio host's mother was dead. Cue the singer loudly hanging up during the awkward, entirely sober phoner in July 2012.
Register for free to continue reading
Registration is a free and easy way to support our truly independent journalism
By registering, you will also enjoy limited access to Premium articles, exclusive newsletters, commenting, and virtual events with our leading journalists
Already have an account? sign in
Register for free to continue reading
Registration is a free and easy way to support our truly independent journalism
By registering, you will also enjoy limited access to Premium articles, exclusive newsletters, commenting, and virtual events with our leading journalists
Already have an account? sign in