Keira Knightley topless for Interview Magazine: Conservative actress does own take on #Freethenipple campaign
The spread has been shot by fashion photographer Patrick Demarchelier for the magazine's September issue, out on news stands now
Jenn Selby
Friday 29 August 2014 15:29 Comments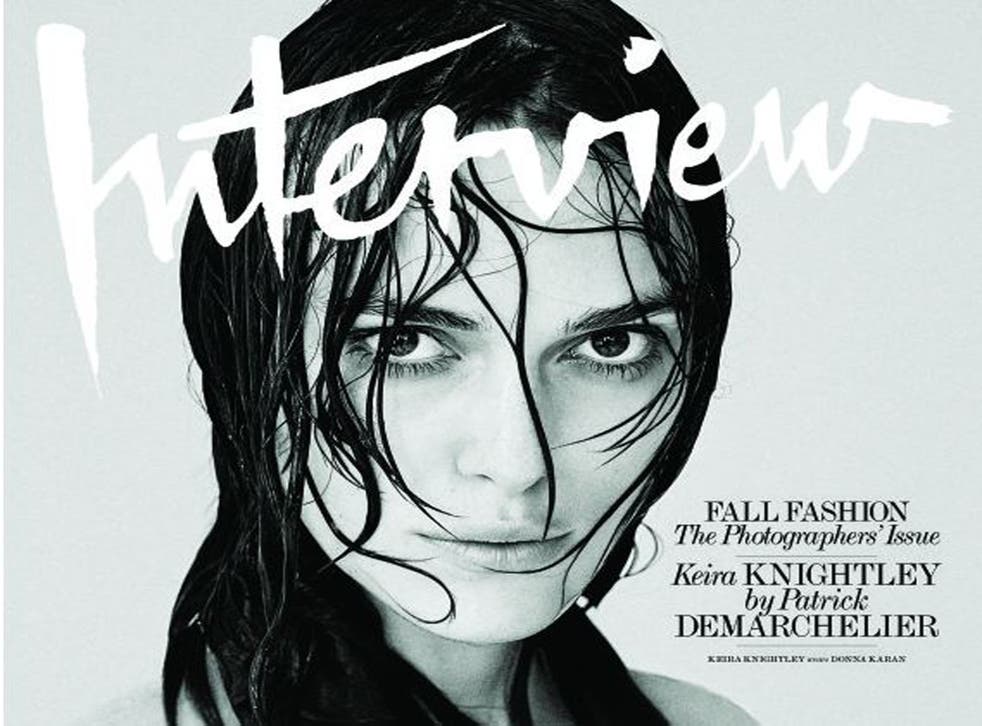 Keira Knightley is no Rihanna.
She's not famed for her risqué publicity stunts or her barely-there sartorial choices. If anything, she's a private individual (as far as film stars can be), who shies away from discussing her personal life and is more often seen wearing baggy jeans and an oversized jumper than she is wearing anything that borders on brazen.
Yet the usually conservative actress, with strict rules over her own exposure on film, has chosen to pose completely topless for Interview Magazine, naked but for a pair of wide-legged trousers and some three-quarter-length lacy gloves.
The spread has been shot by fashion photographer Patrick Demarchelier for the magazine's September issue, themed The Photographer's issue, which is out on newsstands now.
And she is but one of six covers shot by a different photographer or team. The other five covers feature Nicole Kidman by Steven Klein, Naomi Campbell by Mert Alas and Marcus Piggott, Amber Valletta by Craig McDean, Lea Seydoux by Peter Lindbergh and Daria Werbowy by Mikael Jansson.
She is also the same actress who publicly complained that her breasts had been digitally enhanced for a film poster, as well as in a Chanel fashion advert.
"For King Arthur, for a poster, they gave me these strange droopy tits," she said in an interview with Allure magazine in 2012.
"A - I don't have tits anyway, and B - they digitally made them, and I thought, Whoaaaaa! It's my face on that poster.
"I thought 'Well, if you're going to make me fantasy breasts, at least make perky breasts'."
She continued: "Normally the woman has to expose everything and the guy doesn't. Sex scenes in films - I'm quite rigorous about what gets exposed. No bottom half!
"I don't mind exposing my tits because they're so small - people really aren't that interested. It's much easier as you get older. You can say, 'No', 'Yes', 'No'."
The feminists among us may wish to point out her decision to pose topless could well be a statement of solidarity to the #FreeTheNipple campaign, as championed by the aforementioned Barbadian pop star, model Cara Delevingne and Scout Willis.
Willis was banned from Instagram for posting a photograph of a sweatshirt she designed featuring two topless women.
She later staged a topless protest on the streets of New York to demonstrate against Instagram's no nudity clauses under the belief that "no woman should be made to feel ashamed of her body".
"I am not trying to argue for mandatory toplessness, or even bralessness," she said.
"What I am arguing for is a woman's right to choose how she represents her body — and to make that choice based on personal desire and not a fear of how people will react to her or how society will judge her. No woman should be made to feel ashamed of her body."
Register for free to continue reading
Registration is a free and easy way to support our truly independent journalism
By registering, you will also enjoy limited access to Premium articles, exclusive newsletters, commenting, and virtual events with our leading journalists
Already have an account? sign in
Join our new commenting forum
Join thought-provoking conversations, follow other Independent readers and see their replies