Kerry James Marshall, interview: Putting black artists into the textbooks
'When you find yourself, your culture and history is of having been subjugated, enslaved and colonised, you got to fix that'
Monday 20 October 2014 11:51 BST
Comments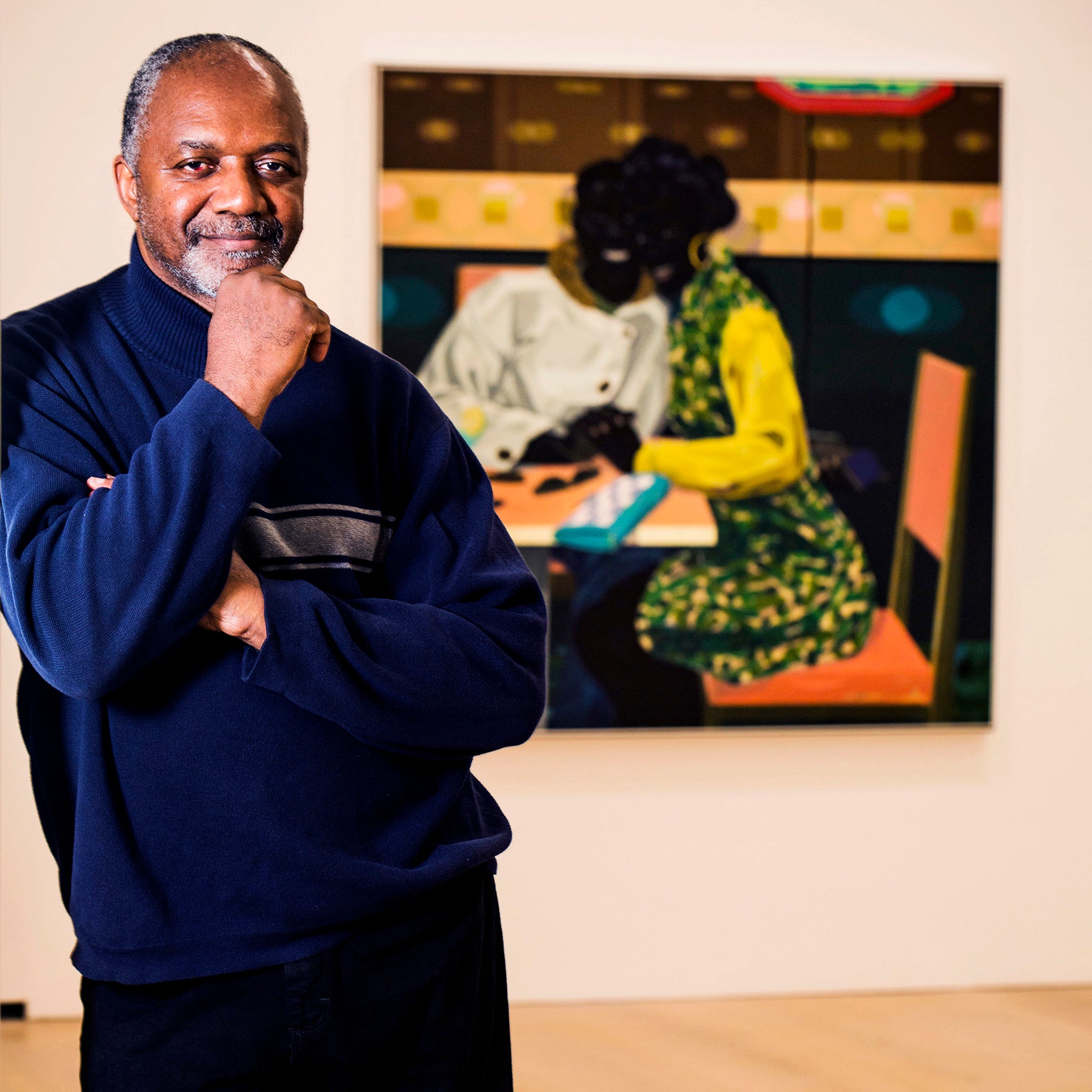 The artist Kerry James Marshall became fascinated by art history at a young age, during art lessons at school in the South Central area of Los Angeles – this was the early 1960s, just before the racially fuelled, six-day-long Watt Riots broke out in 1965.
An early hero of his was an artist called Charles White who drew, painted and made vast murals of black people. White was a giant to younger black artists but it troubled Marshall when he studied art history books and White's name never appeared.
"When I looked at his work it seemed as good as something anyone else ever made, and better than a lot of things other people made, but how come he's invisible to art history? I became really obsessed with trying to understand why some artists were in art history and other artists were not, "he says.
Now 59, Marshall's a serious speaker, informed and open about his work. A painter admired by peers such as Luc Tuymans, he paints consciously, deliberately. "It's not about sensibility, it's about choice," he says, "and that choice is always intellectual."
In Marshall's series of new paintings, he places the black artist, and subject, back in art history. A desire to be noticed rests within his work, and motivation. Noticed as an artist, and for the figures in his paintings to be noticed, for an imagined and alternative art history, in which black subjects and artists are included, and celebrated.
The paintings are a joy to look at, colourful, and sexy with nudes or clothed figures in everyday settings: the garden, a diner, lounged on a sofa with the television's remote control. As domestic as this sounds, the images refer to major figures in art history: Manet's Olympia watches television, there's a girl with a pearl earring like Vermeer's, and a complicated scene of a woman painter and model refers to Velazquez's painting Las Meninas. The works explore the entire history of painting, always with a black subject at the centre, but the layers of meaning go beyond art history. Despite their joyful surface, Marshall's work has a serious point to make.
Untitled (Pink Towel) is a striking and beautiful image, not least for the darkness of the woman's skin: she's very black, not brown. Her darkness highlights the yellow polish on her fingernails, her cocktail ring, the pale pink rim of her eye and the pink towel. All Marshall's figures are painted this tone, and the reasons aren't only aesthetic.
"Blackness has always been stigmatised, even amongst black people who flee from the density of that blackness. Some black people recoil from black people who are that dark because it has always been stigmatised.
"In Western Catholicism darkness was evil, in the colonial and imperial context dark skin was always weak, powerless, subjugated. If you see these images all the time they become commonplace, and they no longer become a spectacular or sensational thing," he says.
In Untitled (Beauty Queen), a black beauty queen wears a crown and pink spotted gown beneath her winner's sash. She's muscular, big hands clasp her delighted face. None of Marshall's female figures are skinny; they've got broad shoulders and full thighs. They look out at you from the pictures: confident, self possessed, sexy as hell. Untitled (Beach Towel) shows a girl in her underwear and pink flip flops, sitting on the grass. Her head's tilted back, lips pressed together. She doesn't care what you think of her.
His paintings draw attention to ideas about female beauty, and who decides who's beautiful or not. "I bought a Taschen book called The Great American Pin-Up and it's full of these titillating images of girls with their skirts flying up but not one single black or Asian figure in it. When I started making pin-up images it was a response to the absence in a book like Taschen's, or the early history of Playboy magazines, or Miss America or Miss Universe pageants. All those pageants, at one time, didn't put a black female body in the competition for who is the most beautiful or who is the most desirable."
Invisibility as a theme came up early on his career with a painting called A Portrait of the Artist as a Shadow of his Former Self (1980). Using egg tempura, he made the work with classical Renaissance techniques but the image was of a black artist on black background. Like Ralph Ellison's Invisible Man, he disappears into the painting. Only white teeth, eyeballs, a shirt front, allow us to see the man. It's a painting of absence.
"When I was growing up, I recognised my absence in the pantheon. You have to do something about that, and ask what's the price of the ticket for getting in there? Why them, why not me?
"There's no real value in working in obscurity and then there's the paradigm of not being discovered until you're dead. That didn't appeal to me, it doesn't make sense to stand on the sideline and watch other people getting the kind of attention, the praise and satisfaction from having done something that people think is important." For Marshall, personal success – and it's definitely his moment, with museum shows now in Europe and planned for America – isn't just about him. It's a way to change how the world works.
"As a black person I'm used to going to places in which I might be the only black person that shows up there. This experience has an effect on the way you see yourself in the world and what it means to be black in the world.
"You don't see black people winning Nobel prizes for physics or economics, or any of the industries or institutions that shape the way the world operates. When you find yourself, your culture and history is of having been subjugated, enslaved and colonised, you got to fix that. If you find yourself in the higher echelons of the culture and there's always just one or two of you, there's something wrong.
"It should be unacceptable to any black person who has a measure of self respect."
Kerry James Marshall: Look See is at David Zwirner, London W1 (020 3538 3165; davidzwirner.com) to 22 November
Join our commenting forum
Join thought-provoking conversations, follow other Independent readers and see their replies