Lori Berenson: America's 'accidental terrorist' back home after 20 years in Peruvian jail
Woman accused of conspiring to storm Congress in Lima reveals plans to raise her son as an anonymous single mother and to seek a new career as a social worker
David Usborne
New York
Thursday 03 December 2015 21:01 Comments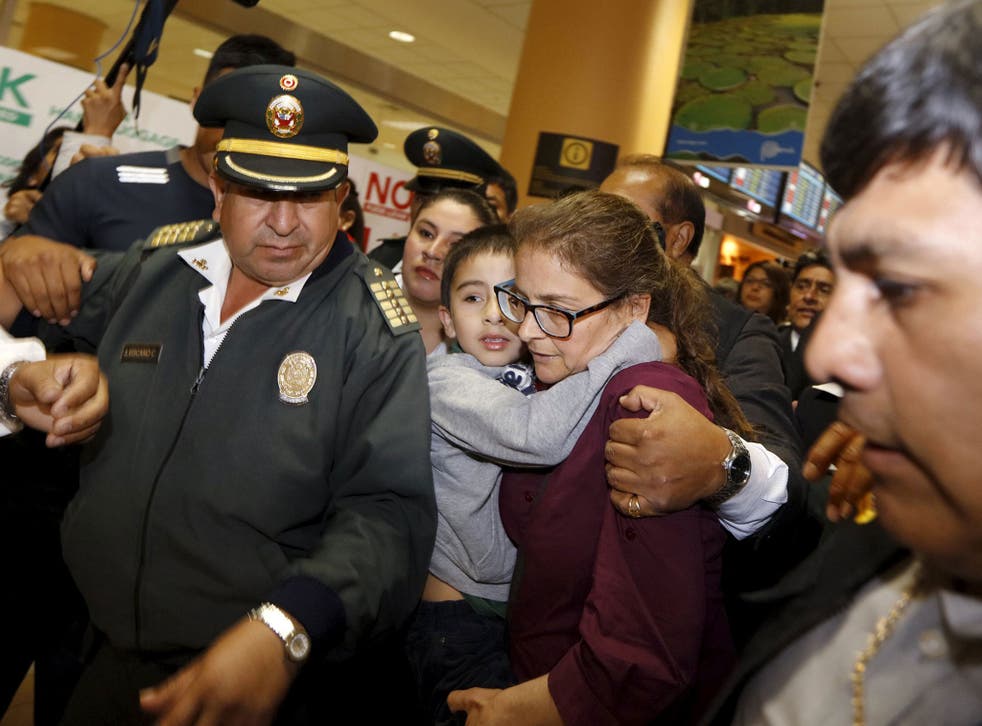 Lori Berenson, the New York native convicted 20 years ago of joining one of the rebel groups behind Peru's brutal 1980-2000 civil war, was barely inside the international terminal at Lima airport when the heckling began. "Get out of here, terrorist!" someone yelled.
Carrying her six-year-old son, to whom she had given birth behind bars, Ms Berenson was doubtless happy to oblige. The woman who some deemed an accidental middle-class terrorist, unwittingly drawn into a brutal left-wing cause she didn't fully understand, but who is viewed by others in a far less charitable light, was finally going home.
As she landed in New York, bound for the Manhattan apartment of her university-teacher parents, Ms Berenson could at last declare the public part of her protracted drama over. Her plans: to raise her son, Salvador, as an anonymous single mother – she is divorced from his father, whom she met in prison and who became her lawyer – and to seek a new career as a social worker.
"My objective is to continue to work in social justice issues," Ms Berenson said shortly before her formal expulsion from Peru at the end of her sentence. Convicted of joining the Tupac Amaru Revolutionary Movement (MRTA), which, alongside the much larger Shining Path terror group waged a guerrilla war against the Peruvian government that left 70,000 dead, she still declined to express any clear remorse.
"It could have acted at times using terrorist tactics, but that it was a terrorist organisation, I don't think the label fits," Ms Berenson said of the MRTA. Upon her sentencing by hooded judges in 1995, she was accused in part of conspiring to storm Congress in Lima. She had denied knowledge of the plot, which was never carried out, but did visit Congress masquerading as a reporter.
In an interview with the Associated Press she intimated that her leftist suspicions regarding Peru's elite had still not gone away. "It's not like feudalism went away recently," she said.
For its part Peru has rid itself of a figure who was reviled to the end – as the ruckus in the airport departure hall attested – and who served as a reminder of the long, dark years of its war. It will never allow her to come back. "This is a measure that applies to [convicted] foreigners: once they leave they can never legally return to Peru," said special terrorism prosecutor Milko Ruiz.
The MRTA was never accused of carrying out the massacres attributed to Shining Path or even of killing nearly the numbers that were attributed to government security forces. It nonetheless did its own killing, robbing and kidnapping in pursuit of its political cause. It is most remembered for storming the Japanese embassy and holding nearly 500 people hostage.
Register for free to continue reading
Registration is a free and easy way to support our truly independent journalism
By registering, you will also enjoy limited access to Premium articles, exclusive newsletters, commenting, and virtual events with our leading journalists
Already have an account? sign in
Join our new commenting forum
Join thought-provoking conversations, follow other Independent readers and see their replies