Game of Thrones season 5: Maisie Williams on the ups and downs of growing up in public
As she turns 18, the Game of Thrones star talks learning to be 'a famous person'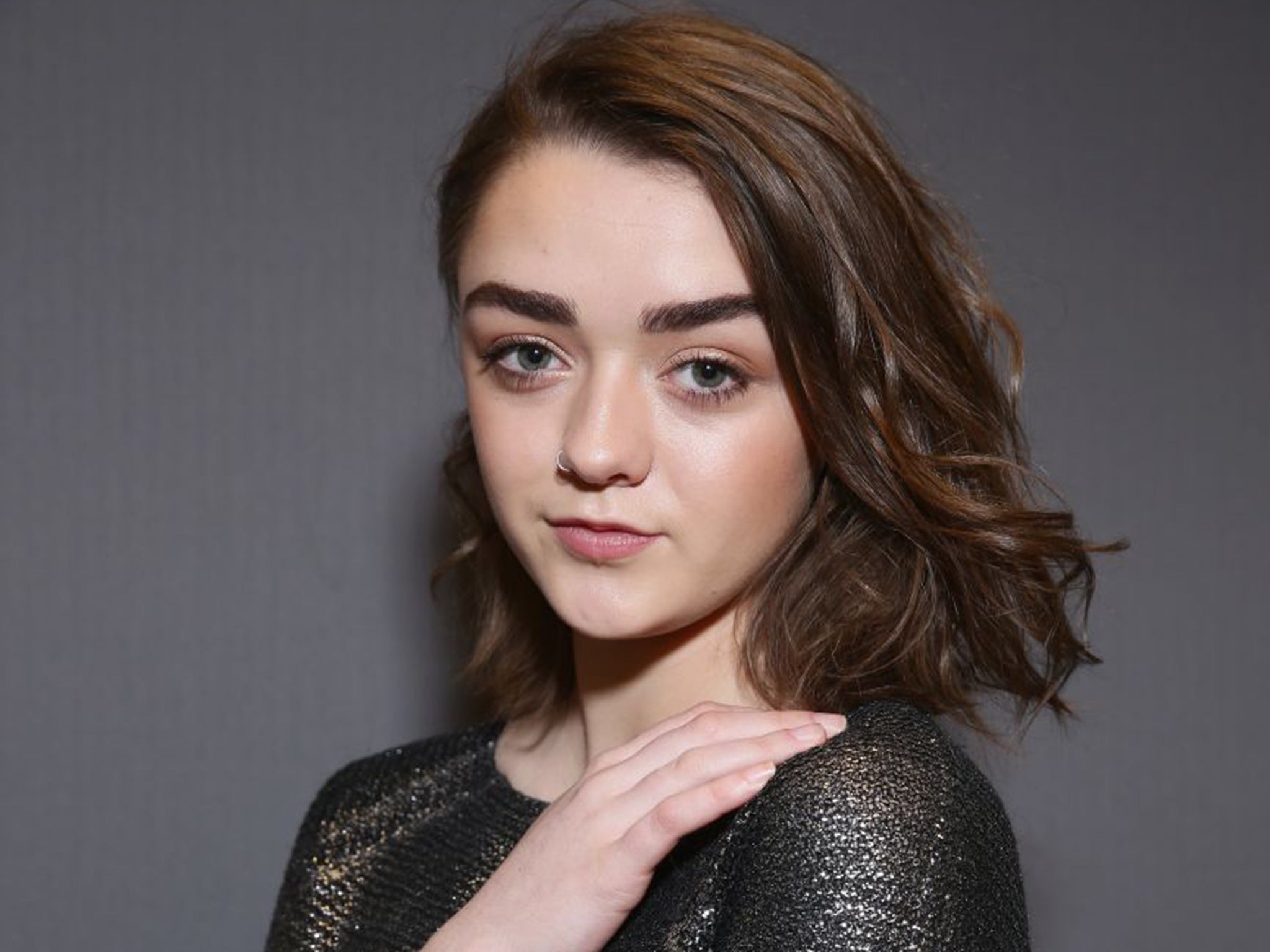 Maisie Williams may be a global superstar, thanks to her Game of Thrones role as sword-wielding heroine Arya Stark, but when she celebrates her 18th birthday next week, she will do so on a camping trip – "making memories" with her closest friends from home.
"Going out is the typical thing when you turn 18, but it's not really much fun when you have a recognisable face," she tells The Independent on Sunday. "So I am just going to go camping with my friends, hire a nice big bell tent and have a campfire."
The British actress seems to be doing remarkably well at negotiating the often crazy path of those who attain massive success at a young age.
Williams concedes that young people in show business "have a track rate of going a little bit mad", and admits she can understand how it happens. She copes by taking breaks "to get your head straight again", she says. "A lot of the time I am in London or away filming and staying in hotels in different countries and cities. But when I am home I spend a lot of time in my apartment in silence, which is something I do like."
The much-discussed fifth series of Game of Thrones will start this week on Sky Atlantic, and Williams, who has won several awards for her role, says that fans can expect to see some changes for Arya. "I was filming in Croatia, so she's in the warm with a new outfit, with new characters" and she "lets go of the weight" of trying to avenge her father's murder.
It is perhaps inevitable that the award-winning actress is compared with the fiercely independent and headstrong Arya. Fans have watched both of them grow up on screen: Williams was only 12 when she took on the role.
"I see similarities, but I have never killed a person," Williams jokes, adding: "I think the way we deal with things are different, but our passion and our anger and that fire are quite similar."
I ask whether it has been a weird experience growing up in public as the star of such a major series. She admits it's strange to look at old photos and old scenes captured during the past six years. But she adds: "It doesn't feel like a big change really. It's all very, very gradual. But my life is very different. I am a very different person."
The changes are partly due to her burgeoning fame and partly because she's growing up, she says. The key is to remember where she's from.
"I didn't want to escape my life and become a big actress and live my dreams," she says. "That was never the way it was, it was just these amazing opportunities that happened."
Williams recently moved out of her family home near Bristol and now lives on her own in Bath when she's not working. But her mother remains her mentor and closest adviser, and her three elder siblings help keep her grounded.
The actress, who appeared in the television docu-drama Cyberbully earlier this year, and has been a victim of online abuse herself, says the positive side of fame is that she has "been given a voice".
"To express your views as a 17-year-old and be listened to is wonderful but with that comes great scrutiny and it's difficult to find the balance," she says. "No one teaches you how to be a famous person; no one teaches you how to be a role model. It's something you have to do on your own."
She hopes that she is "a realistic role model".
"I am someone who isn't always perfect. But just because you don't do everything by the book doesn't mean that you're not a good person," she says. There is a lot of pressure placed on young men and women to behave and look in a certain way and "issues around negative body images". But she says that young people should be given more credit for being able to think for themselves.
"I think we dismiss young girls and boys too much and think that just because they see something [in a magazine] then they want to be it."
Williams has been filming in Cardiff for her recently announced role in Doctor Who and is busy promoting The Falling. She delivers an extraordinary performance in the delightfully weird independent film about an outbreak of hysterical fainting at a girls' school in the 1960s.
Maxine Peake, star of Silk and The Village, plays her cold, agoraphobic mother in The Falling, and Williams reveals that she initially thought the acclaimed actress was "evil" during the filming, as she refused to engage with her.
"I always want to make a good impression with people, particularly adults, and not just be like a teenager who is bratty and had a bit of success quite young," she says. "But every five seconds I was just shut down with this 'Mmm, mmm' and I was like, 'What is it with you? Do you not like me? Is it me? What have I done?'"
On the last day of filming Peake apologised and explained to the young star that director Carol Morley had asked her not to form a relationship with Williams, in a deliberate attempt to create a barrier between the two women. The approach appears to have worked, for the onscreen tension between the two actresses is palpable.
Williams says that, if she hadn't been an actress, she would have loved to be a dancer; she is waiting for the right opportunity to combine the two skills in one project.
The actress she would most like to work with is Helena Bonham Carter but, for now, she is hoping to take some time off over the summer to hang out with friends and go to festivals.
"I haven't been on a holiday abroad since I was 11. This year I'm thinking I need a bit of a break and this is a good time," she admits. "I feel very positive at the moment about this whole year and about my future. I am so in control of it all which is the best feeling ever."
Series 5 of 'Game of Thrones' starts at 9pm on Monday 13 April on Sky Atlantic. 'The Falling' is in cinemas from Friday 24 April
Join our commenting forum
Join thought-provoking conversations, follow other Independent readers and see their replies