The Independent's journalism is supported by our readers. When you purchase through links on our site, we may earn commission.
Marilyn Monroe: Mourners at her funeral were also to blame for her death, claimed unpublished Arthur Miller essay
Miller wrote an explanation of why he didn't attend ex-wife Monroe's funeral: 'Let the public mourners finish the mockery. Most of them there destroyed her'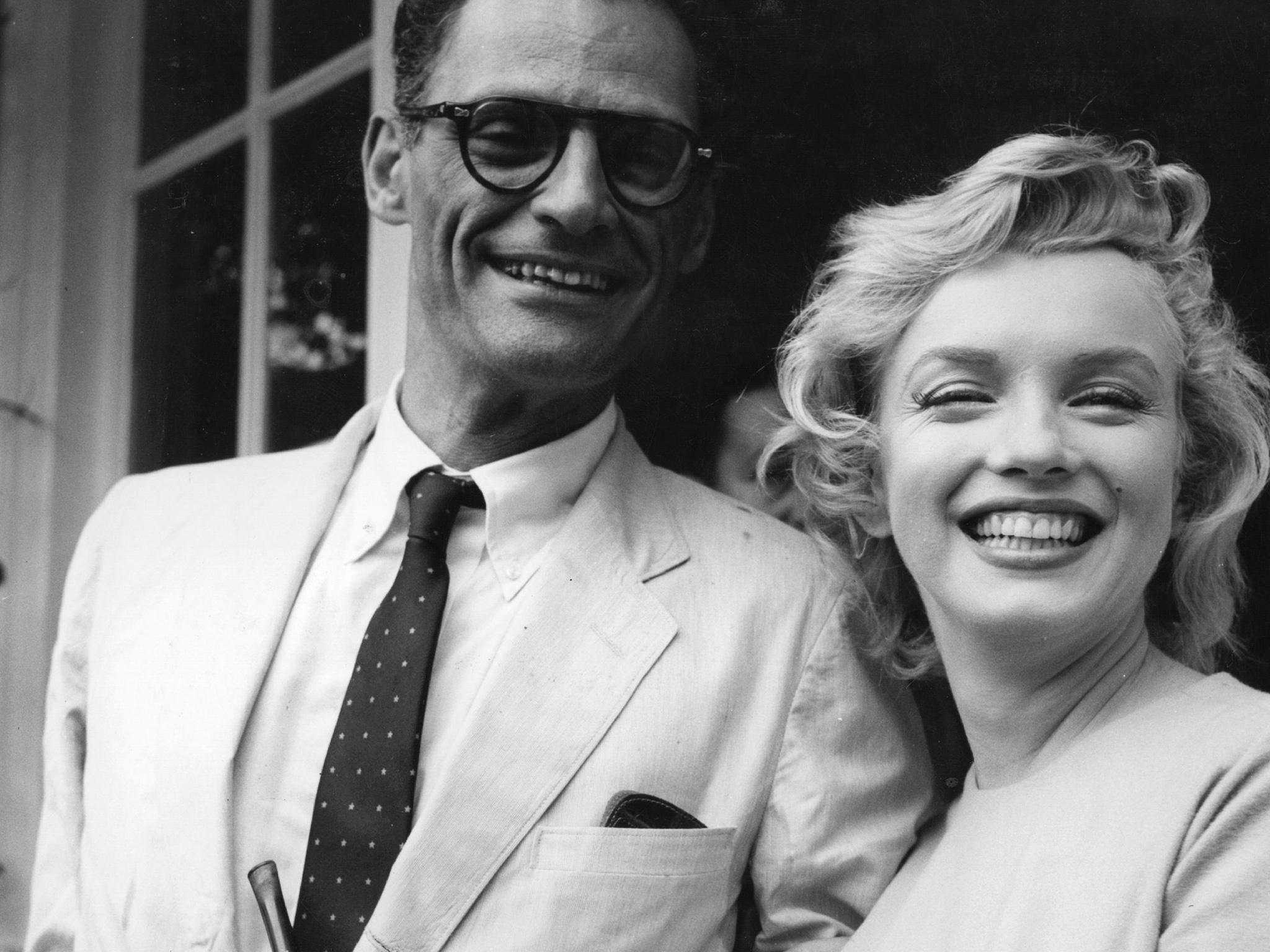 To admirers of Marilyn Monroe, it has long been a heartbreaking subplot, a tale of two very different ex-husbands.
One was the playwright Arthur Miller, cast as the cold-hearted intellectual who never really loved Marilyn.
The other was American sporting hero Joe DiMaggio.
After Monroe died from a suspected overdose aged 35 on 5 August 1962, there were reports she had been planning to remarry Joe, that she had left him an unfinished letter expressing hopes of making him happy again.
At the Los Angeles funeral, DiMaggio was inconsolable, weeping uncontrollably, leaning over Monroe's casket, kissing her on the lips and whispering: "I love you, I love you."
The grief-stricken baseball star made a repeat order for flowers to be sent to her grave: "Six fresh long-stemmed red roses, three times a week … forever."
And Miller? He never even bothered to show up at the funeral.
And so, until his death, aged 89 in 2005, and beyond – the playwright has been pursued by the claims of some Marilyn Monroe devotees that he had exhibited a cold-hearted disregard for the actress he married in 1956 and divorced in 1961, just 19 months before she passed away.
Now, though, a fragment of a previously unpublished essay by Miller has surfaced, and it sheds a very different light on things.
It shows the playwright expressing, in stronger terms than he was ever before known to have used, his real reasons for avoiding Monroe's funeral. Miller seems to go as far as accusing some of the mourners themselves of effectively "killing" her.
And Miller's biographer has told The Independent that parallels can be drawn between the damaging sex abuse Marilyn Monroe suffered at the hands of Hollywood, and the Harvey Weinstein scandal of today.
In his handwritten essay, which Miller started on 8 August 1962, the day of the funeral, he appears to have explained: "Instead of jetting [from New York] to the funeral to get my picture taken I decided to stay home and let the public mourners finish the mockery. Not that everyone there will be false, but enough. Most of them there destroyed her, ladies and gentlemen.
"She was destroyed by many things and some of those things are you. And some of those things are destroying you. Destroying you now. Now as you stand there weeping and gawking, glad that it is not you going into the earth, glad that it is this lovely girl who you at last killed."
Miller's biographer Christopher Bigsby has told The Independent that such a stinging condemnation would seem to fit in with the distaste with which the playwright was known to have viewed Hollywood.
"He did think that Hollywood had in some sense destroyed her," says Mr Bigsby, professor of American Studies at the University of East Anglia, who formed a longstanding friendship with Miller.
Drawing parallels with the Weinstein scandal, Prof Bigsby adds: "If this was happening now it would be major news, because it was the casting couch.
"It was that kind of sexual abuse which is now hitting the news, which was commonplace then, and of which Marilyn Monroe was a victim.
"She was bruised, treated with profound disrespect and passed around as a kind of product when she was in Hollywood."
But Prof Bigsby adds that when Miller wrote his essay, which he revised over subsequent years, he would also have been aware of how difficult it would have been for Monroe to abandon the film world.
Prof Bigsby says: "The irony was that it was a world she could not leave.
"The world of film was where she came into her own, where she existed, because she was somebody, even if that somebody was an artifice constructed for her by Hollywood.
"She felt that when she was being 'Marilyn', people gave her respect and attention, which maybe she erroneously thought was love – something she thought she had never received when she was growing up. It was inconceivable that Marilyn could have walked away just like that."
100 years of movie stars: The age of celebrity
Show all 6
By contrast, Arthur Miller was shocked by the attention that came with being a movie star on Marilyn Monroe's scale. When the couple went to London shortly after their wedding, 400 journalists turned up for a press conference – and a local school choir serenaded them from outside their hotel room window.
At her funeral, there were only 31 invited mourners but it was reported that a crowd of 500 gathered outside the cemetery gates, along one of its walls and on rooftops, while 100 policemen, reinforced by studio security officers, maintained order.
Miller has previously been quoted as explaining his absence by saying: "To join what I knew would be a circus of cameras and shouts and luridness was beyond my strength.
"To me it was meaningless to stand for photographs at a [grave]stone."
Prof Bigsby says it was clear that "Miller didn't want to be part of this circus that would develop around her funeral".
As soon as the playwright and the film star's relationship became public – after they had kept it secret for nearly a year – it was derided in the press.
Miller and Monroe were called "The Egghead and the Hourglass", with one magazine describing "the most unlikely marriage since the Owl and the Pussycat".
Over the years there have been suggestions that Miller married her for her money, or for good publicity to counteract his refusal to name communists to the McCarthyite House Un-American Activities Committee.
It is possible that such impressions may be corrected by the essay, a fragment of which has been photographed in a New York Times report about The University of Texas at Austin acquiring a private archive of Miller's papers.
Prof Bigsby insists the truth was that Miller, who had remarried by the time of the funeral, had at one point been very much in love with Monroe.
"He was completely bowled over by her," says Prof Bigsby. "It was certainly a love affair. One of his love letters to her was an almost adolescent outpouring of love."
The problem, he explains, was that "both of them went into this marriage believing something about [the character of] the other person which turned out not to be true – but they were scarcely a unique couple in that respect".
By contrast, Prof Bigsby adds, "Joe DiMaggio used to beat her up".
"Part of her still clung to DiMaggio because of the other side to him – the man who would send her roses – but he was brutal. He broke her thumb, slamming a suitcase on her hand. It has all been romanticised afterwards," says Prof Bigsby.
After 20 years, in 1982, DiMaggio stopped ordering the flowers for Monroe's grave that he had originally said would be "forever".
But 40 years after the funeral, in 2002, Miller showed Prof Bigsby into the garage of the house where he still lived, and had at one point planned to spend the rest of his days with Monroe.
Prof Bigsby recalls Miller pointing to an object on the wall and telling him: "Her bicycle. It's been hanging up in there for 40 years."
Join our commenting forum
Join thought-provoking conversations, follow other Independent readers and see their replies