Michael Cashman: The rainbow warrior
Stardom, power, heartbreak, and now crowned Britain's most influential LGBT figure... but the Labour peer says there's so much still to do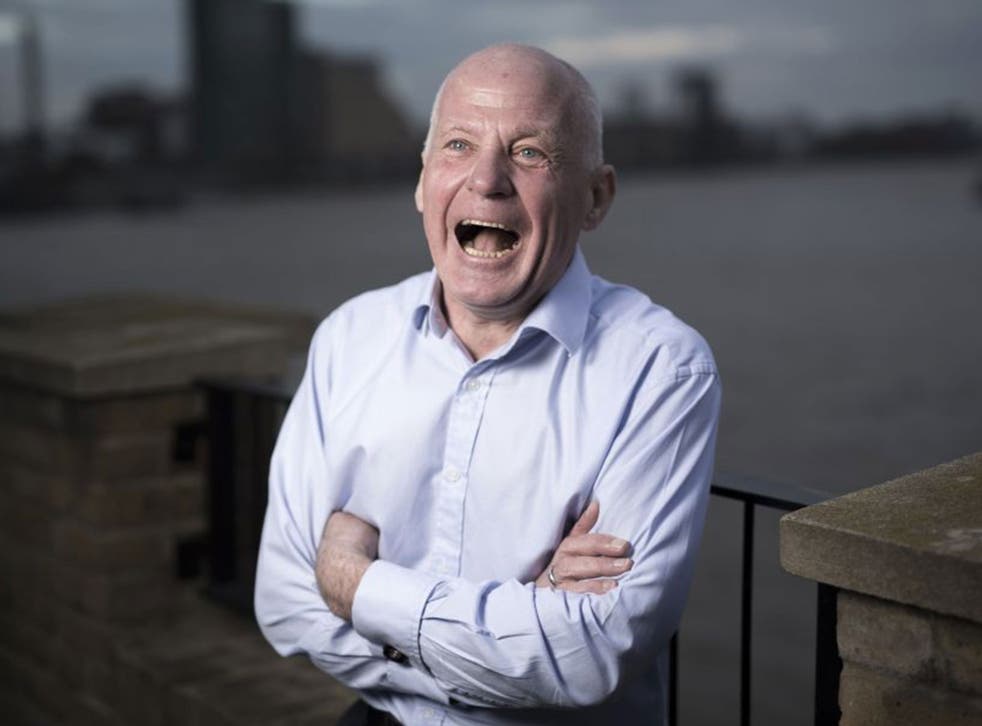 Michael Cashman is modest when I congratulate him on his first place on this year's Rainbow List: "I'm always reminding myself that where I am and what I've got is not because of me but because of thousands of people who did the work before me and I was lucky to be in the place where the work has started to come to fruition. So, this is not about me, this is actually about all the people not on the list. That's what the No 1 slot's for: everybody else."
I must have looked sceptical, because he grabbed me by the arm and said: "I mean it." I wasn't sceptical – I was admiring the professionalism with which he delivered a word-perfect mini-oration to my iPhone. Just because he is an actor doesn't mean he is insincere.
What I had been sceptical about, when I interviewed him earlier, in his riverside flat in Limehouse, east London, before the Rainbow List was announced, was his new job as the Labour Party's special envoy on LGBT issues worldwide. Surely, I asked, thinking of the strong prejudice against homosexuality outside rich liberal democracies, that's the worst job in the world?
"It is the greatest job in the world because people expect you to fail," he said, sounding like the politician he has become, after 15 years as a Member of the European Parliament and now a Labour member of the House of Lords. "And unless you have failure you can't have success. The only thing I've learnt in life is never be afraid to try, never be afraid to fail. Because otherwise you will never change anything."
In pictures: The Independent on Sunday Rainbow List party

Show all 17
For him, those are not just words. As his place on the Rainbow List recognises, he has done more than almost anyone to change attitudes towards gay people in this country. An established young actor, he took the part of Colin in EastEnders, the first gay character in a mass-market drama played as a normal person, rather than a caricature. The first gay kiss was a huge moment in British cultural and social history. It was only a tame peck on the forehead of boyfriend Barry – Barry, the younger, Cockney wide-boy played by Gary Hailes – but it was a risk and it changed everything.
While he was Colin on EastEnders, Cashman set up Stonewall with Ian McKellen and Lisa Power, a charity which led the fight against the Conservative law banning the "promotion of homosexuality", and which helped push the 1997 Labour government towards lesbian, gay and bisexual equality. (Cashman was named Stonewall Politician of the Year, jointly with Lynne Featherstone, a former minister for equalities, the week before he came top of the Rainbow List.)
Strangely, for someone who came into politics animated by the fight against "the accursed Section 28", his sexuality did not cause him unhappiness at school in the East End. "It didn't need a description because for me it was the most natural thing in the world. It was only when I was about 13 that I learned the guilt of being attracted to other boys. I was told: 'You can't do that. You're one of them. You're queer'." By then he had been talent-spotted at his school's end-of-term show and taken to St John's Wood to audition for a blind agent, who said, "Yep, he'll do." He was Oliver in Oliver!, the stage musical. "At the age of 12, I was offered a contract in the West End earning £3 a week more than my dad."
His father, Johnny, a docker, "didn't want to know" when he came out to his parents in his mid-20s. (His mother said: "Darling, I've always known.") But his father came round a few years after he left EastEnders in 1989, telling him he loved him and was proud of him. Father and son were brought together partly by Michael's boyfriend, Paul Cottingham. "Paul had more things in common with Dad than I did, because he was into football and athletics."
Cottingham, with whom Cashman had shared his life since 1983, died of cancer last month, and, before Cashman took his seat in the House of Lords, he said: "I will not take it alone. Beside me, unseen by others, will be the love of my life, Paul Cottingham."
When I talked to him, the day before the funeral, Cashman was philosophical. I asked him about being a role model. "Well, I don't consider myself a role model. I consider that I have to be me. Because death, as I saw with Paul, comes as a friend and when I meet that friend I want to know that I have been as true to myself and as true to Paul as I can possibly ever have been."
What did he think of Tim Cook, the boss of Apple, coming out as gay? "We're all like fruits on a tree. Only if the ones on the outside get the sunlight first, and come to fruition and drop, can the rest on the inside develop and be picked or drop into a gentle basket. We each come out in our own way and in our own time. But the more people who do come out – and that was the brilliance of EastEnders – the more it shows people how mundane, ordinary, extraordinary we are."
In the end, he hopes there will be no need for things such as the Rainbow List. "And there will come a time when we don't need gay bars and lesbian bars."
In the meantime, there are still cultural and political battles to be fought, especially beyond our shores. That is why he was "hugely flattered" when Ed Miliband asked him to be his envoy. "When we're in government it's a job that operates with the leader's authority across a range of departments including Business, Education, Culture, Media and Sport and the Foreign Office [that's] because unless we mirror our principles and our rights within this country in all we do externally then there is no continuum. Also, because in many parts of the world we've created the problems. When I've talked to my African counterparts they say, 'You brought the laws'. And my answer is, 'Yes, I apologise, and I'm coming to your country to take them away'."
Cashman is a strong supporter of Miliband, not least because of Europe. His years in Brussels ("I loved it because I could write laws") reinforced his belief in the European ideal. He is full of anecdotes, many of them switching between accents. As MEP for the West Midlands until this summer, he can demonstrate the difference between Wolverhampton and Birmingham, before slipping into the German accent of the Brussels translator who apologised to him for describing him as "a waterproof Macintosh". (Cashman had said that his knowledge of obscure articles of European treaties made him sound like an anorak).
People in Britain are hostile to Europe because they don't like the free movement of EU workers, I suggest. His response is fierce: "When this country was going down the pan, the principle of free movement allowed our people to go to Germany for work, to Spain, France." His "big argument with David Cameron" is that European solidarity protects us against what "led to the concentration camps".
Now, though, he is raising his sights to the world stage.
He sounds a little like Tony Blair, with whom he worked in government, when he says of developing countries: "Religion often has a traction with people in villages that politicians do not have – and I say this as a born-again atheist."
It is just as important to work for change when "culture is resistant", he says. "Then culture catches up. If Tony Blair had gone out and said, 'Should we end the ban on LGBT people serving in the Armed Forces?' people would have said, 'You must be mad: we don't want poufs in the Army, no!' It would all fall apart."
But the ban was lifted, Section 28 abolished, and civil partnerships brought into law: "What we've achieved since 1997 was through courageous politics, through courageous leadership, doing things that were not popular with organised religions, that weren't necessarily popular on the streets, but we did them. And if we could do them as a conservative country with a small "c", we need to help those progressive forces in those other countries – and they are there – to win it."
He understands his second career well: "If you go into politics to be popular you are mad at the beginning of the process, rather than being driven insane by the end."
He seems pretty sane, and very sincere, to me.
Register for free to continue reading
Registration is a free and easy way to support our truly independent journalism
By registering, you will also enjoy limited access to Premium articles, exclusive newsletters, commenting, and virtual events with our leading journalists
Already have an account? sign in