Rachel Johnson claims she danced with Michael Gove to Blurred Lines while son was alone at B&B
'Can I just say in their  defence … their son was babysitting their two dogs. They left the dogs as well. I think it's absolutely fine,' says Johnson
Sunday 30 October 2016 17:46 Comments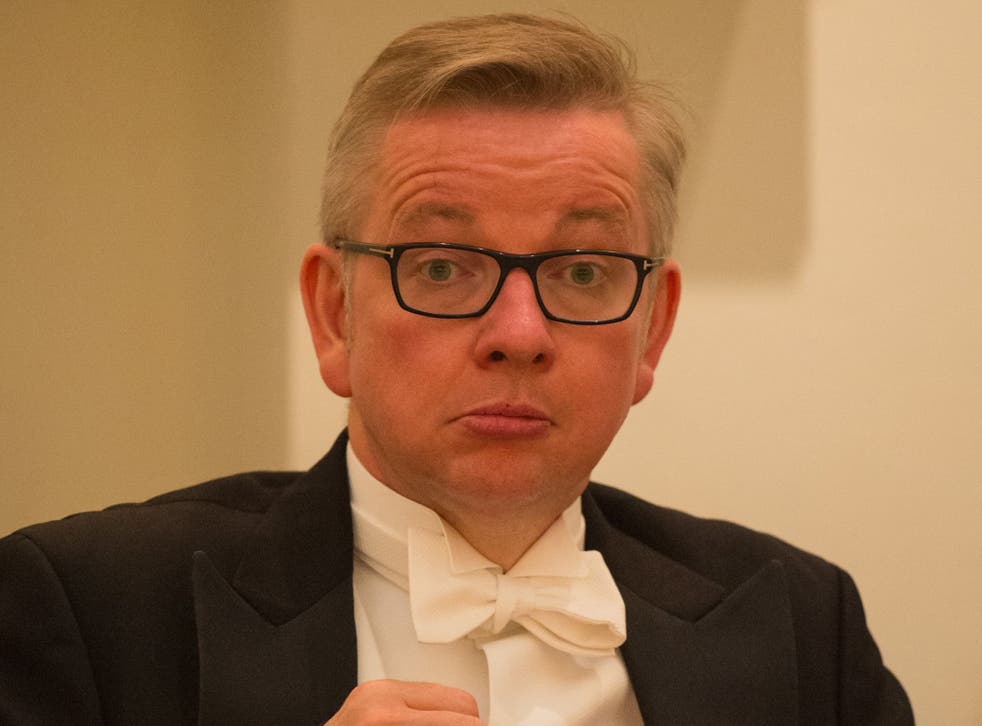 Rachel Johnson has revealed she danced to controversial hit single "Blurred Lines" alongside Michael Gove and his wife until 1.30 in the morning while they left their son at a bed and breakfast.
The Conservative MP and his wife Sarah Vine left their 11-year-old son at a hotel into the early hours of the morning while they attended a party, it was reported on Saturday. The 11-year-old is said to have preferred to stay in and watch TV rather than go to the event.
The Sunday Mirror claimed his son was found by a night porter at 1.30am asking where his parents were.
Johnson, a journalist who is the sister of Boris Johnson, defended the Gove's decision to leave their son at home, saying he had been babysitting their dogs.
"Oh goodness I should never admit to this but I was with Michael and Sarah until 1.30," Johnson told The Andrew Marr show.
People news in pictures

Show all 18
"Can I just say in their defence … their son was babysitting their two dogs. They left the dogs as well. I think it's absolutely fine."
Johnson explained they had both been invited to the Sunday Times Cheltenham Literary Festival where they did a "very jolly event together".
She then recalled the moment she decided to put Robin Thicke's controversial song "Blurred Lines" on.
"He was on the dance floor so I decided to ask the DJ to put on "Blurred Lines" which of course got the whole place up. So there were some blurred lines when it comes to the Johnson/Gove rapprochement there".
She commended the former Education Secretary and chief whip's dancing technique, saying he was a "shoe-in" for Strictly Come Dancing next year.
Thicke's song was criticised by a UK rape charity and online commentators for appearing to trivialise and glorify sexual violence and objectify women. Around 20 university unions banned the song at the time.
Government guidelines advise children under the age of 12 are not left alone for a long period of time and state parents can be prosecuted if they leave a child unsupervised "in a manner likely to cause [them] unnecessary suffering or injury to health".
NSPPC also advise this because they say children under 12 are "rarely mature enough to cope in an emergency". They advise children under the age of 16 are not left alone overnight.
A spokesman for the family told The Sunday Mirror: "Michael and Sarah's son is a mature and confident secondary school pupil. He preferred to watch TV rather than go out to dinner.
"He was perfectly fine and staff at the 13-room hotel were happy to supervise.
"The hotel where Michael, Sarah and their son were staying would know how to get in touch with them if anything distressing had occurred."
After the festival, comedian Dom Joly tweeted: "Amazing party at 131TheProm celebrating end of Chelt Lit Fest – only slightly ruined by the sight of the loathsome Michael Gove dancing..."
Register for free to continue reading
Registration is a free and easy way to support our truly independent journalism
By registering, you will also enjoy limited access to Premium articles, exclusive newsletters, commenting, and virtual events with our leading journalists
Already have an account? sign in
Join our new commenting forum
Join thought-provoking conversations, follow other Independent readers and see their replies