Michael Sata: Tough-talking politician who rose through the ranks to become the fifth President of the independent Zambia
During the early 1970s he left Zambia for Britain, where he worked at Victoria Station as a cleaner and porter and at the Vauxhall car plant in Luton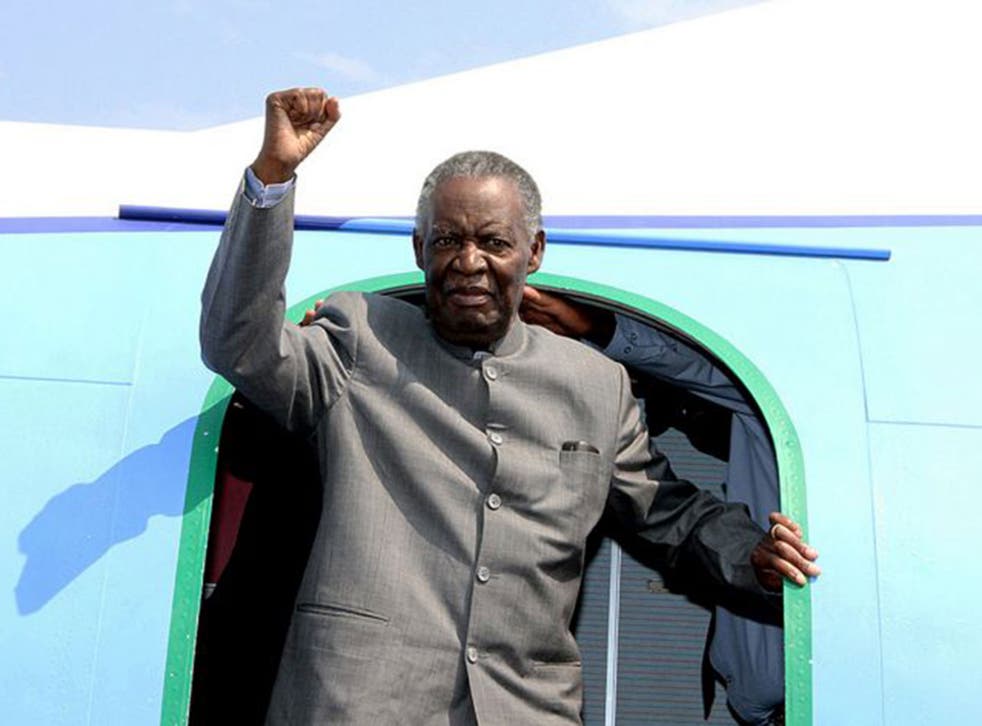 Michael Sata, the serving President of Zambia, has died in hospital in London, aged 77. Nicknamed "King Cobra", he was known for his sharp, forked tongue and forthright manner of speaking to his political opponents and colleagues alike.
Michael Sata was born in 1937 in Mpika, Zambia, then known as Northern Rhodesia and under British rule. The son of Langford Mubanga Sata and Harienta Bukali Kabuswe, he was eduated at Mpika Education Authority School and seminaries at Katibunga and Lubushi. Although his studies were towards the priesthood, he did not become a member of the clergy.
Moving to the Copperbelt area of the country in 1957, he briefly joined the Northern Rhodesia Police Force, before becoming involved in the struggle for independence for Zambia. By the early 1960s he had become a political activist, joining a trade union and rising to the position of general secretary of the National Union of Engineering, Construction and General Workers (NUECGW).
Sata was arrested for "proposing violence to an assembly" and jailed for two years, of which he served six months of the sentence. He recalled in a later interview: "I joined politics. When I joined politics I was arrested in Luanshya... In 1960, I was with great people like Justine Chimba, Mazimba from Ndola and Dingiswayo Banda." Following his release from prison he became an active member of the United National Independence Party (UNIP), the sole political party in the country after it gained independence in 1964.
During the early 1970s he left Zambia for Britain, where he worked at Victoria Station as a cleaner and porter and at the Vauxhall car plant in Luton. On returning home three years later, he settled in Lusaka and ran a company providing taxidermy services.
In 1981 he joined Lusaka City Council and rose to become governor over the following seven years, focusing on social and infrastructure programmes. A shrewd political operator, Sata gained recognition for promising reform to help the poor, even if his actions did not always match his words.
When the first President of Zambia, Kenneth Kaunda, was defeated in 1991, Sata became a minister in the new Movement for Multiparty Democracy (MMD) government, holding portfolios including labour, local government and health, where he said that his reforms "brought sanity to the health system". Then, a decade later, when President Frederick Chiluba did not put forward Sata as the presidential candidate for the 2001 elections, he left the MMD to form a new party, the Patriotic Front (PF). Commentator Owen Sichone said at the time, "His biggest problem is his MMD career. Having been used to destroy some good people's careers, he now finds himself with a few weeks in which to rebuild his image."
Sata ran for President four times, losing in 2008 by only two percentage points to his adversary, Rupiah Banda. In September 2011, representing PF, he was at last successful, again facing his old rival and gaining 43 per cent of the vote. He had campaigned on a platform of opposing Chinese corporate domination of Zambia's industry – he called them "infestors" – and on improving the situation of the poor, where two thirds of the population live on less than two dollars a day.
Recalling his time spent working in London, he told an interviewer, "I never got any complaints about my work. I want to sweep my country even cleaner than I swept the station," a reference to the endemic corruption in his homeland. Two weeks after his victory, he met with the then Archbishop of Canterbury, Dr Rowan Williams. "When I first met the British I apologised that for the last 20 years we had drifted away from the West; lots of things have not gone right," he told Dr Williams. "Dr Kaunda, although he was running a one-party state, was very close to the West and that is why he achieved as much as he did. But we drifted away from the West to look for new friends."
Dr Michael Jennings, Chair of the Centre of African Studies at SOAS, University of London, told The Independent that Sata's lasting legacy as President is questionable. "Promises to bring greater transparency, and to act on corruption in particular, came to nothing," he said, "and Sata became increasingly authoritarian following his victory, working to undermine critical and opposition voices in the country. It is questionable, too, whether those he championed benefited from what looked increasingly like short-term economic policy actions. But Sata did show the power of appealing to popular concerns, voicing disquiet over widely perceived unfair advantages given to international investors, and articulated sets of grievances that had hitherto been sidelined by the government."
Sata had been unwell over the past few years and had sought treatment in Israel and the UK. He died at King Edward VII Hospital in London, where he was undergoing treatment.
The Foreign Secretary, Philip Hammond, said in tribute, "I was saddened to hear of the death of President Michael Sata. He played a commanding role in the public life of his country over three decades, as Governor of Lusaka, as the holder of several ministerial positions in the 1990s, as the main opposition leader, and finally as President."
Marcus Williamson
Michael Sata, politician: born Mpika, Zambia 6 July 1937; married 1968 Margaret Manda (marriage dissolved); married Petronella Mpundu (marriage dissolved); married 1994 Catherine Kaseba; died London 28 October 2014.
Join our new commenting forum
Join thought-provoking conversations, follow other Independent readers and see their replies