Michelle Obama is one of the most well-liked public figures in America, says poll
The president's wife has scored consistently highly compared to her colleagues and even her spouse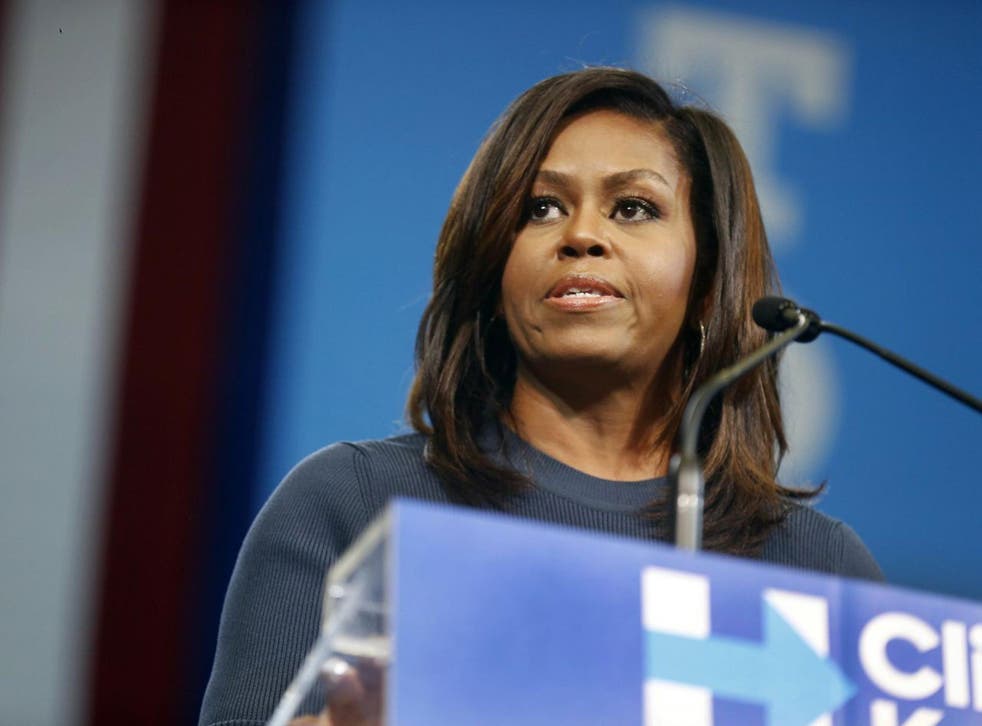 Sometimes a poll can simply confirm what we may suspect already.
Michelle Obama is one of the best-liked public figures in the US, according to a NBC News / Wall Street Journal poll.
The mid-October survey found that 59 per cent of people had a positive view of the first lady, while just 25 per cent did not.
Her husband, presdent Barack Obama, is seen favorably by 51 per cent of the population, but has a higher negative rating of 39 per cent.
Ms Obama's score was much higher than Donald Trump - 29 per cent - Hillary Clinton - 40 per cent - or the Democratic Party as a whole - 39 per cent.
She even beat house speaker Paul Ryan by 30 points, and soared ahead of Tim Kaine by the same number.
Michelle Obama mocks Trump with microphone
The poll surveyed 1000 registered voters between 10 and 13 October, and showed that Ms Clinton now has a 11-point lead over Mr Trump.
Ms Obama joined the campaign trail for Ms Clinton in September, urging voters not to abstain or vote for her opponent as that would only help to elect Mr Trump.
Michelle Obama 'shaken to the core' by Donald Trump comments
She has stood up against Mr Trump's so-called "locker room talk" - his bragging about sexually assaulting women - and said his words "shook her to the core".
She has also engaged in charitable initiatives, such as Let Girls Learn, and Let's Move, encouraging education and healthy eating across the globe.
At the Democratic National Convention, she stunned millions of viewers when she said that she woke up every morning in "a house that was built by slaves".
Her kitchen garden at the White House, which she has cultivated and grown with a team of staff, has given many a state leader their dinner and has provided presents such as a bag of seeds to the Pope.
Ms Obama appears also to be one of the few high-profile figures that Mr Trump has not attacked publicly.
He hinted at the second presidential debate, however, that Ms Obama was not always such a good friend of Ms Clinton, when the Democrat ran against Barack Obama in 2008.
Join our new commenting forum
Join thought-provoking conversations, follow other Independent readers and see their replies