Ed Sheeran accused of being drunk while presenting MTV EMAs with Ruby Rose
The singer co-hosted with Orange Is The New Black's Ruby Rose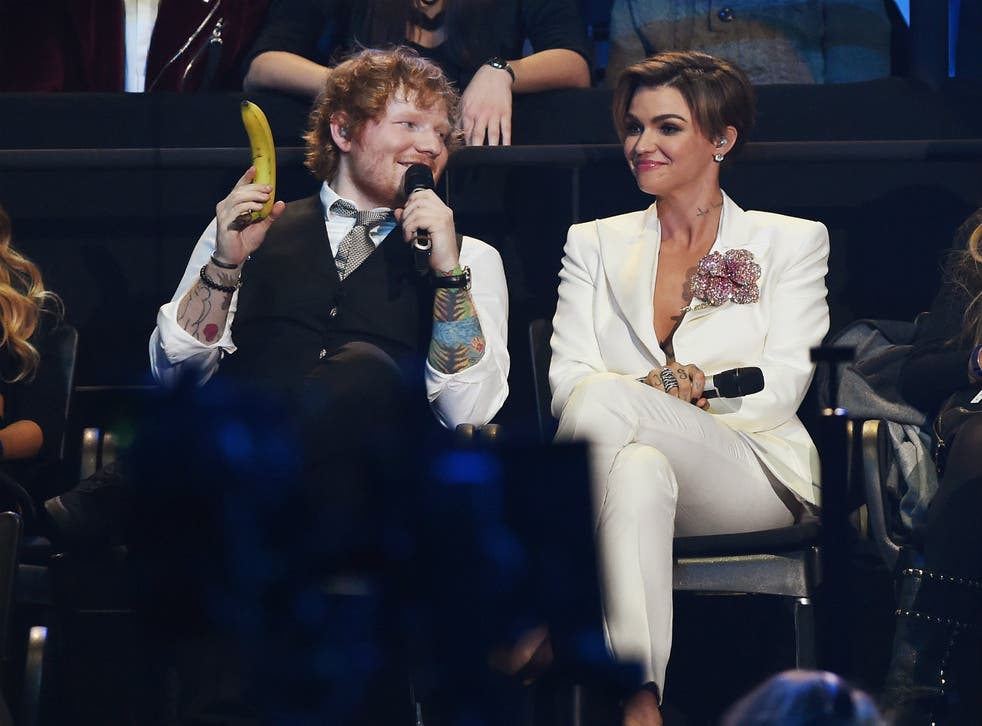 Ed Sheeran gave a surprisingly charismatic performance while co-hosting the EMAs with Orange Is The New Black star Ruby Rose, but viewers alleged his louder-than-usual behavior was down to the fact he was drunk.
The singer, who won two awards on the evening for 'best live act' and the incredibly specifc 'best world stage' respectively, joked about drinking gin and sobering up and was seen with a drink at several points in the evening.
His cruder-than-usual humour also seemed to be a stark contrast to his emotional crooning and general awkwardness.
He suggested Rose play a game of 'hide the banana' with him at one point, and complimented her on her 'p***y' while she was talking about cats.
The singer also plugged his involvement on the new Tori Kelly album, saying "Promo promo promo, buy that s***!"
Reasons why Ed Sheeran is not boring

Show all 15
Towards the end of the night, the two hosts collapsed on a sofa with a takeaway and complimented each other on their performance, with Rose telling Sheeran "I think you're drunk" (something he agreed with) before trying to sober him up by feeding him some pasta.
The biggest winner of the evening was Justin Bieber, who won five awards including 'best male' and 'best worldwide act: North America', while Duran Duran won the 'video visionary prize'.
Join our new commenting forum
Join thought-provoking conversations, follow other Independent readers and see their replies