Debbie Purdy dead: Right-to-die campaigner passes away aged 51
The campaigner made legal history in 2009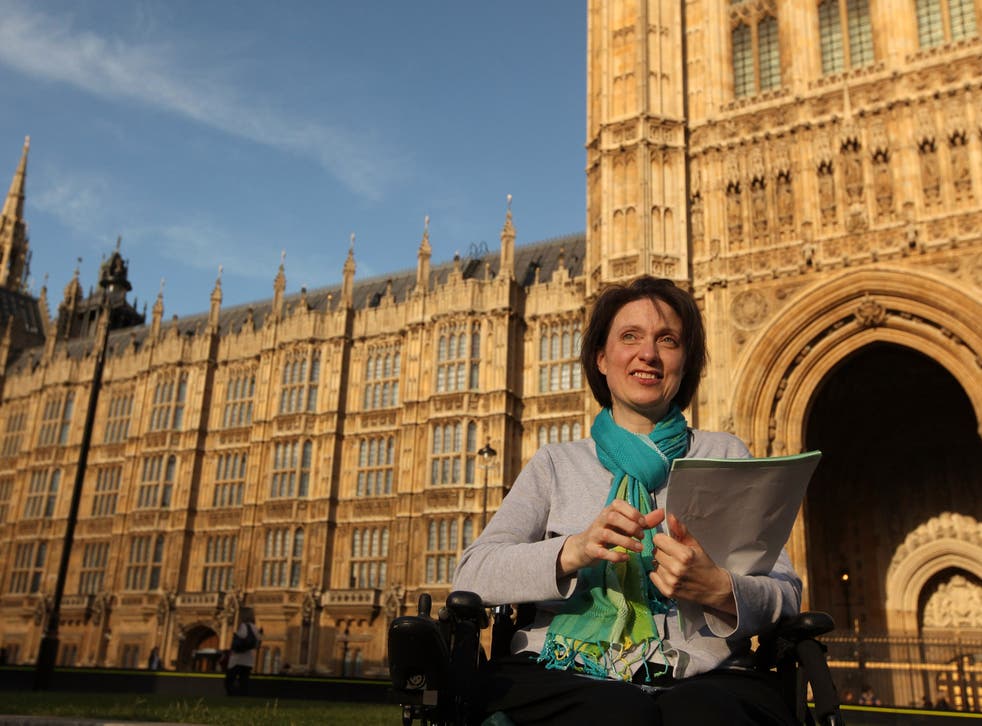 Right-to-die campaigner Debbie Purdy has passed away, her family confirmed today. She was 51.
The outspoken activist from Bradford, West Yorkshire, died at the Marie Curie Hospice in Bradford on 23 December, where she had spent the last year.
Announcing his wife's death, Purdy's husband, Cuban jazz violinist Omar Puente, called her a "much loved wife, sister, aunt and friend," ITV News reported.
Puente, told the BBC this evening: "We would like to thank the Marie Curie Hospice in Bradford for the care the staff gave her, which allowed her last year to be as peaceful and dignified as she wished."
Purdy was diagnosed with Primary Progressive Multiple Sclerosis in 1995 at the age of 31, shortly after she met her husband in Singapore.
Over the past few years her condition had deteriorated, and she was unable to leave her home and could not leave her bed unless she was helped by a nurse.
It is believed she was refusing food at the facility in order to end her life, and she was unable to afford to travel abroad to an assisted dying clinic, BBC News reported.
In 2008, Purdy began her battle to make the laws surrounding assisted suicide clearer, by trying to establish if her husband could be prosecuted for helping her to die. But the High Court and the Court of Appeal refused to say he would not be.
Read more: Why we should allow assisted dying: compassion, choice, and safety
However in 2009, she won a significant legal victory in the House of Lords which resulted in guidelines on assisted suicide being published by the UK Government.
She argued that it would be a breach of her human rights if she did not to know whether her husband would be prosecuted if he accompanied her to Swiss clinic Dignitas, where she said she wished to die if her condition worsened.
While it remains illegal to encourage or assist a suicide, guidelines suggest it would not be in the public interest for someone like Puente to be arrested, if they were obviously acting out of compassion.
"I was gobsmacked when we won," she told the Telegraph in 2012, "but I think the Law Lords understood they were not giving me permission to die. They were giving me permission to live."
Campaign group Dignity in Dying paid tribute to Purdy, describing her as a "valued campaigner and friend".
Chief executive Sarah Wootton said: "Debbie wanted choice and control over her death should she consider her suffering unbearable.
"Ultimately she was seeking peace of mind that her wishes would be respected, but also crucially that her decisions would not result in the potential imprisonment of her husband.
"Debbie rallied against the hypocrisy of the current law, which turns a blind eye to people travelling abroad to die, whilst seeking to protect them by threatening the imprisonment of their loved ones after their death.
"For over a decade Debbie was a huge presence at Dignity in Dying; from stuffing envelopes to leading her legal challenge, she was an integral part of the campaign and a friend. We will miss her greatly."
They said her legacy was one of "greater clarity in the law and an increased awareness of the need for greater choice at the end of life".
Additional reporting by PA
Join our new commenting forum
Join thought-provoking conversations, follow other Independent readers and see their replies