Gerard Depardieu says his mother tried to kill him in womb with knitting needle in new book revelations
Controversial actor's autobiography describes troubled childhood of prostitution and fighting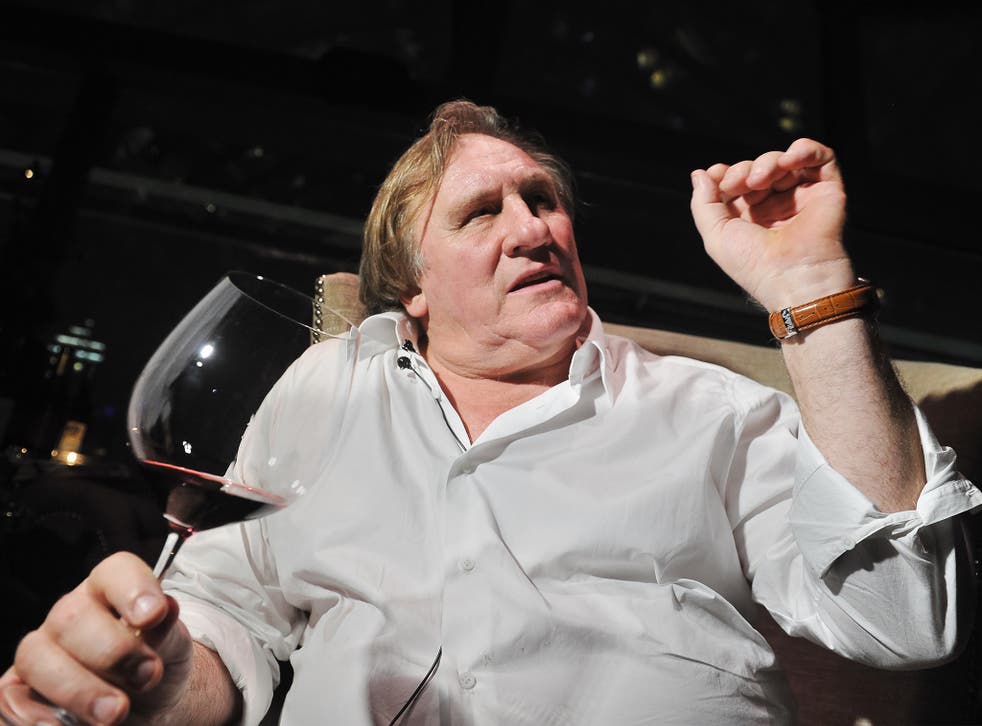 Gérard Depardieu is the bad boy of French cinema. But just how bad has only become apparent with the publication of the autobiography of France's national treasure turned national embarrassment.
During his youth in Châteauroux in central France, Gérard robbed the graves of newly buried bodies, got into fights, smuggled cigarettes and prostituted himself to passing lorry drivers. He spent three months in prison after stealing a car. School holidays were spent in the public toilets of Orly airport outside Paris, where his grandmother was an attendant.
But the shock revelation in the book Ça s'est fait comme ça ("That's the Way it Was), as told to writer Lionel Duroy, is that Depardieu should never have been born. With disarming candour, he recounts how "I survived all the violence that my poor mother inflicted on herself with knitting needles and things," in an attempt to kill the foetus inside her. "The third child that she didn't want, was me, Gérard. I survived," he says. His mother, Lilette, wanted to make him pay for the sexual relationship between her own mother and her father-in-law who lived nearby. Lilette had intended to leave her husband. "And to think I almost killed you," she would later tell him fondly.
At the age of seven, Gérard was called to help the midwife deliver his sister Catherine, and describes boiling the water and helping to pull the baby from his mother's womb. He also helped deliver another of his five siblings.
His father, known as Dédé because those were the only two letters of the alphabet that his illiterate father knew how to write, was a drunkard who worked as a metalworker.
The revelations about his turbulent past cast a new light on the tortured soul of Depardieu, who became estranged from his own son Guillaume, a talented actor who died in 2008. Guillaume died at the age of 37 from pneumonia, but had earlier had a leg amputated after a scooter accident and had been a drug addict and rent boy. He also spent two spells in prison, on drugs and theft charges.
"Guillaume experienced the same thing that I did," says Depardieu, referring to the mockery of his own father who "was reeling drunk from time to time with bad wine". The book suggests that the film star remains riddled with guilt over the death of Guillaume, who had accused his father of being an alcoholic obsessed with money.
Depardieu, now a 65-year old hulking Rabelaisian figure, told French TV last week that he was "not an alcoholic", because "alcoholics never get drunk". Asked about his attitude to money, after he left France in 2012 to seek tax exile in Belgium then Russia, he said: "I've always been rich. It's not about money."
He writes about his son in the book: "I took a long time to understand Guillaume with his demands and his suffering, and I didn't know how to respond. I could never find the words."
But he also says that the rest of his family – he had two children with his first wife Elisabeth and two others from subsequent relationships – are ashamed to bear his name. "I told them, 'What do you want?' Change your name for God's sake, if it bothers you," he says.
Anecdotes about Depardieu's marathon drinking bouts abound, and he recently confessed to drinking 14 bottles of wine a day. Last year, he was banned for driving for six months after falling off his scooter in Paris while drunk.
After escaping from Châteauroux with "the music of Racine in my ears", Depardieu, the self-described "rough-hewn peasant" with "a boxer's nose" went to Paris where he went into theatre. His talent was nurtured by Marguerite Duras, and his film career took off in 1974 when he played a petty thief in Les Valseuses.
Stardom soon beckoned, and he won a César award for best actor in Cyrano de Bergerac. He was also successful in Hollywood, winning a best actor Golden Globe for his role in Green Card with Andie MacDowell.
But after becoming one of the most prolific actors ever, he began to squander his talent, appearing in films that either received poor reviews or were ignored by the critics. He invested in a vineyard in Anjou, which he continues to visit from his Russian exile. He says he was forced to leave France to escape the Socialist government's "87 per cent" tax on his wealth, and has accepted Russian citizenship.
He claims to have hit it off with Russian President Vladimir Putin because "we could both have ended up as hoodlums." Mr Putin was apparently attracted to "the fact that I had occasionally been picked up off the pavement dead drunk."
Join our new commenting forum
Join thought-provoking conversations, follow other Independent readers and see their replies