Harrison Ford makes first public appearance since his plane crash at Comic Con Star Wars panel
He was great by rapturous applause from hundreds of lucky fans in the audience
Doug Bolton
Monday 13 July 2015 10:31 Comments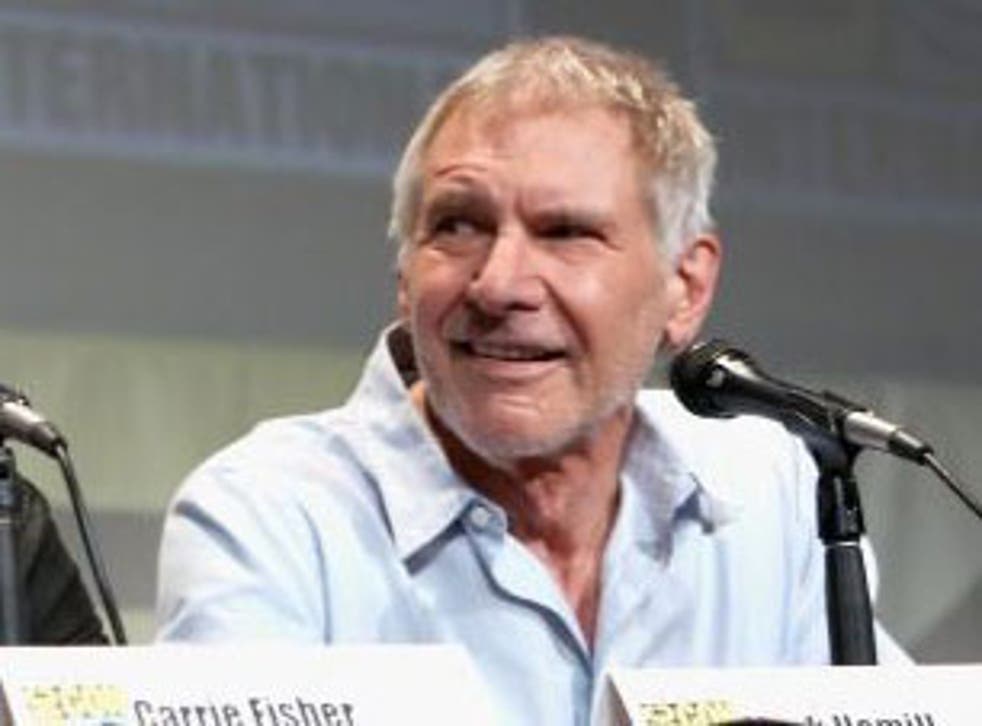 Legendary actor Harrison Ford has made his first public appearance since a serious plane crash in March - at San Diego's annual Comic-Con.
Appearing at a Star Wars: The Force Awakens panel to rapturous applause from the fans, many of whom had camped overnight to see it, he walked confidently on to the stage after being injured a few months ago.
While flying his World War Two-era vintage plane (as we imagine every day in the life of Harrison Ford to be), his engine failed, and the plane crashed into a golf course in Los Angeles on 6 March.
Being described as "battered but OK" by his son Ben after the crash, he's been recovering since, just in time to take part in the publicity for the much-anticipated new Star Wars film.
Dismissing his injuries, which included a broken ankle and pelvis, he told the crowd, "I'm fine... I walked here, so how bad can it be?"
The crowd was hanging on to his every word as he spoke about the new film, already sending fans into a frenzy after the release of two incredible trailers.
"It's good to be back," he said, adding: "I was very gratified when I read the script. I read something that I thought was really remarkable, really well-written, with some very intriguing developments and I was very happy to be a part of the story."
Also appearing on the panel were several other stars of the new film, as well as director JJ Abrams.
In the film, which will be episode seven in the series as the sequel to 1983's Return of the Jedi, Ford will reprise his old role as Han Solo.
Mark Hamill and Carrie Fisher will also return to their old roles as Luke Skywalker and Princess Leia.
Register for free to continue reading
Registration is a free and easy way to support our truly independent journalism
By registering, you will also enjoy limited access to Premium articles, exclusive newsletters, commenting, and virtual events with our leading journalists
Already have an account? sign in
Join our new commenting forum
Join thought-provoking conversations, follow other Independent readers and see their replies