'I didn't mean it': John Galliano redesigns his reputation two years after intoxicated anti-Semitic rant
Recovering alcoholic gives first interview since racist outburst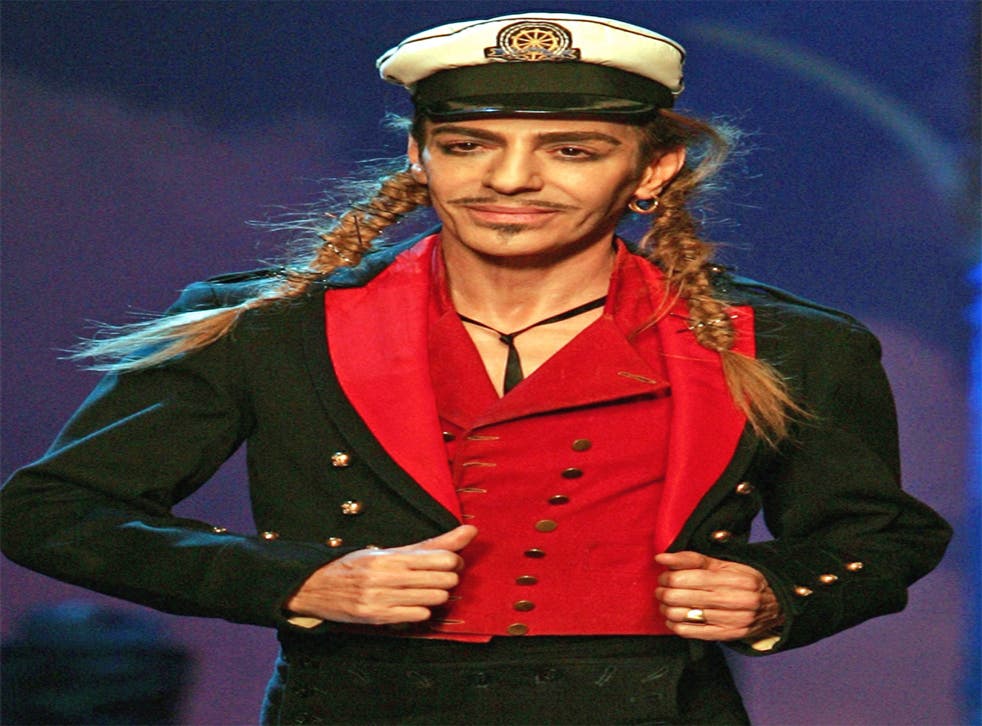 John Galliano was once one of the most quoted and visible figures in the brash world of high fashion.
But the acclaimed British designer has been invisible for the past two years, ever since an intoxicated anti-Semitic rant in a Marais bar in 2011 cost him the reigns of his eponymous label, and of Christian Dior, the Parisian institution he headed since 1996.
Now Galliano has decided the time is right to break his silence in an interview with Vanity Fair magazine that the designer himself states is the first he has ever given sober. Of his drunken outburst that caused his downfall, he says: "It's the worst thing I have said in my life, but I didn't mean it."
Only snippets of the interview have been released thus far – the whole can be read in Vanity Fair's July issue. But it seems that Galliano discusses his condition with candour. "I was going to end up in a mental asylum or six feet under," he states of the alcoholism that propelled his downfall.
He also recalls flashing his muscled abdomen to Bernard Arnault, chairman and chief executive of Dior's parent company LVMH, whilst asking "Does this look like the body of an alcoholic?"
Galliano has always been known for his eclectic personal appearance, echoing the undercurrents of his collections: for his Vanity Fair portrait, shot by Annie Leibovitz, he's true to form, dressed in piratical get-up whilst perched on a symbolically stormy shoreline. Stormy is of course the word for the past two years of Galliano's life, from public outrage and official denouncements immediately following his outburst, to his time in an Arizona rehab facility, where all his belongings were reportedly confiscated.
Galliano's stormiest time may yet be to come – some will read this interview as an excuse rather than explanation for Galliano's actions, while the mere mention of his name continues to arouse controversy. The furore caused by plans for Galliano to teach a workshop at New York design school Parsons in April this year eventually caused said programme to be cancelled. The name of the masterclass, ironically, was 'Show Me Emotion.'
Emotions have always run high around John Galliano: his work has elicited support like no other designer. Models including Kate Moss, Naomi Campbell and Linda Evangelista walked Galliano's catwalks not for money, but for love (and the occasional dress). In 1994, American Vogue Editor in Chief Anna Wintour secured a financial backer for a then-destitute Galliano.
Some speculated it was Wintour who engineered Galliano's unofficial return to the industry earlier this year, working with New York designer Oscar de la Renta on his winter 2013 collection, while supermodel Evangelista was the first to make the trek to Arizona to visit Galliano, on his initial weekend in rehab. "I just didn't want that weekend to go by without anyone reaching out to him," she tells Ingrid Sischy, herself a close friend of Galliano.
Galliano has been taking certain steps to visibly atone for his actions, including meeting with Jewish leaders, stating that "Even now I'm still learning every day how many people I hurt."
Sischy herself interviews prominent pillars of the Jewish community, including Rabbi Barry Marcus, of London's Central Synagogue, and Abe Foxman, head of the Anti-Defamation League. But in the same piece, she advises to "get ready for his second act." Indeed, this Vanity Fair profile is just the latest step in the fashion world's own rehabilitation of John Galliano. It's a process that promises to be longer and more arduous than his drying-out in Arizona.
Join our new commenting forum
Join thought-provoking conversations, follow other Independent readers and see their replies