Joe Cocker: Formidable vocalist who triumphed at Woodstock and won a Grammy with 'Up Where We Belong'
In 1999 he performed at the 25th anniversary celebration of Woodstock, the only original artist to return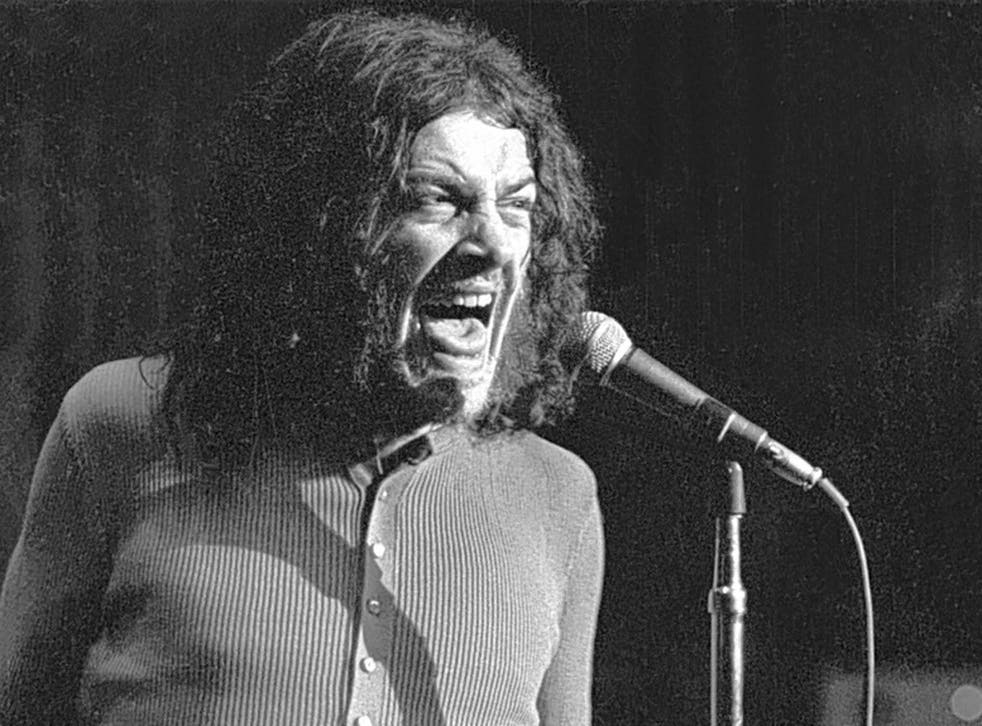 A formidable vocalist whose unusual stage mannerisms were much parodied – most famously by John Belushi on the US TV comedy show Saturday Night Live – but whose powerful, gravelly tones remained unequalled and pretty much undiminished throughout a career that spanned five decades, Joe Cocker triumphed at the famed Woodstock festival in 1969 with his memorable version of "With A Little Help From My Friends", the Beatles tune originally sung by Ringo Starr on Sgt Pepper's Lonely Hearts Club Band.
Captured and included as the centrepiece of Woodstock, the 1970 landmark Michael Wadleigh documentary whose three-hour length and epic scope, particularly its use of wide and split-screen, matched the nature of the three-day of Peace and Music event which defined the counterculture, Cocker's eight-minute-long tour de force adaptation of the John Lennon and Paul McCartney song turbo-charged his climb up the rungs of the rock ladder alongside fellow British acts Ten Years After and The Who, and emerging US artists like Richie Havens, Santana and Johnny Winter, who all owed much of their ensuing worldwide popularity to the Woodstock effect.
The singer had taken "With A Little Help From My Friends" to the top the UK charts in 1968. "People have told me that the version of 'A Little Help' that I do is in their minds the definitive version. I think that's because it wasn't just a cover, we did a whole reinvention of it. Even Paul McCartney thought it was the best version around," he said. The studio recording clocked in at five minutes and featured the organist Tommy Eyre, as well as Jimmy Page, then a budding session guitarist, and the Procol Harum drummer BJ Wilson, an associate of Denny Cordell, the producer who had brought Cocker to London for a second bite at the big time.
In fact Cocker tried to entice Page into the Grease Band, his regular backing group, but Jimmy wanted to do something heavier, which turned out to be Led Zeppelin. Despite subsequent hit versions by Glaswegian pop sensations Wet Wet Wet in 1988 and the TV-presenting duo Sam and Mark in 2004, "A Little Help" remained Cocker's signature moment, especially after a new generation discovered it as the theme song to the nostalgic TV series The Wonder Years in the late 1980s and early '90s.
By then Cocker had hit rock bottom, before returning wiser and grizzlier. His gravelly voice, the result of smoking as many as 80 cigarettes a day, was intact and still sent shivers down the spine as he duetted with Jennifer Warnes on "Up Where We Belong", the uplifting ballad written by Jack Nitzsche, Buffy Sainte-Marie and Will Jennings, the theme tune to An Officer And A Gentleman, the Taylor Hackford-helmed drama starring Richard Gere and Debra Winger. Though Cocker originally disliked the song, he recognised its potential, and it went on to top the US charts, winning him and Warnes the Academy Award for Best Original Song and a Grammy for Best Pop Performance by a Duo or Group with Vocal in 1983.
He was never a prolific songwriter but he was a supreme interpreter, not so much in the blue-eyed soul vein of a Steve Winwood and Robert Palmer, two of his contemporaries and occasional collaborators and label-mates, but steeped in the blues of Big Bill Broonzy and the rhythm and blues of Ray Charles, distilled through his native city's Sheffield steel and grit. He became a go-to-film soundtrack vocalist, contributing a definitive interpretation of the Randy Newman song "You Can Leave Your Hat On" used in the striptease scene in 9½ Weeks, the 1986 erotic drama directed by Adrian Lyne and starring Kim Basinger and Mickey Rourke, and making notable contributions to Teachers, Wild Cats, Harry and the Hendersons, The Cutting Edge and Across The Universe.
Born John Robert Cooper in 1944, he never lost his Sheffield accent, which amused and bemused the many American musicians, such as the horn players Bobby Keys and Jim Price and the pianist Leon Russell, with whom he worked over the years. He started out drumming in his older brother's skiffle band, switching to front man as they became Vance Arnold and the Avengers, playing pubs for beer money, while he worked as a gas fitter during the day.
In 1964 he recorded his first single, a cover of "I'll Cry Instead", a Lennon-McCartney composition included on the A Hard Day's Night soundtrack and album, for Decca. "It died a death," he recalled. "I was still living at home at the time, and my parents said, 'OK, you had your shot. Now grow up and go out and get a proper job.'"
He returned to the Gas Board, but within a couple of years began performing again with the Grease Band, a dynamic outfit assembled by the keyboard player Chris Stainton, with whom he co-wrote the dizzying "Marjorine", his first Top 50 single. It paved the way for the success of "A Little Help" and the subsequent sequence of sublime cover versions including "Feelin' Alright", penned by the Traffic guitarist Dave Mason; the Leon Russell composition "Delta Lady"; a dynamic arrangement of the Boxtops hit "The Letter"; and the torch song standard "Cry Me A River", as well as the series of Beatles adaptations including "Something" and "She Came In Through The Bathroom Window". "It was just instant arrangements," he said about the way he collaborated with Russell after splitting from the Grease Band in 1970.
Under pressure to fulfil the vocalist's US tour commitments, they launched the Mad Dogs & Englishmen ensemble, named after a Noel Coward ditty. A 43-strong circus, it was a rock'n'roll carnival with the top-hatted Russell as musical director and ringmaster and Cocker as its freakish Space Captain frontman. The tour had its own plane, albeit such an old model it took twice as long as normal to reach its destination, and its own astrologer.
It was documented on film and in a best-selling album that reflected its chaotic, endearing, free-loving nature, while the music made the most of a line-up featuring a host of singers including Rita Coolidge and Claudia Lennear, as well as two drummers, Jim Keltner and Jim Gordon. "It really set up this incredible rhythm," Cocker said about the way he lost himself in the music. It was like a train coming."
He recognised that his vocal and stage mannerisms were easy to parody, as Bill Oddie had done with the so-called Yorkshire anthem "Ilkley Moor Baht At", a pastiche of "A Little Help" in 1970, and he joined Belushi on Saturday Night Live to duet on "Feelin' Alright" in 1976 after seeing his impersonation. "I never watched much TV, but when I saw this video of John Belushi doing me being 'spastic' and pouring beer, I became hysterical. Everyone else said, 'Joe, you're not supposed to find this amusing. You're supposed to find this gross and offensive.' I said, 'Oh, come on. You can't not laugh at this.'"
For much of the 1970s Cocker was managed by the Woodstock co-promoter Michael Lang. "He wasn't the perfect manager," noted the singer, who cared little about money and had a tendency not to cash cheques, including a hefty royalty payment for his contribution to the Woodstock soundtrack. He admitted that at the time he was an alcoholic. "We knew there wasn't gonna be any money at the end of it, so it was sheer adventure."
Cocker – who died of lung cancer – gave so much money away to friends that he struggled to pay a UK tax bill for £500,000 in the 1970s. Cocaine and alcohol also played their part, but matters greatly improved in the '80s after he moved to the US and Tina Turner's manager Roger Davies took over his affairs. He returned to the charts with the albums Sheffield Steel and Unchain My Heart, as well as Fire It Up, his last studio album released two years ago.
"The actual singing experience I really do still get a buzz out of it," he told Ken Bruce when picking his "Tracks Of My Years" on Radio 2 in 2007. "I treasure the performances more, I think, because you're kind of wondering how long you're going to be doing it, so you tend to get into it. I think that's what's kept me going. There are other guys who probably have as good voices. In many respects, that's why the fans have hung in with me. I've had my rough times in the '70s but I always try to get wrapped up in the tunes." In 1999 he performed at the 25th anniversary celebration of Woodstock, the only original artist to return.
John Robert Cooper (Joe Cocker), singer and songwriter: born Sheffield 24 May 1944; OBE 2007; married 1987 Pam Baker; died Crawford, Colorado 22 December 2014.
Join our new commenting forum
Join thought-provoking conversations, follow other Independent readers and see their replies