Martin West: Prolific scholar whose books shed new light on the archaic and early-classical periods of Greek literature
He befriended people of many different ages, and performed remarkable acts of scholarly and practical kindness for friends and strangers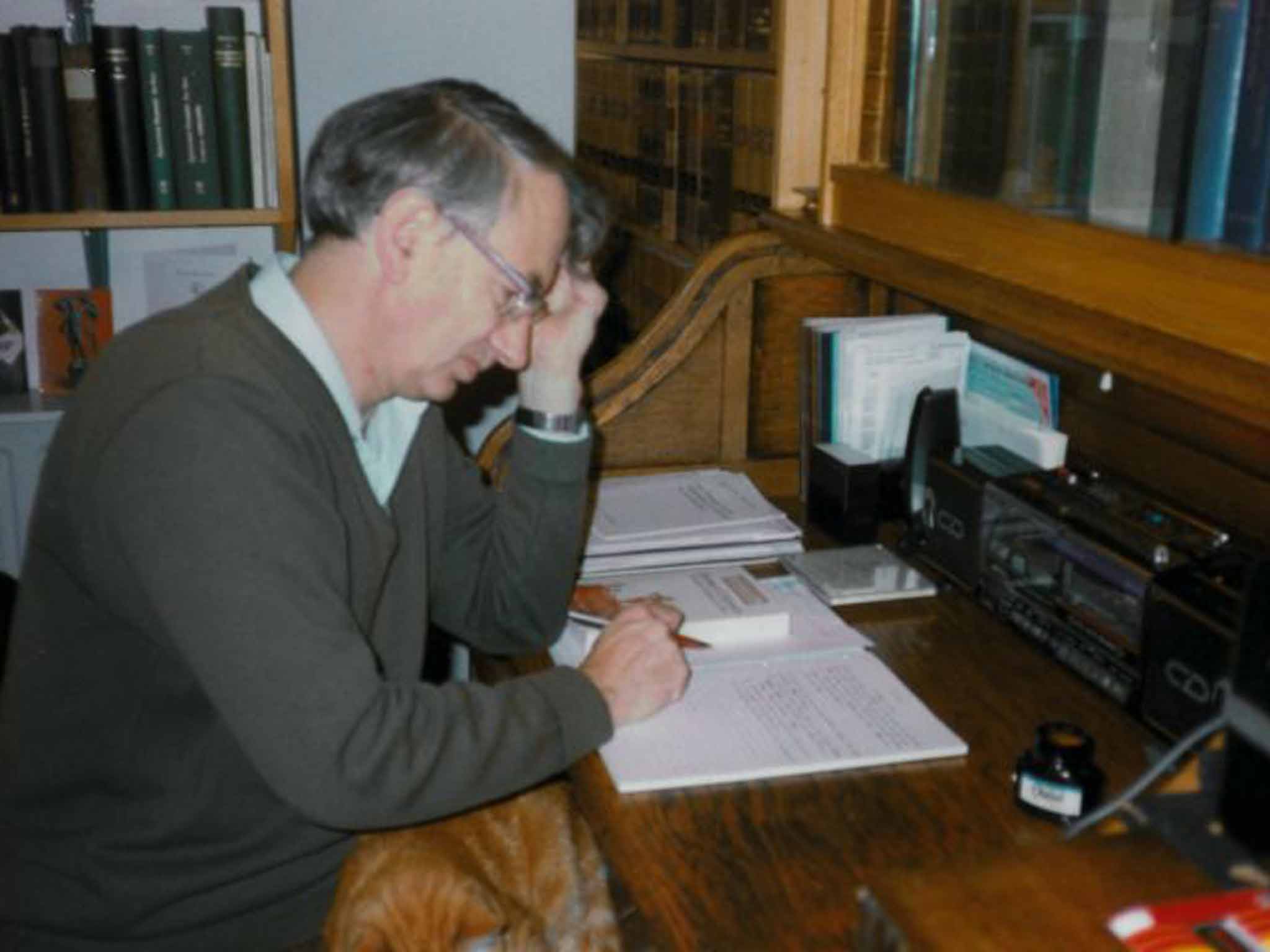 Martin West's achievements stagger every classicist – but he himself was not staggered. He worked on, matter-of-factly, producing endless illuminating books. He knew his own abilities, but his essential modesty and simplicity only increased the wonder for everyone else.
His mode of scholarship displayed an impressive straightforwardness and cohesion. It did not claim to cover all aspects of Greek literature that matter; but his whole approach, monumentally realised, will lastingly challenge and enlighten classicists. That approach is as important as the individual discoveries, which can scarcely be numbered.
West's work concentrated especially on the archaic and early-classical periods of Greek. He edited the two vast narratives of Homer, and the two characterful poems of Hesiod, which he also wrote lengthy commentaries on. Other editing work included the personal (or seemingly personal) poetry of authors like Archilochus and Theognis, and the tragedies of Aeschylus.
But his work went further, in various directions. He deployed his intimate knowledge of ancient Greek poetry in books which surveyed particular areas, such as metre or music, in all their knotty detail, and depicted their historical development. Importantly, he did not see Greek poetry as springing from nothing: it was shaped by cultures outside of itself – by Indo-European traditions, and still more by the literature of the Near East.
Although these perceptions were not new in themselves, West amassed material (deliberately not confined to the most striking cases) to link Greek literature to the East. With severe criteria, he pursued poetic and religious elements in Greek and Vedic literature and more,back to earlier cultures and languages, such as "Mature" Indo-European. A huge range of knowledge underlay these explorations; they made the home territory of ordinary classicists look small.
Two contrasting tendencies appear in West's work: on the one hand, his ambitious reconstruction; on the other, his precise fidelity to what is known. These aspirations, embodied in work of intelligence and scholarly power, will long serve to stimulate classicists' endeavours.
West preferred to leave extended literary interpretation to others: a pity, as there is much importance in both his positive thoughts (on Aeschylus's structures, say) and his negative (on supposed ancestral curses in Sophocles, for example). The two impulses, to reconstruction and restraint, were united in his textual work to magnificent effect – as in his many fundamental articles on new papyri. Papyri typically turn up in bits; West's suggestions for making sense of them, and filling in some gaps, respect the limits of the evidence but are masterfully bold.
Personality informs these technical and closely argued writings. West states staunchly, in a given situation, what he believes to be the best route to the truth. But the light of humour also plays incessantly around his work. The commentary on Hesiod's Works and Days essentially ends with "Excursus II: Time-Reckoning"; this finishes with a sentence that starts austerely, but finishes with a wag in the tail: "The 'mean sun' is a notional body which moves at a uniform pace, with the real sun generally a few minutes behind or ahead of it like a dog off the lead."
Shorter pieces often have titles like "Balbilla did not save Memnon's soul", or "The eternal triangle. Reflections on the curious cosmology of Petron of Himera". Such humour ran through West's conversation. Conversation did not always flow; but whatever he said was witty, amused, to the point.
West was born in 1937. He attended St Paul's School in London, and then Balliol College, Oxford. He was a research fellow at St John's College, Oxford; tutor in classics at University College, Oxford; professor of Greek at Bedford College, London; and, finally, a senior research fellow at All Souls College, Oxford. He became a fellow of the British Academy at 35; in 2014 he was made a member of the illustrious Order of Merit.
He was a generous-spirited person. He befriended people of many different ages, and performed remarkable acts of scholarly and practical kindness for friends and strangers. In an age when many of us have all but forgotten the use of the pen, he wrote polite and friendly letters in an elegant hand and blue ink.
The same traits seem in evidence throughout his life. As a schoolboy he was mad on astronomy, and founded the "Astro-cops"; he and his colleagues issued the periodical Starry Nights. He was always kind to his little sister. When his daughter was young, he once had to leave home early on her birthday; but first he mowed "Happy Birthday" into the lawn. His marriage, to Stephanie, warmed the heart.
He remained in robust health, cycling nimbly around Oxford, with a smile for friends. He made a speech when presented with a Festschrift on his 70th birthday, and jumped in the air to illustrate his continuing vitality. His death was shocking: he was so full of life, finishing another work and planning the next. But he had crammed his allotted time with achievement.
West married Stephanie Pickard in 1960, and had two children. He died quite unexpectedly from a heart attack.
Martin Litchfield West, classical scholar: born Hampton, Middlesex 23 September 1937; married Stephanie Pickard (two children); died Oxford 13 July 2015.
Join our commenting forum
Join thought-provoking conversations, follow other Independent readers and see their replies