Maureen Guy: Mezzo-soprano who sang at the Investiture of the Prince of Wales and performed with Solti and Stravinsky
She made her debut at Sadler's Wells and was subsequently principal mezzo-soprano there and at the Royal Opera House, Covent Garden, Welsh National Opera and the Frankfurt Opera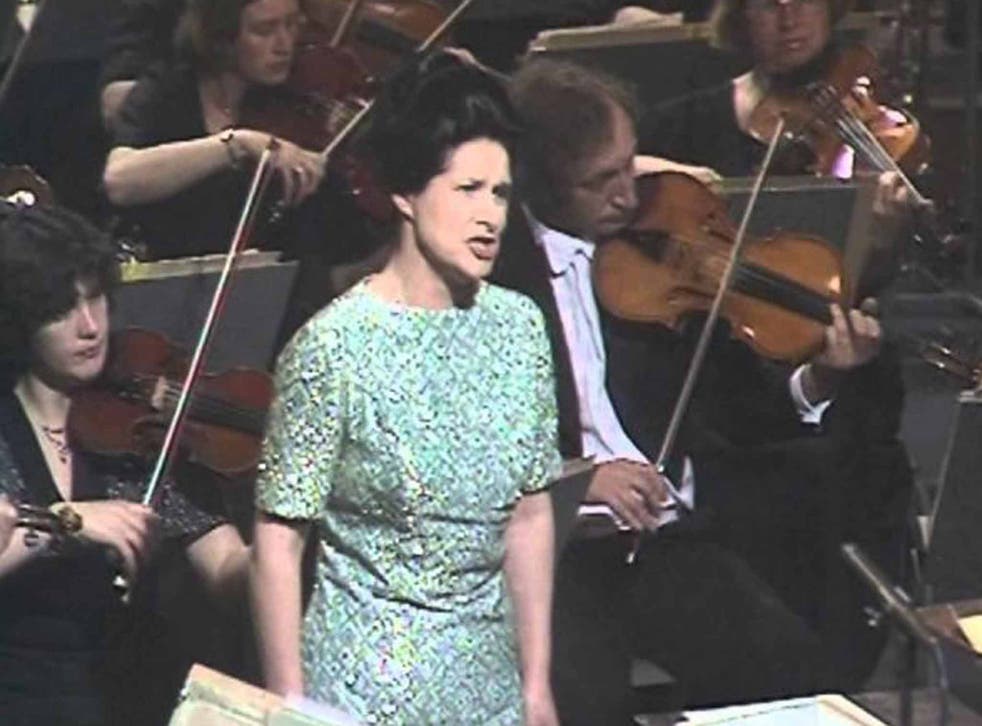 Among her many prestigious appointments, the mezzo-soprano Maureen Guy sang at the Investiture of the Prince of Wales, with the composer Igor Stravinsky, in Georg Solti's recorded Ring cycle, and at opera houses throughout the world.
As with so many Welsh singers, it was Chapel that nurtured her early talent – in Guy's case the Bethel Chapel in Penclawdd, her birthplace near Swansea. She sang at the National Eisteddfod at the age of 18, but "was burning with ambition .... I wanted to go places, I wanted to meet people – I felt it was a phase of life I wanted to go for," she told Connie Fisher in an interview on BBC Television's Songs of Praise in 2013.
Among the most treasured memories of her career were a concert to mark Yuri Gagarin's first space flight in 1961, and being chosen as one of 15 Welsh soloists at the Investiture of Prince Charles as Prince of Wales at Caernarfon Castle in 1969.
With a scholarship from the county of Glamorgan, she studied at the Guildhall School of Music. At the end-of-term concert in December 1954 she sang the "Inflammatus" from Dvorak's Stabat Mater, prompting the music critic of The Times to recognise "a rich and powerful contralto voice with which, if she is not in a hurry, she should do very well indeed."
A year later she was a finalist in the first prize competition in memory of Kathleen Ferrier. She did not win, but her "rich and expressive contralto" was highly regarded. At a Wigmore Hall recital in 1957 her voice seemed almost too large for the venue, but the assurance with which she used it "was irresistible".
Several of her early engagements were with the London Mozart Players, under their founder-conductor Harry Blech, including a concert to mark the 150th anniversary of the death of Haydn in May 1959 at the Royal Festival Hall. The following year, with the same forces, she sang in Schubert's Mass in E flat; one of the two tenor soloists was John Mitchinson, whom she had married in 1958.
Fisher asked Guy – who had first met Mitchinson at Sadler's Wells – if it was love at first sight. "No," she replied. "I just admired him as an artist and we worked up from there!"
She made her debut at Sadler's Wells as Dryad in Strauss's Ariadne auf Naxos, and was subsequently principal mezzo-soprano there and at the Royal Opera House, Covent Garden, Welsh National Opera and at the Frankfurt Opera. She sang such roles as Olga in Eugene Onegin, Maddalena in Rigoletto ("alluring and vocally positive") and the title role in Britten's The Rape of Lucretia – "[adding] substantially to her stature with intense but splendidly focused tone and singing of real emotional depth."
She was Flosshilde in Hans Hotter's 1963 production of Götterdämmerung at Covent Garden, conducted by Solti, followed by Delilah in Samson and Delilah by Saint-Saëns – with Alberto Remedios as Samson – back at Sadler's Wells. Here there was some criticism of the limited range of vocal colour in her characterisation; "as an actress, too, she still has some things to learn."
She was happier, perhaps, as Suzuki ("unusually ripe and motherly") in Madame Butterfly at Covent Garden. She appeared with the company at the 1965 Proms in Schoenberg's Moses and Aaron, under Solti, and the following year in Parsifal. Overseas she sang throughout Europe and in New Zealand, Australia and Hungary. In 1966 she appeared in Stravinsky's Oedipus Rex in the Odeon of Herodes Atticus, Athens, conducted by the composer himself.
Guy was generous in her appreciation of the many conductors with whom she worked. In addition to those previously mentioned, these included Otto Klemperer, Rudolf Kempe, Antal Dorati, Carlo Maria Giulini and, not least, her compatriot Owain Arwel Hughes, for she was assiduous in maintaining contacts with Wales, returning after her retirement from the stage and concert platform to live near Tenby and to teach at the Royal Welsh College of Music and Drama. She and her husband were frequently to be heard at the Three Choirs Festivals, where, in 1977 at Gloucester, she was the Angel ("in warm voice and comforting manner") in Elgar's The Dream of Gerontius.
Ruth Maureen Guy, mezzo-soprano: born Penclawdd, Glamorgan 10 July 1932; married 1958 John Leslie Mitchinson (two sons); died Haverfordwest, Pembrokeshire 14 February 2015.
Join our new commenting forum
Join thought-provoking conversations, follow other Independent readers and see their replies