Michael Schumacher's helmet 'split in two' in skiing accident that left him in a coma
'He could die. He could have serious lasting effects such as paralysis or loss of understanding or he could recover completely,' Professor Denis Safran said ahead of today's critical update
John Lichfield
Tuesday 31 December 2013 10:39 Comments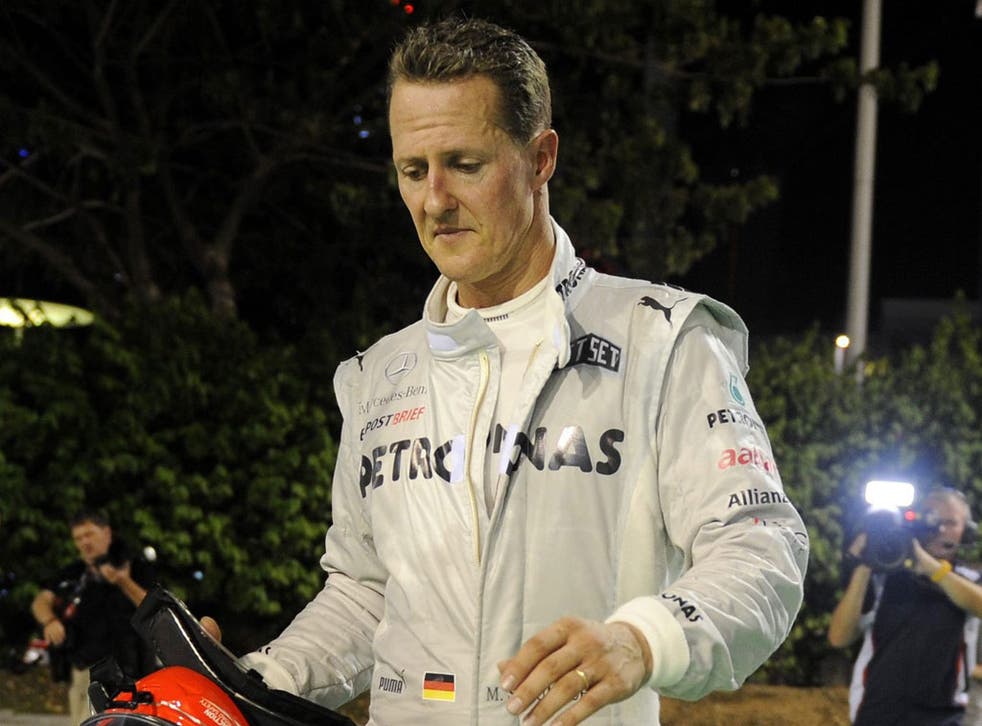 French doctors performed a successful operation to reduce bruising in the brain of Michael Schumacher late on Monday night, improving the condition of the former Formula One champion but leaving his hopes of recovery "fragile", it was announced on Tuesday.
The update came as it emerged that a reporter dressed as a priest had tried to get into the racing driver's hospital room.
Doctors at the Grenoble University Hospital said that a "brief improvement" in the German driver's condition had given them a "window of medical opportunity" to carry out a two-hour operation to remove a "haematoma" or serious bruise from within Mr Schumacher's brain.
"A scan this morning shows that this operation was performed with success and that his condition is now under better control," said Dr Jean-Francois Payen, the anaesthetist in charge of the hospital intensive care unit.
Schumacher's Condition "Extremely Serious" After Skiing Accident
Both he and the consultant neuro-surgeon Emmanuel Gay told a press conference that it was too early to predict whether Mr Schumacher, 44, would recover from his serious skiing accident on Sunday. They said that there were other areas of bruising within the ex-driving champion's brain. They were smaller than the haematoma removed on Monday night but more inaccessible.
Earlier it emerged that Mr Schumacher's helmet had split into two parts in the accident on Sunday.
Medical experts said that the next 48 hours would decide whether the retired German racing driver would survive or recover partially or completely. Professor Denis Safran of the Georges Pompidou hospital in Paris said that it was notoriously difficult to predict the consequences of the kind of injuries, including internal brain lesions, suffered by Mr Schumacher.
Career in Pictures: Michael Schumacher

Show all 17
"He could die. He could have serious lasting effects such as paralysis or loss of understanding or he could recover completely," the professor said.
Not long after the press conference Grenoble, it emerged that a news reporter dressed up as a priest to attempt to gain access to Michael Schumacher's hospital room where he is currently battling for his life after a skiing accident, the Formula One champion's manager Sabine Kehm revealed.
It seems that one reporter had made the startling decision to ignore the wishes of both Ms Kehm and the doctors to respect the Schumacher family's privacy in what is a desperate time.
Speaking to German newspaper Die Welt, Ms Kehm said: "Apparently, a journalist disguised as a priest has tried to get access to Michael's room.
"This is something I would not have thought possible. As soon as his disguise was recognised, he was expelled from the hospital."
Sebastian Vettel Leads F1 Drivers Support To 'Daredevil' Colleague
The number of media personnel outside the hospital has risen to over 100 since Mr Schumacher's arrival at the hospital on Sunday.
The widespread coverage is a clear indicator of the shock that Schumacher's condition has had on the world, with the 44-year-old being constantly monitored by medical staff while his chances of survival are being rated on an hour-by-hour basis.
Those with cameras outside the hospital have agreed not to direct them at the emergency room or the window of the room which they believe Schumacher to be kept in.
Schumacher & Me: Kevin Garside Recalls Skiing Trip with "Shy" F1 Star
Register for free to continue reading
Registration is a free and easy way to support our truly independent journalism
By registering, you will also enjoy limited access to Premium articles, exclusive newsletters, commenting, and virtual events with our leading journalists
Already have an account? sign in
Join our new commenting forum
Join thought-provoking conversations, follow other Independent readers and see their replies