Valérie Trierweiler loses First Lady status as President Hollande confirms separation
It is understood that she refused to put her name to the declaration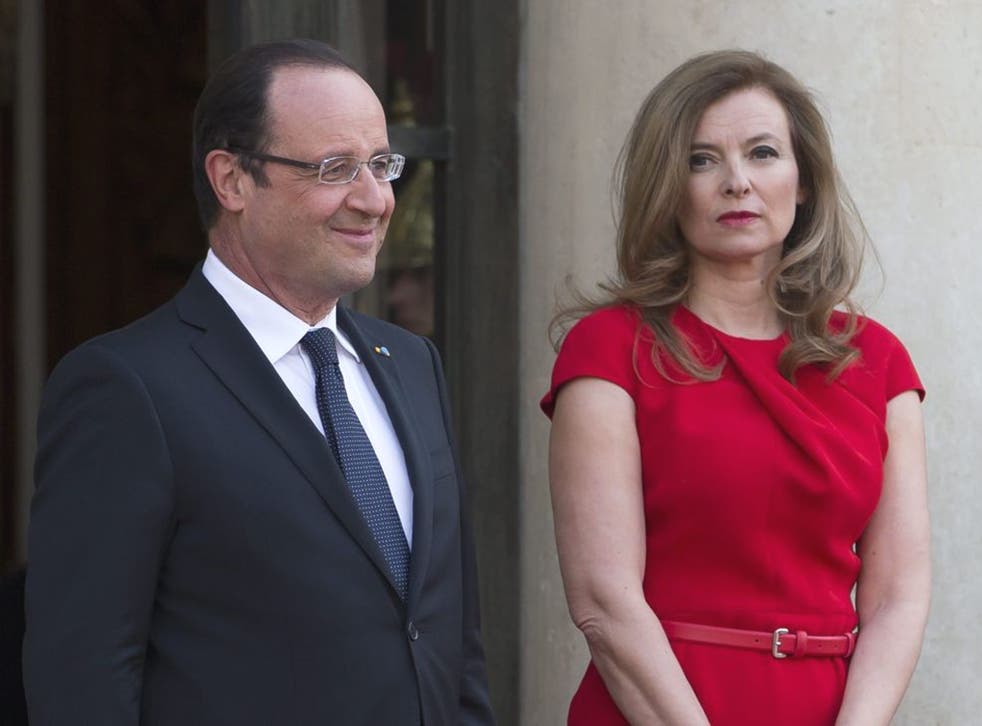 President François Hollande tonight announced his separation from the First Lady Valérie Trierweiler in a curt personal statement.
In a telephone call to the French news agency, Mr Hollande, said: "I am letting it be known that I have put an end to the life I shared with Valérie Trierweiler."
Ms Trierweiler, 48, refused to add her own name to the declaration, to make it clear that the decision to sever their unmarried partnership was Mr Hollande's alone.
The announcement came just over two weeks after Closer magazine revealed that President Hollande was having an affair with the 41 years old actress, Julie Gayet.
Mr Hollande telephoned the statement to Agence France Presse himself –  just 18 words in French – in an attempt to make a distinction between François Hollande, the head of state and François Hollande, the private citizen.
It was his way of saying that he expects no further intrusions into his private life. Global interest in the President's nocturnal, scooter-borne escapades is unlikely to subside so easily – as Mr Hollande will discover when he visits Britain on Friday for the annual Anglo-French summit.
Following in a French tradition of complicated Presidential love lives...
Trierweiler and Hollande through the years

Show all 8
Mr Hollande had promised to "clarify" the position of his unmarried First Lady before 9 February when the couple were scheduled to fly to Washington to visit the Obamas.
Mr Hollande may have felt that he could delay no longer after Ms Trierweiler, 48, let it be known that she intended to fly to India on a humanitarian visit tomorrow. Although the trip is privately funded, Ms Trierweiler would, in effect, have been travelling to Bombay with the informal status of Première Dame or First Lady.
She will now travel as a private citizen, but her first public appearance since the scandal broke is likely to be anything but private.
Friends of Ms Trierweiler have told the French press that she is making the trip as a "gesture of defiance". 
President Hollande is the second French head of state in succession to suffer a conjugal break-up whilst in office. His predecessor, Nicolas Sarkozy, was divorced by his second wife Cécilia five months after he became President in October 2007.
The website of the newspaper Le Parisien – which has accurately chronicled Ms Trierweiler's moods and movements since the scandal broke – said that President Hollande had informed Ms Trierweiler of his decision over a lunch last Thursday. "She accepts his decision but she is allowing him to take sole responsibility," a friend of the soon-to-be ex-First Lady told the newspaper.
President Hollande will make the trip to the United States alone, the White House confirmed last night. He is also due to visit Turkey on Monday and to fly to Britain for the annual Franco-British summit with David Cameron at the end of next week.
Elysée Palace sources have indicated in recent days that he has no intention at this stage of making the actress Julie Gayet his official partner and First Lady. He plans, the sources say, to live in the Elysée alone.
It is understood that Ms Trierweiler left the presidential retreat at Versailles, La Lanterne, this afternoon, in effect ending her seven year unmarried partnership with Mr Hollande.  She returned to the flat in the 15th arrondissement of Paris which she and Mr Hollande shared before he was elected in 2012 and where they continued to live until they moved into the Elysée last  summer.
Ms Trierweiler had been "resting" at the mansion in Versailles since  last weekend. Previously, she had spent eight days in hospital  suffering from an "acute case of the blues" following the exposure of Mr Hollande's affair.
---
Join our new commenting forum
Join thought-provoking conversations, follow other Independent readers and see their replies