Rico Rodriguez: Ska and reggae pioneer who helped define the sound of the Specials before becoming a star of Jools Holland's band
He bridged the gap between early Jamaican music and modern British ska pop music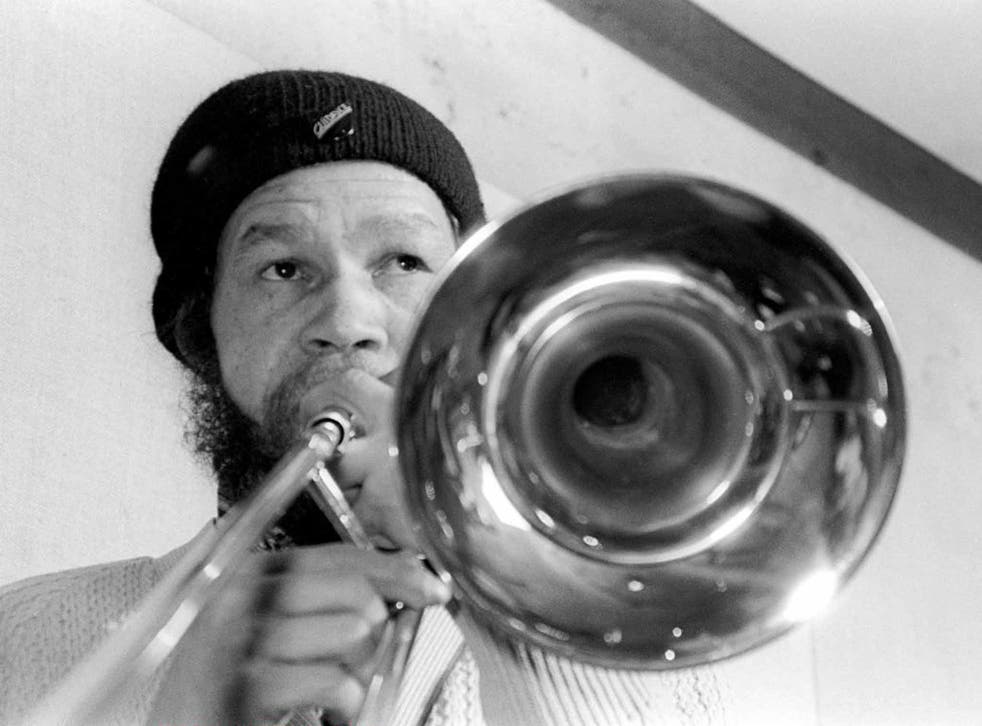 The trombonist Rico Rodriguez played on myriad recordings in Jamaica and the UK, including the original version of Dandy Livingstone's 1967 infectious rock steady classic "A Message To You, Rudy" and its 1979 Top Ten remake by the ska revival band the Specials. Their epochal No 1 single "Ghost Town" would not have sounded half as haunting without his distinctive contribution. "The band was like a revolution," he reflected. "I really enjoyed playing with them."
His association with 2-Tone, the dominant musical force in Britain at the turn of the 1980s, encompassed several tours and Top Of The Pops appearances, The Specials and More Specials albums, and the EP "Too Much Too Young – The Special AKA Live! Featuring Rico", which contained his memorable contributions to their irresistible covers of "Guns Of Navarone" and "Longshot Kick De Bucket".
In the mid-'90s, Rodriguez inaugurated another chapter of a storied career when he became a featured player with Jools Holland & his Rhythm & Blues Orchestra, contributing to 10 albums by the pianist, band leader and TV presenter – most notably Lift The Lid (1997), Tom Jones & Jools Holland (2004) and Swinging The Blues, Dancing The Ska (2005). He toured regularly with the outfit and appeared on Later... as well as the annual Hootenanny.
"I like to do different music every night, but I have never been a trendy style of musician who leaves the roots for money or whatever," he said. "I do a lot of research. You need ideas, new inspiration. Music is an exploratory thing. I can't stop that."
The son of a Cuban father and Jamaican mother, he grew up in Kingston and was an unruly child. His despairing mother sent him to the Alpha Boys School, an institution run by Catholic nuns under the leadership of Sister Mary Ignatius Davis. Though he occasionally played truant, he thrived on the regimen of music and more formal classes and forged friendships with future members of the Skatalites, in particular the trombonist Don Drummond, who mentored him. "I always give thanks to Alpha, them give me the start musically," said Rodriguez, who also learned bookbinding and printing.
By his late teens he was working as a car mechanic while moonlighting with a dance band led by the alto saxophonist Eric Deans. Winning first prize on the RJR radio contest The Vere Johns Opportunity Hour, he began recording for most of the sound system operators-turned-producers, including Clement "Coxsone" Dodd, Duke Reid, Randy's, Vincent Chin and Harry Mudie. Though he contributed to popular releases by Laurel Aitken, Theophilius Beckford, Clue J & His Blues Blasters, the Folkes Brothers and Derrick Morgan, he was drawn towards Rastafarianism while spending time in the Wareika Hills with Drummond and the drummer Count Ossie.
At the end of 1961 he travelled to London, where he played with Georgie Fame and made records for UK-based producers such as Sonny Roberts and Joe Mansano under various names including Rico's Combo, Rico & The Rudies and Reco Rodriguez. But like many Jamaican musicians who had moved to the UK, he struggled to make a living from music and took the occasional day job, including painting and decorating, and a soul-destroying fortnight on the Ford production line in Dagenham.
By the mid-'70s, with reggae in the ascendant following the success of Jimmy Cliff and Bob Marley, Rodriguez was finally in the right place at the right time. After hearing a demo he had cut with Island engineer Dick Cuthell, the label's supremo Chris Blackwell gave him carte blanche to go back to Jamaica and record Man From Wareika, the contemplative, meditative instrumental album inspired by his Rastafarian beliefs. It remains his crowning achievement. In Kingston, he worked with Jamaica's leading rhythm section, the bassist Robbie Shakespeare and the drummer Sly Dunbar, as well as another Alpha Boys School alumnus, the trumpeter Bobby Ellis. Man From Wareika was licensed by the jazz label Blue Note for the US.
Despite supporting Marley on the Exodus tour in 1978, Rodriguez didn't cross over to the mainstream, but still contributed to albums by Island acts like Jim Capaldi, John Martyn, Linton Kwesi Johnson, Burning Spear, Toots and the Maytals and Steel Pulse, and also worked with Chas Jankel, the Members, Paul Young – and Ian Dury, who had already name-checked him: his hit single "Reasons To Be Cheerful, Part 3" included the line "listening to Rico".
Encouraged by the Specials and 2-Tone main man Jerry Dammers, Rodriguez recorded an instrumental adaptation of Huey Smith's "Sea Cruise", and a rare lead vocal on "Jungle Music", for a single credited to Rico & the Special AKA, as well as a brace of albums, That Man Is Forward (1981) and Jama Rico (1982). He then headed back in Jamaica and only returned to Europe at the behest of Heartbeat Band, a Swiss reggae group who sent him a plane ticket in 1987.
Joining Jools Holland finally provided financial stability. Rodriguez was full of praise for the pianist, who allowed him time out to gig with Jazz Jamaica and for the occasional solo foray to Japan. He was appointed MBE in 2007 for services to the British music industry. "I first met and worked with Rico Rodriguez in the early 1980s," Jools Holland said on his website. "I was introduced to him by Kirsty MacColl. I immediately became a fan. From the 1990s until only quite recently, he was a regular member and one of the stars of my orchestra, until his health made it impossible for him to continue playing. He was an originator and a unique person in 20th century music.
"He bridged the gap between early Jamaican music and modern British ska pop music. As a man, he was my friend – and a great friend. I toured the world with him and spent as much time enjoying his company as his music. He had a great knowledge on many subjects, from the Old Testament to horse-racing; his personality and sound were as one, and both adorable."
Emmanuel "Rico" Rodriguez, trombonist and composer: born Kingston, Jamaica 17 October 1934; MBE 2007; married; died London 4 September 2015.
Join our new commenting forum
Join thought-provoking conversations, follow other Independent readers and see their replies