Shia LaBeouf's strangest apology yet? One of the first to see his performance art exhibit is not so sure
Tim Walker joins the paper bag clad movie star for some ukulele playing at an LA gallery
Tim Walker
Wednesday 12 February 2014 00:08 Comments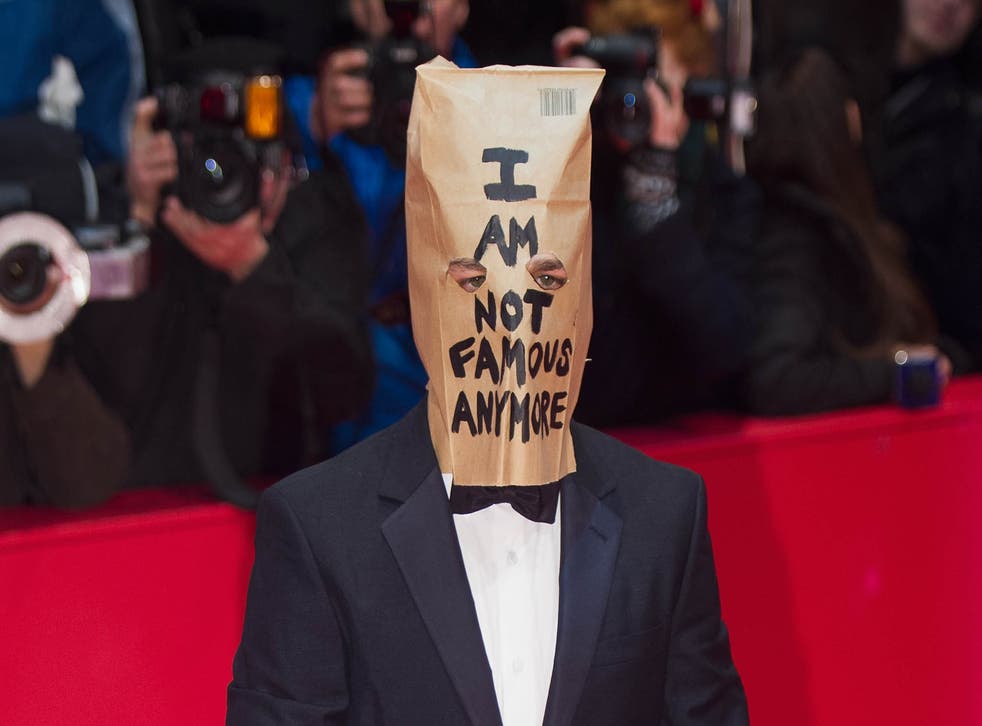 At approximately midday on Tuesday, I found myself sitting across from Shia LaBeouf, reciting a selection of Twitter comments directed at the 27-year-old actor by random members of the general public. The comments were abusive and hurtful, but Labeouf just sat there silently, sucking it up. He may have been upset; I couldn't tell. After all, he was wearing a brown paper bag on his head.
Around an hour earlier, the "meta-modernist" artist Luke Turner had issued a news release announcing a new collaboration with Labeouf entitled "#IAMSORRY". There was very little detail in the release, except to say that Labeouf was "sincerely sorry" and would be "in situ" at the Cohen Gallery in Los Angeles from 11am to 6pm all week.
Lately, the former child star has become a target for widespread public derision, after it emerged that a short film he made was plagiarised in large part from a comic by graphic novelist Daniel Clowes. Following the controversy in January, LaBeouf announced via Twitter, "In light of the recent attacks against my artistic integrity, I am retiring from all public life."
On Sunday, Labeouf abruptly departed a press conference publicising his new film, Lar Von Trier's Nymphomaniac, though not before he'd quoted a line later found to have been borrowed from Eric Cantona. Later that evening, the actor arrived on the red carpet at the Berlin Film Festival wearing a paper bag on his head, bearing the words: "I am not famous anymore".
Nymphomaniac posters

Show all 14
The Cohen Gallery has a small blank shop-front conveniently located across the street from the LA offices of the website Buzzfeed. The only person outside when I arrived was a security man, who told me that I was the exhibit's second visitor. The first was already inside. One at a time, said the doorman, so I waited on the pavement, looking for clues, of which there were none – just a sign: "#IAMSORRY shia labeouf, tues-sun 11-6."
When I was finally allowed in, I found a young woman - I later learned this was the Finnish performance artist Nastja Säde Rönkkö - who invited me to choose one of a selection of objects arrayed on the table in front of her, to take with me through the curtain at the back of the room and into the exhibit proper.
Among the objects were a bullwhip and a toy Transformer: references to Labeouf's roles in the Indiana Jones and Transformers films. (His career has taken an arthouse turn since then.) There was a bowl of sweets and another bowl of paper notes with Twitter comments typed on them. There was a vase of flowers, a bottle of Jack Daniels, a bottle of Brut cologne, a pair of pliers, a pink ukulele, and a copy of one of Daniel Clowes's books.

I chose the ukulele, thinking that if the actor was really there, he might play me a song. Sure enough, behind the curtain, sitting silently in a small whitewashed room, wearing a tuxedo and with that same brown paper bag ("I am not famous anymore") over his head, was Shia LaBeouf.
He didn't say anything, just stared at me through the eye-holes in the bag as I sat in the chair opposite him and put the ukulele on the table. But I know it was Labeouf, thanks to some judicious after-the-fact Googling: he has two small but identifiable tattoos on the crooks of his thumbs, and one finger still bears the scars of a 2008 car accident.
The exhibit isn't totally plagiarised, though it does bear multiple similarities to "The Artist is Present", Marina Abramovic's 2010 performance work at the Museum of Modern Art in New York, where she sat at a table in the museum's atrium as spectators took it in turns to sit opposite her. But Abramovic wasn't wearing a tuxedo. Or a bag.
I said hello to Labeouf: no answer. I asked whether he'd like to play something on the ukulele: nada. The instrument lay on the table between us for a few minutes, while he stared at me and I became increasingly unnerved, remembering that just a few weeks ago he had head-butted a British man in a London pub.
It seemed, then, that I was the one expected to use the object I had chosen. Eventually, I picked up the ukulele and tried clumsily to strum a couple of chords. I heard a rustle from beneath the bag. I strummed some more. I think he suppressed a chuckle. "How do I know when this is over?" I asked. Again: nothing. Slowly, I picked out a half-remembered riff from The Beatles' "Here Comes The Sun". I may be mistaken, but I'm sure his eyes lit up a little - either at my choice of song, or my terrible rendition of it. I got up, said thanks, and left through the back as instructed.
When I got back around to the front door of the gallery, the only other person waiting was a journalist from New York magazine, who asked me what was inside. Reluctant to ruin the surprise, I advised him to experience it for himself, and then asked the doorman whether I could go through again. He let me back in, just as a queue of Buzzfeed employees began to form behind me.
At my second attempt, I chose the bowl of Twitter comments: I can't play ukulele, but I can read. I sat opposite Shia again and began to pick the slips of paper out of the bowl and read them to him. They were familiar in their contempt: "Grow a pair of f***ing balls, man. Stop being an attention whore", "I can't tell whether Shia Labeouf is doing a Joaquin Phoenix or if he's just a massive douche", "OMG Shia don't be a movie star gone wrong, you're too beautiful for that!!!"
After reading a few of these to Labeouf, I began to feel a little guilty. I couldn't bear to say them aloud any longer, so instead I laid them on the table in front of him. I hoped I'd come across a positive comment to conclude our meeting, so as not to leave him on another bum note. Finally, thank God, there it was. I held the scrap of paper up to the light, and recited it with as much feeling as I could muster: "Shia Labeouf, I love you. That is all. Goodnight."
The sides of the paper bag shifted and widened a little, and I could tell that Labeouf was smiling under there as I left. The exhibit is called #IAMSORRY. But was he sorry, or was I?
---
Register for free to continue reading
Registration is a free and easy way to support our truly independent journalism
By registering, you will also enjoy limited access to Premium articles, exclusive newsletters, commenting, and virtual events with our leading journalists
Already have an account? sign in
Join our new commenting forum
Join thought-provoking conversations, follow other Independent readers and see their replies