Vladimir Putin is not a homophobe because he 'loves Elton John'
Vladmir Putin made the revelation during a televised interview special with Andrew Marr ahead of the Sochi 2014 Winter Olympics next month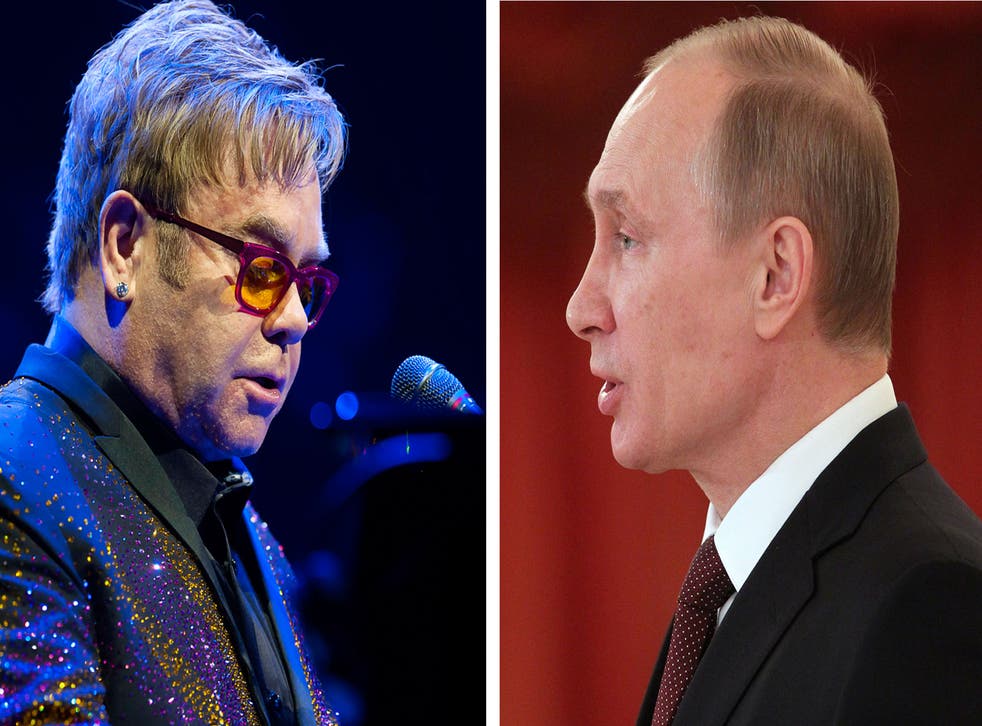 Or so says the Russian President who ensured the controversial passing of gay 'propaganda' laws and linked homosexuality to paedophilia.
But he's not a homophobe by any stretch of the imagination, he claims. Because he loves a bit of Elton John and 'has friends that are gay'.
Vladmir Putin made the revelation during a televised interview special with Andrew Marr ahead of the Sochi 2014 Winter Olympics next month.
The Games have come under fire because of the aforementioned laws, which not only pose a threat to a number of athletes who are openly gay themselves and place limits on the freedom of speech of those competing, but also undermines the ethical codes of the Games.
Putin has gone to lengths to tell those attending that the anti-gay laws are "no danger" to them. He then implied the nation needed to "clean up" homosexuality in order to drive up Russian birth rate.
"Read our law carefully – it's called 'a ban on the propaganda of paedophilia and homosexuality," he said, before bizarrely adding: "But this is nothing to do with persecuting individuals for their sexual orientation.
"It seems to me that the law we adopted doesn't harm anybody. What's more, homosexual people can't feel inferior here because there is no professional career or social discrimination against them.
"When they achieve great success [they are honoured] – for example Elton John is a extraordinary person, a distinguished musician, and millions of our people sincerely love him, regardless of his sexual orientation."
He managed to sidestep Marr's question of whether he thought gay people were born or made, instead giving his personal opinion on homosexuality – and admitting he was even on "friendly terms" with a few gay people himself.
"If you want my personal attitude, I would tell you that I don't care about a person's sexual orientation," he said.
"I myself know some people who are gay – we are on friendly terms. I am not prejudiced in any way."
Putin's declaration of fan support for Sir Elton comes after the President dismissed a Russian parent's committee's call to ban the musician from performing a string of dates in the country at the start of December 2013.
In an open letter, they argued that allowing Sir Elton to perform would thwart the anti-gay propaganda laws.
"The singer intends to come out in support of local sodomites and break the current Russian law, directed at protecting children," it read.
Another petition, by the Union of Orthodox Brotherhoods, referred to the planned gigs as an "amoral sabbath" and called Sir Elton's "support for gays and other perverts" an "insult to all Russian citizens".
The singer was told not to wear "flamboyant" clothes suggestive of his gay lifestyle on stage when he was set to play in the Russian region of Krasnodar in July 2013. The show was later cancelled when Sir Elton fell ill.
The Sochi 2014 Winter Olympics starts on 7 February. It's said to have cost £30billion, making it the most expensive Games in Olympic history.
Last week, Putin reassured the world that gay people will not be harassed during Sochi and said that they "can feel relaxed and comfortable", but only before adding that they must "leave the children in peace".
Join our new commenting forum
Join thought-provoking conversations, follow other Independent readers and see their replies