Year of the Selfie: The birth – and death – of 2013's biggest star trend
From Beyoncé and Kim Kardashian to President Obama and Pope Francis, everyone has been getting in on the narcissistic portrait action
Antonia Molloy
Tuesday 24 December 2013 16:05 Comments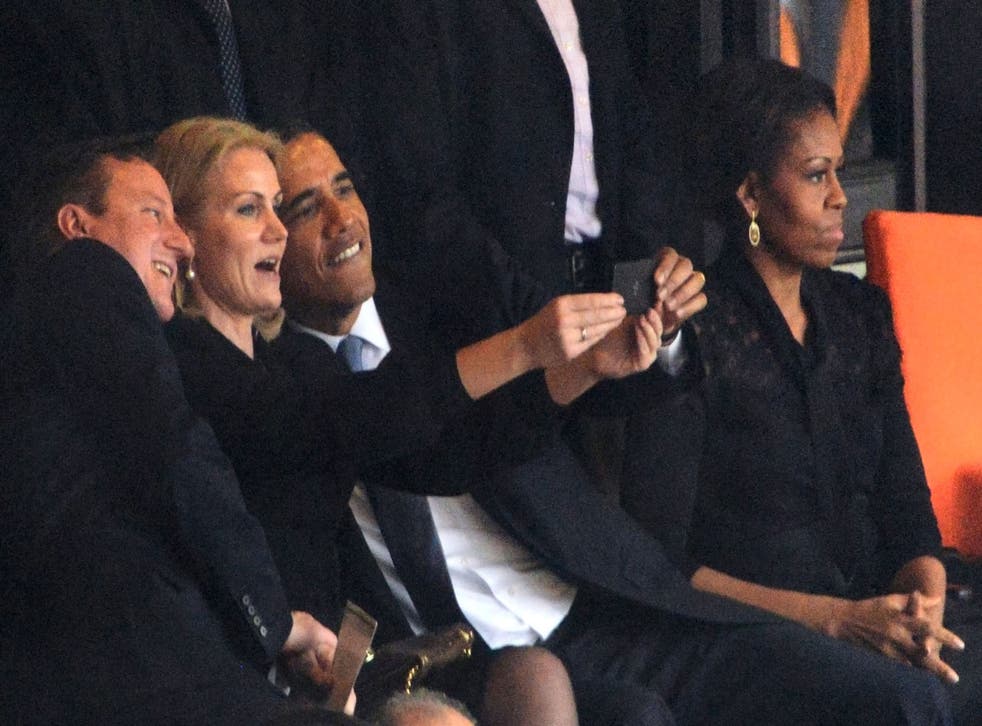 Love it or hate it, 2013 will be remembered as the year of the selfie.
From Beyoncé and Kim Kardashian to President Obama and Pope Francis, everyone has been getting in on the narcissistic portrait action, helping to make the very phrase itself Oxford Dictionaries' Word of the Year.
The selfie is nothing new, but the trend has exploded in recent years because of the rise of camera phones including, most importantly, the release of Apple's front-facing camera in 2010. Add Instagram filters to the mix and the world of social media has become a hotbed for mainstream narcissism.
According to the Huffington Post (the top five celebrity Instagram accounts by number of selfies posted in 2013 were Kylie Jenner, with 451, followed by Snoop Dogg (271), Ariana Grande (243), Kendall Jenner (236) and Kim Kardashian (216). Miley Cyrus topped the celebrity tweeters, with 121 selfies posted to her Twitter account.
But there have been more unlikely followers of the trend, too. In August, the Pope posed with a group of teenagers at the Vatican, creating the first ever Papal selfie. David Cameron was unwittingly captured napping on a bed in the background of his sister-in-law's wedding day selfie.
On the other side of the pond, Hilary Clinton posed with her daughter, Chelsea, at a Chicago event in June and over in Australia, constituent Nada Makdess posed with then-Australian Prime Minister Kevin Rudd and opposition leader Tony Abbott in Sydney in August.
As the selfie has grown in popularity, individuals have become ever more creative in their style of self-portrait. We've had the belfie (read: Kim Kardashian's bottom), the welfie (a selfie taken while working out), the drelfie (a selfie taken while drunk) and the trelfie (a picture taken in front of: insert famous landmark here).
Then there's the funeral selfie, highlighted on the Tumblr account Selfies at Funerals and featuring the Cameron-Thorning-Schmidt–Obama photo as its final post.
But as with all hot trends, it looks like the selfie might be turning tepid. Once the preserve of hip celebrities and teenagers posing in their bedroom mirrors, the pose has since found itself in hot water.
Earlier this month, prime minister David Cameron was criticised for posing for an "inappropriate" selfie alongside Danish leader Helle Thorning-Schmidt and US president Barack Obama at Nelson Mandela's memorial service in South Africa.
And then, in some strange, copycat spate, another politician was at it: Ed Milliband. The leader of the Labour party went on a selfie spree, posting photos with TOWIE star Joey Essex and Lily Allen.
And suddenly… It's not so cool anymore. Are we set to see more of the selfie in 2014? Or have political hands rendered it obsolete? Only time will tell. Until then, here are the stand-out selfies of 2013:
Selfies of 2013: From The Pope to Tom Daley

Show all 10
Register for free to continue reading
Registration is a free and easy way to support our truly independent journalism
By registering, you will also enjoy limited access to Premium articles, exclusive newsletters, commenting, and virtual events with our leading journalists
Already have an account? sign in
Join our new commenting forum
Join thought-provoking conversations, follow other Independent readers and see their replies