Norman Moore: Celebrated authority on dragonflies whose work led to reduction in the use of damaging pesticides
Moore was quietly amused to find himself something of a hero in Japan, where dragonflies have great cultural importance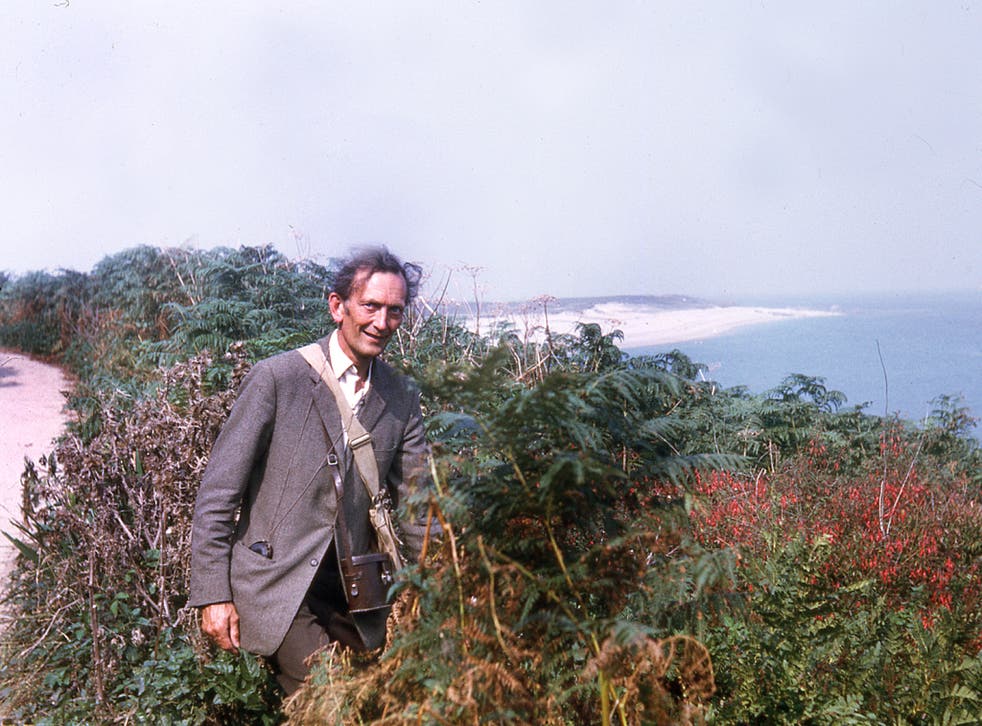 Norman Moore was one of the most influential figures in nature conservation in the second half of the 20th century. He was a world authority on dragonflies and their conservation, and led the team that studied the effects of toxic chemicals on wildlife, work which eventually led to a reduction of the use of harmful pesticides such as DDT and dieldrin.
He was the founder and first Chairman of the Farming and Wildlife Advisory Groups and a strong advocate of the integration of conservation and land-use policy. A natural diplomat, he matched old-world courtesy and charm with a mastery of his various briefs to persuade others that nature conservation was in their interests as well as his. Self-effacing and reflective, he was widely regarded as British nature conservation's elder statesman and an effective "ambassador" for nature.
Moore was born in London but brought up in Lewes, the son of a doctor, Sir Alan Moore. In 1934 the family moved to Hancox, near Battle in rural Sussex. From boyhood, Moore was a keen naturalist. His first passion was for birds, but by his teens he had become fascinated by dragonflies, for which he coined the phrase "the bird watcher's insect".
His first scientific paper, "Rare Lepidoptera and Odonata in East Sussex", was published in 1939. Moore was educated at Eton College and Trinity College, Cambridge, where he read Natural Sciences, specialising in zoology, and was President of the University Bird Club.
His studies were interrupted by war service. He was called up in 1942 and served as a gunnery officer in the Royal Artillery in Normandy and Holland. Late in 1944 he was seriously wounded in the leg by an artillery shell and taken prisoner. At the end of the war he trained gunners on Salisbury Plain before returning to Cambridge.
After completing his degree in zoology in 1948, Moore joined a group of graduates on a three-month zoological expedition to The Gambia. Going on to teach zoology at Bristol University, Moore devoted much of his research time to studying British dragonflies in the field, with emphasis on their territorial behaviour. His thesis, "On the ecology and behaviour of adult dragonflies", led to a PhD in 1953.
As part of his research he followed the daily rounds of individually marked dragonflies. His dedication was such that, when the dragonfly he was stalking went to sleep "at 9.20 pm", Moore decided to follow suit in his sleeping bag a few yards away. They woke up together at dawn, and, at 8.26, noted Moore, "it cleaned its eyes and antennae with its forelegs. Nearly half an hour later it flew and caught a fly." He drew on this meticulous observation in his first book, Dragonflies (1960), co-written with Cynthia Longfield and Philip Corbet.
In 1953 Moore was offered the post of regional officer for South-west England in the recently formed Nature Conservancy. His directions were, simply, "to get to know South-west England better than anyone else."
Based at Furzebrook Research Station among the heaths and marshes of the Isle of Purbeck, he documented in detail the loss and fragmentation of the once continuous heathland through agricultural improvement and tree-planting. He also demonstrated how biodiversity dwindles as the fragments of wild land became smaller and more isolated, with the rarer species going first.
Moore's solution was a crash programme of nature reserve acquisition. He helped to establish the first National Nature Reserves in the region, including Yarner Wood, Hartland Moor and Morden Bog, although it took 20 years to achieve his target of a suite of reserves representing all the best habitats.
With the help of the British Trust for Ornithology Moore organised a nationwide survey of the buzzard, whose favourite food, the rabbit, had been reduced by myxomatosis. Monitoring showed that the average clutch size had fallen by half. Fortunately the buzzard proved adaptable and took to foraging humbler food such as earthworms and berries. It was persecution, not food supply, which was restricting buzzard numbers.
In 1960 Moore was appointed Head of the Toxic Chemicals and Wildlife Division at Monks Wood Experimental Station near Huntingdon. His task was to organise research on the effects of pesticides on wildlife. The work was given a valuable boost by Rachel Carson's Silent Spring, which awakened public concern over the effects of DDT. Moore's team showed that the breeding failure of the peregrine falcon was due to the accumulation of pesticides in its body. They also discovered that persistent toxins were affecting all kinds of life, from otters and eagles to freshwater mussels.
Although it took years before the use of pesticides was reduced sufficiently to allow wildlife to recover, Moore's work attracted attention not only in Britain but across Europe, India, Australia, the US and even Russia (whose participation in a pesticides and wildlife seminar in 1965 temporarily put aside Cold War differences). Prince Charles and the then Prime Minister, Harold Wilson, visited Moore's laboratory. By the end of the 1960s, it was claimed, Monks Wood had become the most famous field station in the world.
As part of his later work on the wildlife of farmland, Moore began to study hedges, a habitat hitherto dismissed as artificial. His colleague, Max Hooper, discovered that hedges can be dated by their constituent shrubs and that many older hedges were in fact relics of woodland. At this time hedges were being grubbed up with the help of ministry grants to create larger, more efficient crop fields. Moore produced a series of maps showing how the loss of hedges was transforming the lowland landscape from one of hedges and fields to open prairies. In 1974, he, Hooper and Ernest Pollard published Hedges, the first comprehensive scientific study of what is arguably Britain's most characteristic landscape feature.
Concerned about the widening gulf between modern farming and wildlife conservation, Moore originated an exercise in which farmers and conservationists would work together to find practical ways of conserving wildlife on a working farm. The conference that followed was constructive, and spawned a charitable trust, the Farming and Wildlife Advisory Group. Moore became its first chair and a judge for the Silver Lapwing Award for conservation in farming.
In 1975, Moore returned to the Nature Conservancy Council as its Chief Advisory Officer, a post created especially for him. He prepared the NCC's policy paper on Nature Conservation and Agriculture which called for a rural land-use strategy that took account of nature conservation as well as food production. Government was unreceptive to the idea but could not ignore Moore's figures for the loss of supposedly protected SSSIs (Sites of Special Scientific Interest) which approached 15 per cent in 1980 alone, much of it from agricultural changes.
Moore gave evidence at a watershed public enquiry over the fate of Amberley Wild Brooks in Sussex, in which, almost for the first time, nature conservation considerations won over land drainage and profit. Such events forced the Government to provide better protection for wild places in the form of the 1981 Wildlife and Countryside Act.
From 1979 to 1983 Moore was Visiting Professor of Environmental Studies at Wye College, then part of the University of London. In retirement he wrote a professional autobiography, The Bird of Time (1987), which argued the case for conservation as an underlying principle of wise land-use – a view that, under the mantra of sustainability, has since become public policy. He chaired the dragonfly group of the International Union for Conservation of Nature Species Survival Commission, which produced a world plan for dragonfly conservation in 1997.
Moore was quietly amused to find himself something of a hero in Japan, where dragonflies have great cultural importance. He helped found the British Dragonfly Society and helped to raise the profile of these beautiful insects. His book Oaks, Dragonflies and People (2002), links the changing fortunes of a dragonfly pond he created in his garden with thoughts on the wider conservation scene.
Moore was an Honorary Fellow of the Linnaean Society and of the Royal Entomological Society. He received the Zoology Society's Stamford Raffles Award for his work on dragonflies, and the Marsh Entomological Award for insect conservation. His name is commemorated in several species of dragonflies and damselflies. He married a fellow Cambridge zoologist, Janet Singer, in 1950 and was father to three children and grandfather to eight.
Norman Winfrid Moore, zoologist and conservationist: born London 24 February 1923; married 1950 Janet Singer (died 2014; two daughters, one son); died Swavesey, Cambridgeshire 21 October 2015.
Register for free to continue reading
Registration is a free and easy way to support our truly independent journalism
By registering, you will also enjoy limited access to Premium articles, exclusive newsletters, commenting, and virtual events with our leading journalists
Already have an account? sign in
Register for free to continue reading
Registration is a free and easy way to support our truly independent journalism
By registering, you will also enjoy limited access to Premium articles, exclusive newsletters, commenting, and virtual events with our leading journalists
Already have an account? sign in
Join our new commenting forum
Join thought-provoking conversations, follow other Independent readers and see their replies