Kim Jong-un watches North Korea's first all-female supersonic jet drill, calls pilots 'flowers of the sky'
The leader says the world should be proud because it is 'hard for men to fly' the jets
Kashmira Gander
Tuesday 23 June 2015 09:54 Comments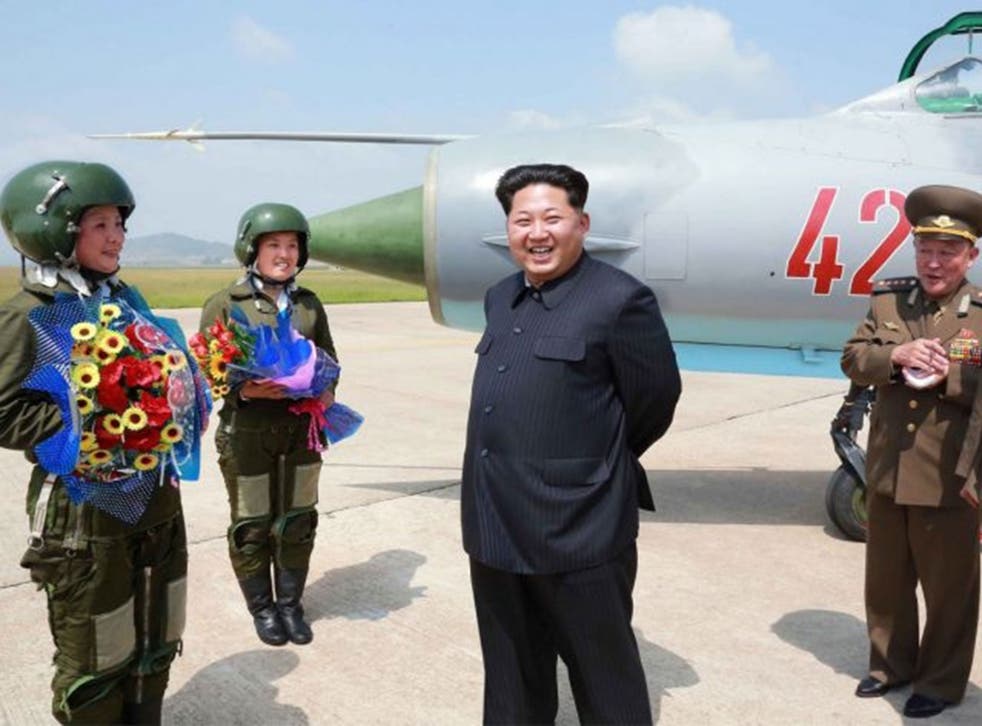 North Korea's state media has released photos which it says show leader Kim Jong-un observing the inaugural training session of the nation's first two female supersonic jet pilots.
Kim watched as Jo Kum-hyang and Rim Sol took off and landed during a drill, and called them "flowers of the sky", South Korea's Yonhap news agency reported citing North Korea's Central News Agency.
The two women were previously praised by the leader in 2014, when they completed a flying pursuit drill, The Telegraph reported.
On both occasions, Kim made comments highlighting that the pair were women in order to suggest that they would find it more difficult to fly planes.
"The girls' solo flight of supersonic fighters in which it is hard for men to fly is a success to be proud of in the world," he said about the latest flight, the KCNA reported.
North Korea: Inside the Hermit Kingdom

Show all 110
The release of the photos, which are undated, come after a defector warned that the country is capable of inflicting cyber-attacks on a devastating scale.
Prof Kim Heung-Kwang told BBC Click that the country has trained around 6,000 military hackers which make up Bureau 121.
However he added: "I think it's important to underline that this is theoretical and possible from non-North Korean hackers too."
Register for free to continue reading
Registration is a free and easy way to support our truly independent journalism
By registering, you will also enjoy limited access to Premium articles, exclusive newsletters, commenting, and virtual events with our leading journalists
Already have an account? sign in
Join our new commenting forum
Join thought-provoking conversations, follow other Independent readers and see their replies