Oscar Pistorius' sister thanks judge after athlete's six-year sentence for Reeva Steenkamp murder
Aimee Pistorius is 'grateful' for Judge Masipa's comments that Ms Steenkamp's death was not an act of gender-based violence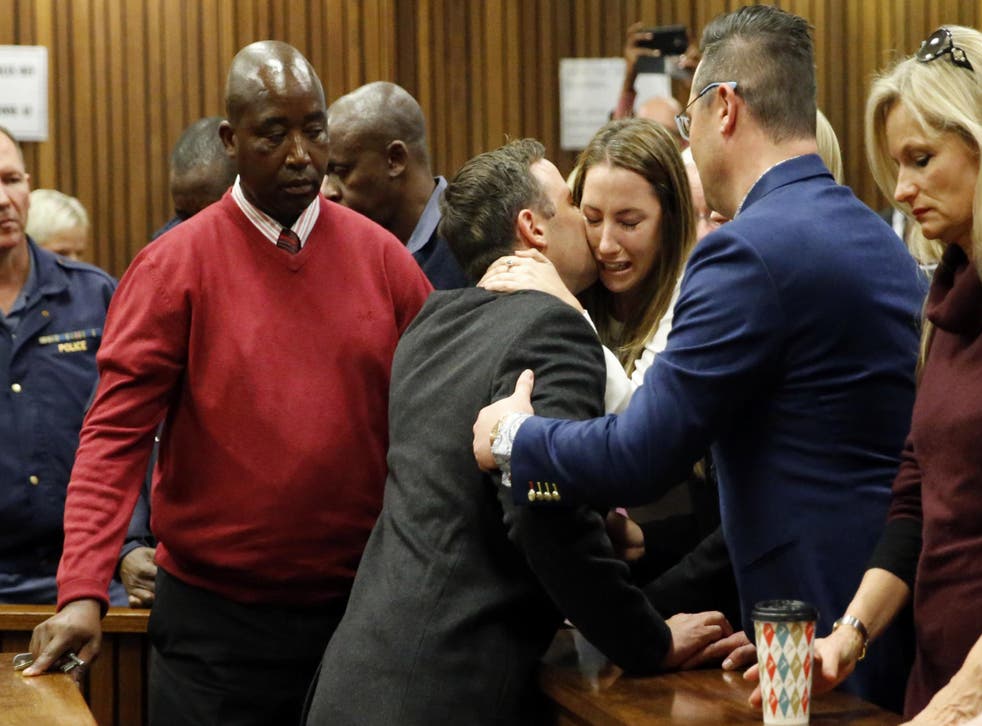 The sister of South African Paralympic athlete Oscar Pistorius has thanked a judge after her brother was returned to jail for the murder of his girlfriend Reeva Steenkamp.
Pistorius, 29, was handed a six-year prison sentence on Wednesday following a successful appeal to upgrade his original conviction of culpable homicide to murder. The athlete, whose legs were amputated below the knee as a child, was on his stumps when he shot Ms Steenkamp, a law graduate and model, four times through a locked bathroom door in his home.
Reeva Steenkamp: Model and law graduate

Show all 5
In an interview with eNCA, Aimee said Ms Steenkamp's death was a "terrible accident" which highlighted his fears and vulnerabilities. She said she was "grateful" to Judge Thokozile Masipa, sentencing, for highlighting her belief that the killing was not an act of gender-based violence.
"The thing I'm most grateful and the thing I really appreciate is the emphasis she made to distinguish a difference between the facts and the truth in terms of this is not a gender-based violence situation," she said.
Oscar Pistorius sentenced to six years
"It's a terrible accident where Oscar had no intention of shooting Reeva. A lot of hurt has been created and on top of that, there is already in this tragedy, that there's this lie being perpetuated that there was violence that there was an argument and that there was intention to shoot Reeva, which is not true and there hasn't been anything to support that."
In her sentencing remarks, Judge Thokozile Masipa referred to Pistorius as a "fallen hero" who believed an intruder was behind the door, not Ms Steenkamp.
Judge Masipa was branded "an embarrassment to the justice system" by Members of the Women's League of the ruling African National Congress (ANCWL) for delivering a sentence lower than the prescribed minimum of 15 years in South Africa.
Lawyers for Pistorius' legal team have said they will not appeal his sentence. The state has 14 days to decide whether it will launch an appeal.
Join our new commenting forum
Join thought-provoking conversations, follow other Independent readers and see their replies