Oscar Pistorius trial verdict: Paralympian found not guilty of Reeva Steenkamp's murder
Judge Masipa will deliver her verdict on culpable homicide tomorrow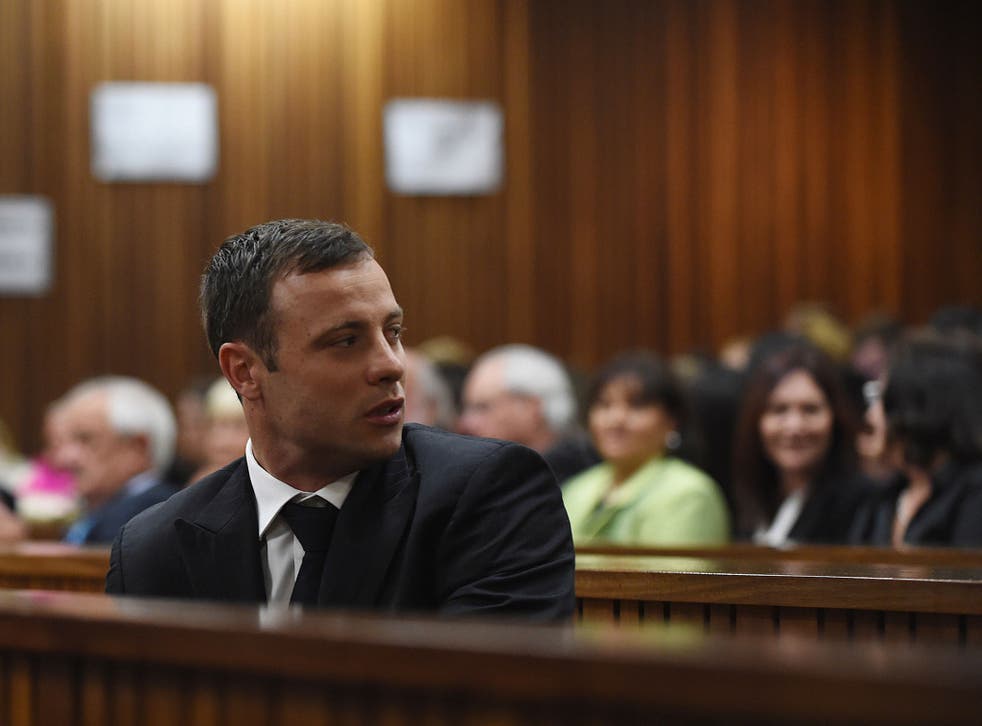 Judge Thokozile Masipa has said Oscar Pistorius will not be convicted of the murder of Reeva Steenkamp.
However, she said it was clear that his actions were "negligent" and said he had "acted too hastily" and used "excessive force" the night Ms Steenkamp died. The athlete can still be convicted of culpable homicide, which carries a 15-year prison sentence.
"The state clearly has not proved beyond reasonable doubt that the accused is guilty of premeditated murder. There are just not enough facts to support such a finding," she told a Pretoria court room today.
Reading her verdict, the South African judge said it was irrelevant that the person behind the door turned out to be Ms Steenkamp, not an intruder. Instead, "the starting point is however, once more, whether the accused had the intention to kill the person behind the door" she said.
Judge Masipa also ruled out dolus eventualis, that he could have foreseen that his actions would kill his girlfriend.
"Clearly he did not subjectively foresee this as a possibility that he would kill the person behind the door, let alone the deceased as he thought she was in the bedroom," she said.
Before this, she said Pistorius knew the difference "between right and wrong" on the night he shot Ms Steenkamp, and the athlete took a "conscious decision" to get a gun and head to the bathroom, where his girlfriend was inside.
"This court is satisfied that at the relevant time, the accused could distinguish between right and wrong, and that he could act in accordance with that distinction. It is also clear that the defence of non-pathological insanity has no foundation," she said.
She said Pistorius had given contradictory evidence and "was a very poor witness" under cross-examination, but she said this did not mean the track star was necessarily guilty.
Judge Masipa questioned the reliability of witnesses who heard screaming and gunshots on the night Pistorius shot dead Ms Steenkamp. Witnesses who say they heard the incident may have "got their facts wrong", she told the court.
Oscar Pistorius trial: The verdict in pictures

Show all 33
The judge also questioned the reliability of state testimonies and expressed "some doubt" about a neighbour who testified to hearing screams of a woman.
She said Ms Steenkamp's "respiratory functions would have been comprised substantially" after being shot, suggesting she would have been unable to shout or scream, "at least not in the manner described by those witnesses who are adamant they heard her scream repeatedly".
Some witnesses in the murder trial failed to separate their own evidence from details contained in press coverage, she said.
"Normal relationships are dynamic and unpredictable most of the time, while human beings are fickle,"Judge Masipa explained. "None of the evidence of a loving relationship, or a relationship turned sour, can assist this court."
The state, which had asked for Pistorius to be convicted of premeditated murder, argued that Steenkamp screamed during a heated row with the Paralympic athlete before he deliberately shot her through a locked toilet door.
The double-amputee Olympian was forced to wade through throngs of press and photographers as he arrived at the entrance to the court building this morning, more than six months after the trial began.
Supported by members of his family, including brother Carl who was recently injured in a road accident, the decorated athlete faces a lengthy jail term if convicted of murder by the judge.
Pistorius wept as the judge began recounting the events leading up to Ms Steenkamp's death before the verdict, which could take two days to deliver.
Pistorius said he shot Ms Steenkamp in a tragic accident believing her to be an intruder. He denies murdering his girlfriend and faces three other unrelated charges – two for firing a gun in a public space, and one for illegally possessing ammunition.
Register for free to continue reading
Registration is a free and easy way to support our truly independent journalism
By registering, you will also enjoy limited access to Premium articles, exclusive newsletters, commenting, and virtual events with our leading journalists
Already have an account? sign in